The 11 Best Places For Expats To Live In China
China is a massive country with rich history, culture, architecture, and food. If you are an expatriate, digital nomad, or long-term traveler looking to settle down in China, this guide will tell you the 11 best places for you to live, such as Hangzhou, Shanghai, Beijing, Shenzhen, or Chengdu.
With over 1.4 billion people living in China, how can you know the best place for you to move? To make it simpler for you, we've compiled the top cities expatriates love to live in.
We'll break down their stats, pros, and cons so you can be better informed while preparing to move across the world. We'll also explore the health insurance options in China you have so you can get the coverage you need as you settle into your new home.
You may also be interested in reading about the best places for expats to live in Asia.
The 11 Best Cities In China Expatriates Should Move To
The 11 best places for expats to live in China are Hangzhou, Shanghai, Beijing, Shenzhen, Chengdu, Xi'an, Qingdao, Kunming, Tianjin, Nanjing, and Fuzhou. Read on to learn about what each city has to offer, where it is located, how big it is, and some brief pros and cons about it.
#1 Hangzhou
Hangzhou brings in a lot of tourists. It is famous for its silk production and for bring the birthplace of China's longjing ("dragon well") green tea. It is an export base for east-central China, and it is connected by railway to Shanghai and Ningbo. It also has several universities.
As a large university city, Hangzhou is an excellent location for students. It has Zhejiang University and many affiliated hospitals, including one of China's top 100 hospitals.
Population

: 11.9 million people

Location

: Mideast, Zhejiang province

Best City for Expats who

: Are students or solo travelers
Pros:
One of the safest cities in China

One of the cleanest cities in China

Affordable living

Excellent medical care

Well maintained infrastructure

Good balance of city life and outdoor activities

Very modern with high-tech start ups
Cons:
The internet is noticeably slow

English is less commonly spoken there
#2 Shanghai
In Shanghai, there is always something for everyone. It is one of the grandest cities in China with whatever type of lifestyle you want, and it is the most commercially developed. It can be described like the United States' New York City. It has remarkable scenery and excellent work opportunities.
Population

: 24.8 million

Location

: Mideast, Shanghai municipality

Best City for Expats who

: Business-minded people and entrepreneurs
Pros:
It is famous for its awe-inspiring skyscrapers

It has a modern, western lifestyle

It has endless opportunities for innovative startups

It is the home to several major world headquarters
Cons:
Obvious language barriers

It can be pretty congested
#3 Beijing
Beijing is bursting with impressive technology developments, and it has 7 UNESCO World Heritage sites, making it very popular for tourists. It has maintained its rich dynasty heritage making it a fun place to explore. There is great ease of life, culture, and business and education opportunities.
Population

: 21.54 million

Location

: Northeast, Beijing municipality

Best City for Expats who

: enjoy rich culture and history and/or are solo travelers
Pros:
It is safe compared to other large cities

The job market is competitive

It is a great place to live while exploring the rest of Asia
Cons:
Cost of living can be expensive

There's quite a lot of pollution

It has extreme weather
#4 Shenzhen
If you're looking to move to a place in China with a fast-paced, foreigner-friendly location with plenty of western-style food available, Shenzhen is the place for you. It has one of the largest economies in China, and is a perfect place for tourists.
Population

: 12.4 million

Location

: Southeast, Guangdong province

Best City for Expats who

: want to advance their career and/or start their own business
Pros:
The pollution is notably improved here compared to other large cities

It has a booming economy and innovation

Good public transportation

Home to the "Window of the World" theme park
Cons:
Common small crimes, like pick-pocketing

A lot of the locals smoke, harming the air quality

Very hot and humid wet season
#5 Chengdu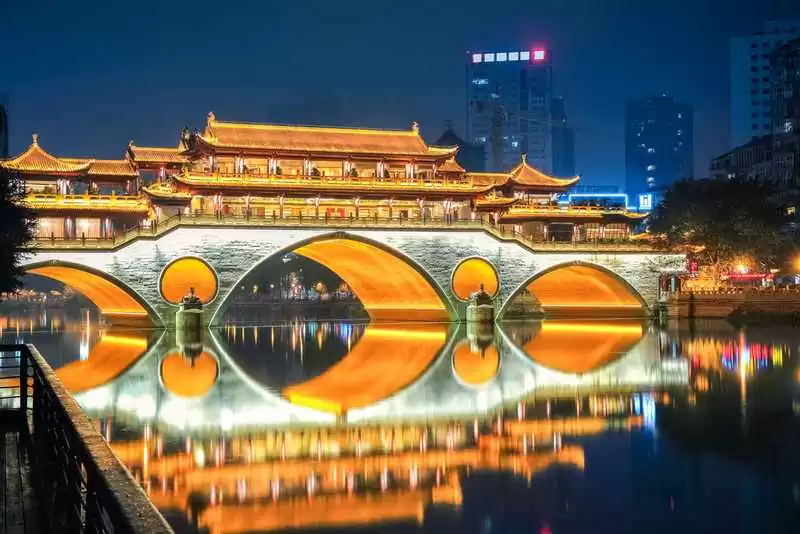 Chengdu is known for its spicy Sichuan cuisine, and it has a numberless quantity of street vendors for food lovers. It also has the Research Base of Giant Panda Breeding for all those panda lovers and gorgeous outdoor scenery for all those nature lovers! It's got a little mix of everything.
Population

: 14.4 million

Location

: Midwest, Sichuan province

Best City for Expats who

: are foodies and/or nature lovers and/or love pandas
Pros:
Cons:
Air quality is poor

It rains substantially

The job market is smaller
#6 Xi'an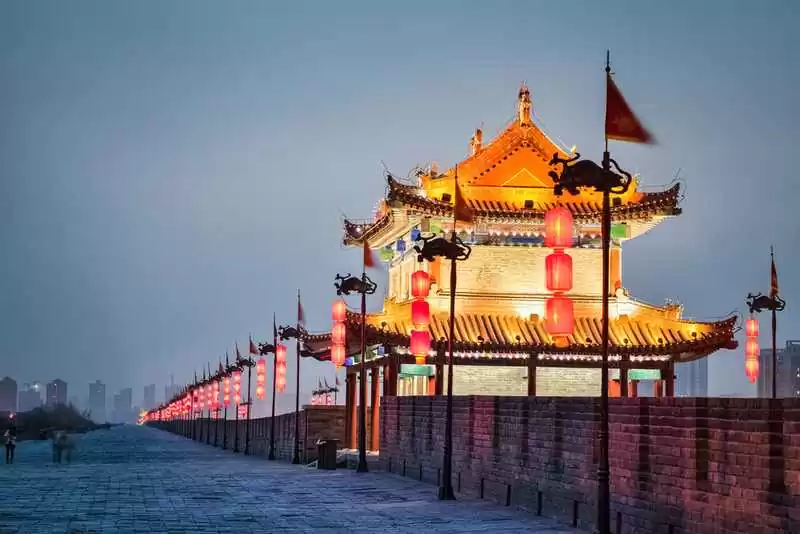 Xi'an is home to the largest population of English speakers, which can be important to expats who only speak English. It is designed to make things easier for travelers and is a very tourist-friendly city. It is full of culture and history to explore, such as the archeology site Terracotta Army.
Population

: 12 million

Location

: South-central, Shaanxi province

Best City for Expats who

: are English speakers and/or history buffs
Pros:
Lots of authentic cuisine and sightseeing

Affordable living

A lively nightlife
Cons:
It is quite congested with traffic

Poor pollution and hygiene
#7 Qingdao
The city in China with the biggest reputation as an expat city is Qingdao. It is home to the International Beer Festival where they are known for their local beer "Tsingtao." They also have their Golden Beach, Olympic Sailing Center, and expat-designed social events.
Population

: 9 million

Location

: South-facing coast on the Shandong Peninsula, Shandong province

Best City for Expats who

: want a well-established expat city and/or plan to move with a group
Pros:
Amazing beer

Rich culture

Chill, laid-back atmosphere

Amazing sea-food restaurants

Designed with expats in mind
Cons:
Poor air quality

Expensive housing

Little job opportunities
#8 Kunming
One of the lesser populated cities, Kunming is great if you don't like the claustrophobic city life. Being so close to the country, it has ample locations for you to get outside and breathe some fresh air, such as at the Stone Forest, Kunming Green Lake Park, and Grand View Park.
Population

: 3.5 million

Location

: South-west, Yunnan province

Best City for Expats who

: like the outdoors and want a laid-back city
Pros:
It is still a big city, but with a more relaxed, smaller feel than many others

Diverse culturally, biologically, and geographically

It's a great base for exploring the surrounding areas
Cons:
Locals don't speak English as well

Cold winters

Hostile toward LGBTQ+ community
#9 Tianjin
Tianjin is one of the largest cities in the world, and it is located a 30-minute train ride from Beijing. This city is culturally rich and known for their comedy performance Xiang Sheng and their clay figure sculptures. They have elaborate skyscrapers and a booming business atmosphere.
Population

: 15.5 million

Location

: Northeast, Tianjin municipality

Best City for Expats who

: love culture and history
Pros:
Excellent international schools

It has the longest renovated part of the Great Wall of China

It has some nice nature preserves

Tianjin teahouses are known for their crosstalk entertainment
Cons:
Driving in Tianjin as an expat, like many Chinese cities, is dangerous
#10 Nanjing
Nanjing is another excellent city for expats because it has wonderful World Heritage sites, it has higher education opportunities, the nightlife is lively, and it has national monuments. It's one of the few big cities that still has great access to peace and nature sites like Laoshan Scenic Area.
Population

: 8.3 million

Location

: East, Jiangsu province

Best City for Expats who

: want a big city feel with lots of quiet places to enjoy nature
Pros:
Has Xuanwu Lake as a peaceful destination

There are natural sites in unexpected areas of the city

Housing is affordable

Plenty of familiar western food for expats and international students
Cons:
It seems English is less often spoken there

The weather conditions can be quite cold in winter because most buildings don't have central heating
#11 Fuzhou
Fuzhou is known for its Taiwanese influenced culture and lifestyle since it is so close to Taiwan. It has a beautiful mountainous landscape, a unique Fujian subculture, and a major industrial and innovation scene. There is also a wealth of history and plenty of famous temples to visit.
Population

: 2.7 million

Location

: Southwest, Fujian province

Best City for Expats who

: want to experience a variety of culture styles
Pros:
Its Sanfang Qixiang district (Three Lanes and Seven Alleys) gives an idea of how ancient Chinese cities were
Cons:
For those who want a larger city, this one might feel too small
International Health Insurance Available in China
As an expatriate, digital nomad, or long-term traveler, it is important to have international healthcare coverage in case you find yourself in a medical emergency. It's also important to continue getting well-checks if you plan to spend years away from your home country.
Pacific Prime has excellent travel insurance and healthcare insurance in China to meet all your needs. Here are a few of the possible global health insurance plans you may want while traveling the world:
Conclusion
China is a historically rich country with wonderful culture and opportunities. As an expatriate considering moving there, you'll want to consider your cities carefully so you find the right balance of lifestyle, convenience, natural beauty, business ventures, and location.
After reading this list, you should have a better overview of the best 11 cities. You've also been introduced to Pacific Prime's top-level insurance policies in China and around the world. To secure your travel insurance or health insurance, check out Pacific Prime now.
You may also want to read about the best places to live in South Korea and the best places to live in Hong Kong.
Wishing you happy travels!
Latest posts by Serena Fung
(see all)