5 ways to support and manage employees with chronic conditions
The lines between employee health and safety quickly became blurred when the COVID-19 pandemic took the world by storm. Employers had to increase their efforts to care for the health of their workforce by offering hand sanitizer, implementing social distancing measures, and allowing employees to work from home. As offices are starting to reopen, employers are considering how to ensure their employees' health and safety.
But many fail to consider the largest long-term threat to employee (and organizational) health: chronic illness. While this health crisis is not as publicized as COVID-19, the reality is that chronic conditions are on the rise – and employers need to be prepared. This Pacific Prime article takes a closer look at five ways to support and manage employees with chronic illness.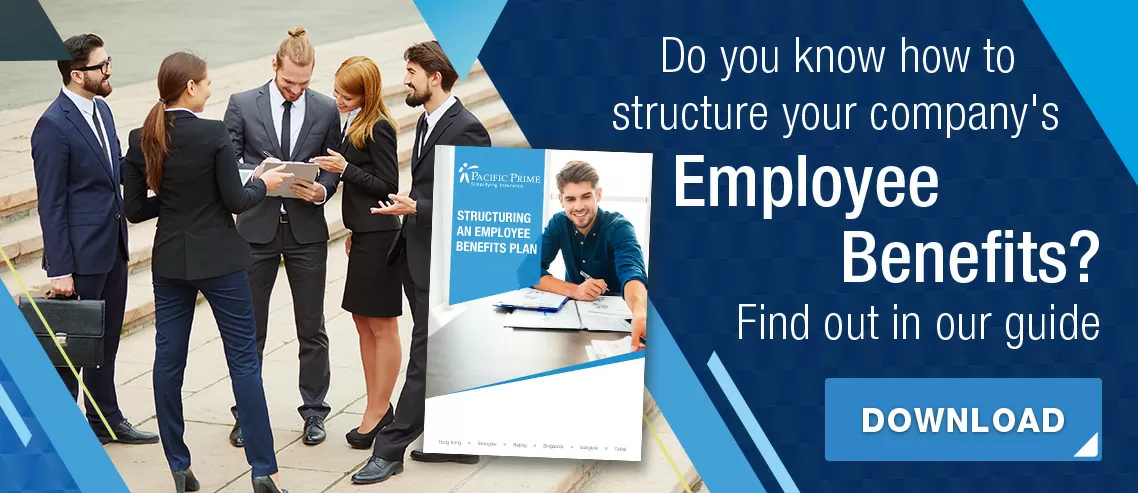 How to support and manage employees with chronic illness
Employees with chronic illnesses like arthritis, type 2 diabetes, and heart disease can find it quite challenging to keep up with the demands of office life. They may feel stressed and depressed about underperforming, as well as job security.
As an employer, managing and supporting an employee with a long-term illness can also be challenging. It's imperative to provide the accommodations they require while ensuring that their tasks are still completed. Achieving the ideal balance takes some skill, but your efforts to rise to the challenges of chronic health conditions at work will be worth it.
Keep in mind that a good portion of your workforce has some form of chronic illness, or will develop one later on. You want to make sure you know how to support this increasing population of employees in the best way possible. Here are five things you can do.
1. Be empathetic
Chronic health conditions are stigmatized and can often be isolating, which means we might not know who is currently struggling with a chronic illness in the workforce. Giving employees opportunities to talk to someone about their condition at their discretion can help them feel heard and supported. You can do this by including:
Therapy in healthcare coverage
Employee Assistance Programs (EAPs) as part of employee benefits packages
Along with providing support systems, employers can also educate employees about chronic conditions. This can be done in similar ways to career development, diversity and inclusion, and mental health initiatives, such as brown bag lunches and focus groups.
2. Encourage healthy behaviors
Living with a chronic illness can sometimes feel like having another job. On top of work, employees with chronic conditions have to visit the doctor regularly, take medications throughout the day, and so on. With seemingly endless emails, meetings, and work responsibilities, it's easy to get overwhelmed and forget how to make healthy decisions. In fact, over one-fifth of Americans say they skip exercise because they stay at work late.
Motivate employees to be proactive about their health through incentives. For example, you can host a simple walking challenge that awards the employee or department with the highest logged step count. For something more robust, consider employee wellness program incentives such as gym memberships, flex benefit credits, paid leave, and health insurance discounts.
3. Promote work-life balance
These days, work-life balance is a buzzword that recruiters use to attract talent entering the workforce. However, work-life balance applies to other generations along with millennials and Gen Z. A recent study found that healthy work-life balance is something that most of the best places to work actively promote. That balance is even more crucial for successful chronic condition management.
But work-life balance is more than just something you talk about and mention in job postings. It is reflected in actions such as:
Paid time off for annual checkups
Unpaid leave for certain activities and events
Encouraging walking meetings
Sponsoring activities
Additionally, incentivizing key preventative care measures not only shows you mean what you say but also encourages employees to participate and strengthens employee health.
4. Think outside the box
Is it possible for an employee who cannot work full-time to work from home or part-time instead? Or perhaps they could start work earlier or leave later to compensate for time away for doctor's appointments. Could you transition an employee to another role if they are physically unable to perform their current duties anymore? Take some time to brainstorm and see if any non-traditional work arrangements fit the circumstances.
5. Help them stay connected
Employees with chronic conditions often feel isolated from what's happening at work and their coworkers. Be sure to include them in meetings (whether they're in the office or working from home) and social events. It's also important to touch base every so often to remind them that they are a valued member of the company.
When it comes to supporting and managing employees with chronic conditions, communication and compassion are crucial. Let your employees know that they have someone they can talk to (and who that person is) and always treat your workforce with the dignity and respect they deserve.
Prioritize employee health and wellness with Pacific Prime
One easy way to put your employees' physical and mental wellbeing first is through employee benefits. As a leading employee benefits specialist and health insurance broker, Pacific Prime has over 20 years of experience helping companies design, implement, and optimize their employee benefits offerings.
Arrange a free consultation to learn more about employee benefits, how employers deal with pre-existing medical conditions, and our employee benefits solutions today.