Do global health plans cover birth control?
Birth control helps improve the lives of women around the world by preventing unintended pregnancies that can get in the way of their career/education plans, and lead to unsafe abortions, miscarriages, and even death. Despite being insured, many women still have to pay out of pocket for contraceptives, and sometimes end up having to spend a significant amount of money to lead a life of their choice, start a family when they're ready, or pursue their career goals on their terms.
In today's article, insurance broker Pacific Prime will shed light on the different insurance options available for women who do not wish to risk having a baby just yet.
Types of birth control
There are many types of contraceptives, also known as "birth control," available both to women and men nowadays. Some of the options are more or less effective than others, and some are easier to use than others. Below is a list of common birth control measures that also includes methods that can be used by males, however, most of them are designed to be used by women:
Reversible contraceptive methods
Oral contraceptive pills

Injectable contraceptives

Male condom

Female condom

Intrauterine Contraceptive Device (IUCD)

Spermicides – vaginal contraceptive film

Abstinence 

Fertility awareness
Emergency Contraception
Emergency Contraceptive Pills

Intrauterine Contraceptive Device (IUCD)
The costs of birth control measures differ from country to country, and also depends on the type of contraceptive used. While following a fertility calendar is definitely free, it is not a viable option for many women as it's not always effective and accurate. IUCDs, which can offer peace of mind for up to 12 years, are often quite costly.
Benefits of birth control
Women should have the right to choose when they are ready to have a baby. Not only ready in the economical and mental sense, but also health-wise, as there is a wide range of conditions that puts both women and baby at risk in case of an unwanted pregnancy. Including age, weight and pre-existing conditions such as high blood pressure, PCOS and many other.
Besides its main purpose, hormonal contraception methods reduce pregnancy-related morbidity and mortality, as well as the risk of developing certain reproductive cancers, and can be used to treat many menstrual related symptoms and disorders.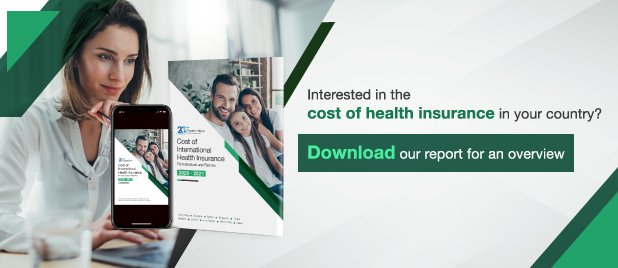 Do health insurance plans cover birth control?
Well, that largely depends on where you live, whether you have an onshore or global plan, and what benefits are included in your corporate medical plan, but there are general guidelines pertaining to what's covered under different policies.
For example, in the US under the Affordable Care Act (ACA), private and corporate medical insurance plans have to cover all female preventative treatment in full (no copayments or deductibles), which also includes the above-mentioned contraceptive options.
This regulation, however, may change as the Trump administration expanded the mandate by stating that religious-affiliated employers are exceptions of that rule, and they can deny birth control coverage for any ethical, religious, or moral objection; this now extends to for-profit companies, too (learn more about it here).
In most European countries, contraceptives are refunded up to a certain amount, or can even be obtained for free with a prescription, and local low-earning, eligible women can obtain it free of cost. International insurance plans will cover OB/GYN visits, but most likely won't cover elective birth control.
In Asian countries like Thailand, China, or Hong Kong, on the other hand, certain forms of contraception can be acquired over the counter without the need of a prescription, hence insurance typically doesn't cover those associated costs.
Each country has their own Family Planning facilities, where eligible women/couples, can get necessary education, treatments and birth control. This is mainly an option for residents.
Things look differently for global plans. Let's take a look at how global health plans treat birth control issues, depending on the plan:
Travel Insurance
No travel insurance plan covers birth control, as the major goal of travel insurance plans is to offer protection for medical emergencies only. Learn more about travel insurance here.
IPMI Plans
When it comes to international private medical insurance, virtually all insurers have general exclusions that apply to individual plans, and any treatment related to pregnancy, birth control or sterilization of either sex, infertility treatment (e.g. IVF), or sexual dysfunction (such as impotence, erectile dysfunction, etc.,) regardless of cause is almost always excluded.
While the costs related to pregnancy and childbirth can be covered under a special maternity insurance plan, birth control options are usually not covered. Hormonal birth control can be included in the plan if specifically requested, for a slightly higher premium. Contraceptives can potentially be covered when used not as a birth control measure, but if it's medically necessary to treat other disorders (e.g. irregular/painful menstruation, menstrual acne, endometriosis, etc.).
It's always a good idea to check with your broker or insurance provider whether you can be reimbursed for birth control measures.
Corporate Medical Plans
Corporate medical plans are great options for expats, as they tend to provide more comprehensive coverage. Group plans typically cover your pre-existing conditions, and all treatments related to them, but they also must follow local laws. For example, in China where birth control can be obtained over-the-counter, you can't make a claim for it unless it's prescribed for medical reasons. However, group policies can be extended by employers so that they provide supplementary benefits such as maternity care or preventive care, which, depending on the plan's schedule of benefits, can include birth control.
The bottom line
Depending on where you live, you might find that certain forms of birth control (e.g. condoms or contraceptive pills) are easy to obtain and affordable. For an expat woman living abroad, however, options for getting birth control insurance can be quite limited. As such, Pacific Prime recommends that you consult with your broker, insurer, or benefits administrator to see if they can extend your policy to cover contraception, or if birth control measures can be reimbursed if deemed as "medically necessary". Our recent article describes in detail what can you do if your company medical coverage is not enough.  
Feel free to contact Pacific Prime for a free quote and customized health insurance plan, as well as help with topping up your corporate medical insurance.