Top 7 Places for Expats to Live in the Philippines
The Philippines has become one of the top destinations for expats worldwide. This beautiful country offers an incredible mix of cultures, breathtaking landscapes, and warm-hearted people that make it an ideal place to settle down.
Whether you're seeking adventure, relaxation, or a new start, the Philippines has something for everyone. Spanning over 7,000 islands, the Philippines is surrounded by magical beaches and crystal-blue lagoons.
Every city in the Philippines is unique, leaving you spoilt for choice. In this article, we've put together a list of the top 7 cities that are ideal for expats:
Manila – Perfect for Expats
Manila is the capital city of the Philippines and is home to over 12 million people. The city is known for its vibrant nightlife, diverse culinary scene, and rich history. Expats can find everything they need in Manila, from world-class hospitals and international schools to luxury shopping and entertainment.
Why should you consider moving to Manila as an expat?
Rich Cultural Heritage
Manila's rich cultural heritage dates back to the Spanish colonial era. This heritage is reflected in the city's architecture, food, and way of life. The city has many historical landmarks, such as the Intramuros walled city, which are perfect for expats who love to explore.
Wide Range of Accommodation Options
Manila offers a wide range of accommodation options for expats, from luxury apartments and condominiums to more affordable rentals. Depending on their preferences and budget, expats can choose to live in the city center or the suburbs. The city also has excellent transportation systems.
Access to Quality Healthcare
Manila has some of the best healthcare facilities in the country, with world-class hospitals and medical centers that offer top-notch medical care. Many of these facilities have international accreditation, so expats can be assured of the quality of healthcare they receive.
Cebu – Ideal for English Speakers
Cebu is an island province in the Visayas region of the Philippines. It's a popular destination for expats who want to enjoy the island life while still having access to modern amenities. Cebu is known for its white sand beaches, turquoise waters, and rich history.
What makes Cebu attractive for expats?
Stunning Natural Beauty
Cebu is home to some of the most beautiful beaches and natural attractions in the Philippines. From the white sandy beaches of Mactan Island to the stunning waterfalls of Kawasan Falls, expats have plenty of options to explore and enjoy the island's natural beauty. The warm climate and tropical setting also make it ideal for outdoor activities such as diving, snorkeling, and hiking.
Modern Infrastructure
Cebu has a modern infrastructure that offers expats a comfortable and convenient lifestyle. The island has well-maintained roads, public transportation, and excellent telecommunications services. The international airport also makes it easy for expats to travel to and from Cebu.
Affordable Cost of Living
Compared to other major cities in the Philippines, Cebu has a lower cost of living. Expats can enjoy a comfortable lifestyle without breaking the bank. Food, transportation, and entertainment are all reasonably priced, making a living well on a budget easy.
Davao – The Safe City
Davao is the largest city in Mindanao and is considered one of the safest cities in the Philippines. The city has strict laws and regulations, ensuring a peaceful environment and low crime rates. This makes Davao a great place to live for expats who value safety and security.
What makes Davao expat friendly?
Friendly and Welcoming People
Davao is also known for its friendly and hospitable people. Locals are welcoming and accommodating to foreigners, making it easy for expats to settle in and feel at home.
Lively Infrastructure
Aside from the warm community, Davao has an excellent quality of life. The city is well-developed and has a lot to offer, from modern shopping malls, theaters, and parks, to stunning beaches and islands.
Ideal for Entrepreneurs
The city has a booming economy for expats who want to start a business or work in Davao, with agriculture, tourism, and manufacturing industries. The local government also supports entrepreneurship, providing incentives and programs for small businesses and investors.
Makati – Ideal for Expat Families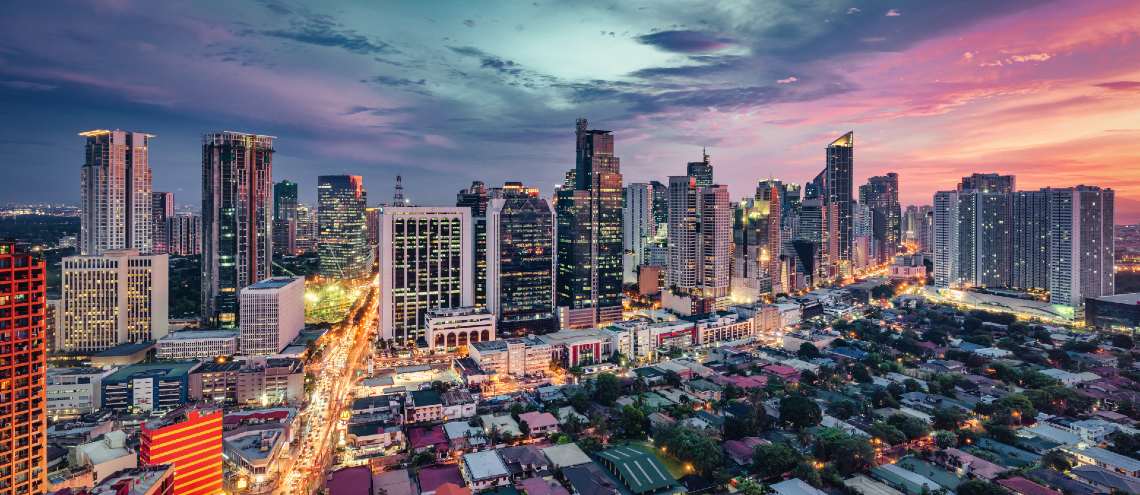 When it comes to the hustle and bustle and busy nightlife, Makati city can be compared to New York. Makati can be perfect for expats and their families, from high-rise buildings to well-reputed educational institutions.
Here's why Makati is a good choice for expats
Amazing Infrastructure
Makati is known for having excellent infrastructure like modern roads, bridges, and public transportation, as well as a ton of shopping centers, restaurants, and entertainment facilities. The city is also considered one of the safest in the Philippines, thanks to its strict security measures.
International Community
Another great thing about Makati is that it has a thriving international community, so it's easy for expats to make friends and feel more at home. Plus, communication with locals is a breeze since English is widely spoken there.
Vibrant culture
Makati is also known for its high living standard, including vibrant nightlife, cultural events, and recreational activities. And if you ever need healthcare services, you can rest assured that the city has some of the best hospitals in the country.
Subic – Perfect For Outdoorsy Expats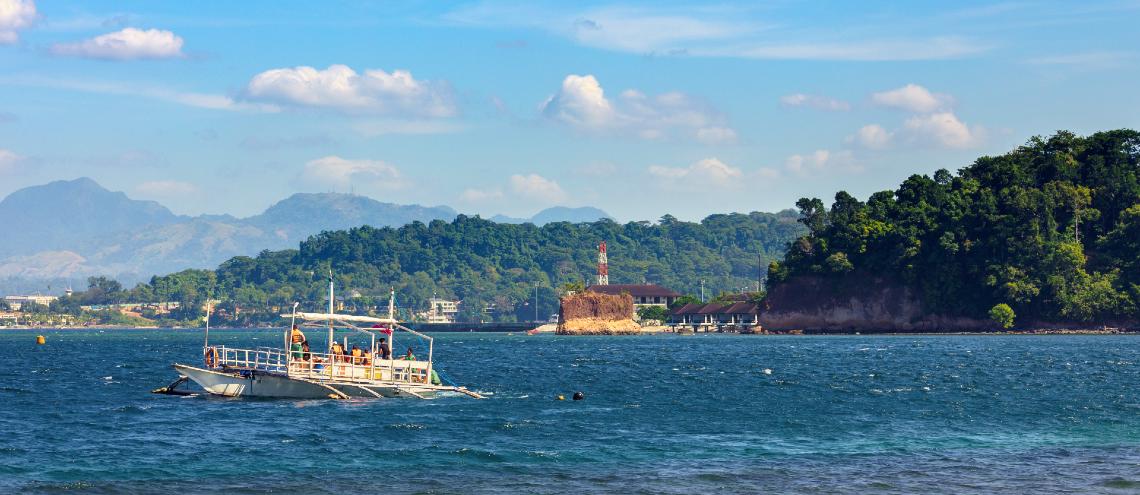 If you're considering moving to the Philippines, consider putting Subic Bay on your list of potential destinations. This former US Naval base has a lot to offer expats looking for a new home.
Here are some of the reasons why you should consider moving to Subic as an expat:
Ideal Location
First of all, Subic Bay is located on the west coast of the island of Luzon, which is the largest island in the Philippines. This means it's easily accessible from Manila, the capital city, which is just a two-and-a-half-hour drive away.
This proximity to the capital means you can easily access all the amenities and services you need but still enjoy the peace and quiet of a smaller town.
Beautiful Landscape
Subic Bay is also known for its natural beauty. The bay is surrounded by lush forests and plenty of outdoor activities to enjoy, such as hiking, mountain biking, and kayaking. If you're a beach lover, you'll be pleased to know that Subic Bay has some beautiful beaches perfect for swimming, sunbathing, and water sports.
Affordable Cost of Living
Another reason Subic Bay is a good place for expats to move to is the cost of living. Compared to other parts of the Philippines, Subic Bay is relatively affordable, especially regarding housing. You can find comfortable apartments and houses for rent at reasonable prices, and food and other essentials are also relatively low.
Dumaguete City – Ideal for Laid-back Expats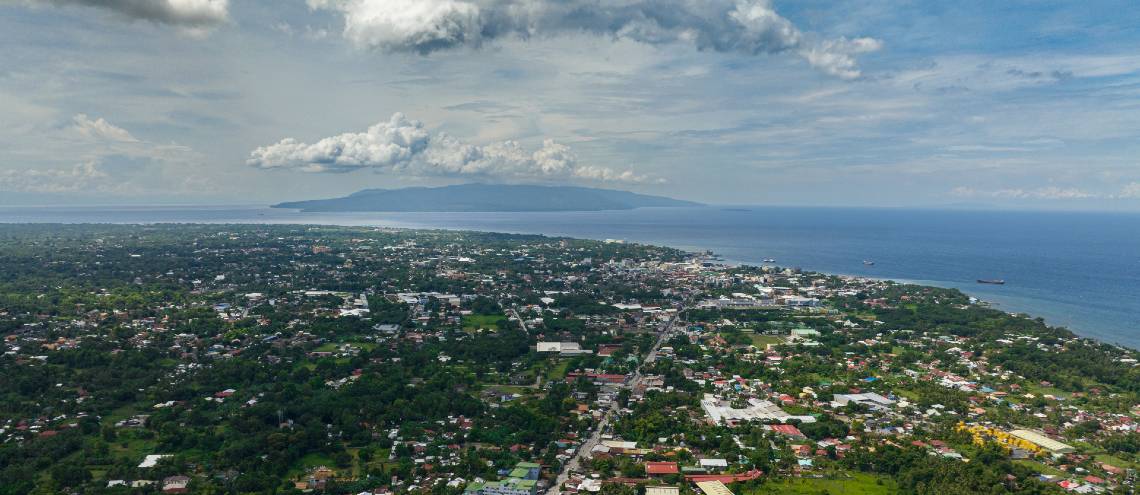 Dumaguete City should be high on your list of potential destinations because of its location on the southeastern coast of the island of Negros offers a laid-back lifestyle. The city offers a welcoming community and plenty of amenities, making it a great place for expats to call home.
Dumaguete City is good for expats because:
Welcoming City
Dumaguete City is its friendly and hospitable people. The locals are known for their warmth and welcoming nature, making it easy for expats to feel at home here. Also, English is widely spoken in Dumaguete City, making communicating and getting around easy.
Dumaguete City is also known as the "City of Gentle People," and it's easy to see why. Life here moves at a slower pace, which can be a refreshing change of pace for those who are used to the hustle and bustle of big cities.
Low Cost of Living
The cost of living in Dumaguete City is also relatively low compared to other cities in the Philippines, which makes it an attractive option for expats. You can find affordable housing options, as well as cheap transportation, food, and entertainment. This means that you can enjoy a comfortable lifestyle without breaking the bank.
Convenient location
Another benefit of living in Dumaguete City is its proximity to other popular destinations in the Philippines, such as Cebu and Bohol. Taking a ferry or a short flight to these places is easy, so you can explore more of the country without too much hassle.
Palawan – Perfect for Beach Loving Expats
Palawan, Philippines is an absolutely fantastic city for expats looking to move to a tropical paradise with a rich cultural heritage and a welcoming local community. Palawan is home to some of the most beautiful natural scenery in the world.
From the crystal-clear waters of El Nido to the stunning limestone cliffs of Coron Island, Palawan is a nature lover's dream come true. The city is also home to several world-class beaches and dive sites, making it an ideal destination for those who love to explore the great outdoors.
Why should you consider moving to Palawan as an expat?
Vibrant Culture
The city is also known for its vibrant local culture and welcoming community. Whether you're interested in learning more about traditional Filipino cuisine or want to get involved in local festivals and celebrations, you'll find plenty of opportunities to immerse yourself in the local culture and make new friends.
Economical Cost of Living
One of the other great things about Palawan is its affordability. Compared to other popular expat destinations, Palawan offers a lower cost of living without sacrificing the quality of life. Housing, food, and entertainment are all reasonably priced, meaning you can enjoy a high standard of living without breaking the bank.
Home for Expats
Palawan is home to a thriving expat community, so you'll have plenty of support as you settle into your new home. From expat groups and organizations to local meetups and events, you'll find plenty of opportunities to connect with other expats and make new friends.
Conclusion
The Philippines offers a diverse range of options for expats to choose from. Whether you're looking for a bustling city or a tranquil beach town, you will find your ideal home in the Philippines. Each of these seven places has its unique charm and appeal, so be sure to explore them all to find the perfect fit for you.
While you are thinking about moving to Asia, you could also consider looking into Thailand. The land of Smiles also houses a large expat community. However, if you are unsure about the Philippines or Thailand and want to keep looking, we suggest you explore our extensive guide to – Best places for expats to move to in Asia.
Another important thing to remember is your international health insurance or expat health insurance. If you are unsure where to find one, you can always talk to the seasoned experts at Pacific Prime.
With over 20 years of experience and a robust global presence, Pacific Prime has helped thousands of expats secure comprehensive health insurance plans. So, you can also find a plan that meets your requirements and budgets with Pacific Prime.
Frequently Asked Questions
Which city has the most expats in the Philippines?
You will find a large expat community in Manila, especially in Makati City. This is because Makati City is home to many multinational companies and is also the heart of the country's diplomatic community.
Which city in the Philippines is safe for expats?
Davao City in the Philippines perfectly balances out the beach and corporate life and is also one of the safest cities for expats to live in. It is also a great choice for those who love the great outdoors.
Why do Americans or foreigners move to the Philippines after retirement?
Many foreigners choose to retire in Asia because of the tropical climate, low cost of living when compared to the USA and Europe, friendly community, great healthcare services, and more. For instance, expats can live extremely comfortably at USD 800-1000 per month.