Top 12 Best Places to Live in Thailand
Thailand has long been known as a land of smiles, but it has much more to offer. Its beautiful natural scenery, low cost of living, great and diverse food, and thriving expat and digital nomad communities make Thailand one of the best places to live as an expat.
Single, married, or with kids, you can find the best places to live in Thailand easily. In fact, a lot of people have already done it, and they never regret it. It is home to a growing economy, job opportunities, a high-quality health system, and great international schools.
Pacific Prime will introduce you to the top 11 best places to live in Thailand, one of the best places to live in Asia, in this article. You can get to know more about each city and decide which one is best for you (and/or your family).
Phuket – A Diversity Town
When people hear the name of Phuket, they think about the beach and its vibrant nightlife, but Phuket is also known as a diverse town with lots of food and cultures. Besides, it has one of the best international schools in Thailand. It is a very expat friendly city due to the following reasons:
Great Education System
Phuket is one of the cities in Thailand with a large number of expats residing there. The city adapts to the needs of expats by having great international schools such as the British International School and UWC Thailand.
This makes Phuket suitable for relocating families with kids.
Accessible Location
In case you do not know, Phuket is a popular island. Flying to and from it is the best way to travel to other destinations. You can fly to almost any location in Thailand and Asia from Phuket International Airport. Explore what's around you while you are there.
Cafe City
Order your coffee and enjoy the view while you are working! If you like to work in a cafe or coworking space, Phuket is made for you. Despite the huge number of tourists, this city has developed its own cafe hubs in each area. It's a great way for you to meet and connect with new people.
Affordable Cost of Living
Even though Phuket can be somewhat expensive for some locals, it's still considered an affordable city to live in compared to other big cities in Asia. USD $3 is enough for a meal, and the cost of renting a one-bedroom apartment starts at around USD $428 per month.
High Quality Healthcare System
Finally, the healthcare system in Phuket is exceptional. There are a few well-known private hospitals such as Phuket International Hospital and Bangkok Hospital Phuket. Additionally, there are several medical tourism projects going on, too.
Moreover, most people and professionals in Phuket can speak and communicate in English, so you do not have to worry about communication at all.
Conclusion: Phuket is the best place to live in Thailand if you are looking for a city that welcomes expats, has great diversity of food and cultures, has a good school for your kids and has amazing beaches. You can live comfortably here if you are making USD $1200 – $1500 per month or more.
Chiang Mai – Ancient City with Slow Life Lifestyle
One of the most popular destinations in Thailand is Chiang Mai, the biggest city in Northern Thailand. Chiang Mai has the best combination between traditional and modern lifestyle. Experience a city with a low cost of living, great food, and a comfortable lifestyle. Let's see what else this city offers:
Cafe, Cafe, Cafe
It would be a lie if someone said Chiang Mai is not suitable for digital nomads because there are cafes with fast internet connections everywhere. Not to mention the coworking spaces that are available in every corner of the city, which are affordable and offer great facilities for work.
For example, a cup of coffee can cost as little as USD $1.17, and the cost of a coworking space starts at around USD $20 per month with all the necessary facilities you need for work.
Budget-friendly Accommodations
This city is all about cost-effectiveness. When it comes to accommodations, you can choose to stay in a hotel for as little as USD $4 per night or in a nice rental property for around USD $450 per month.
Growing Expat Communities
Of course Chaing Mai is one of the cities that has a large number of expats. That's why there are various groups and communities for people with different professions and interests. You will feel welcomed and get along with people and the city soon after you relocate there.
Mountain Getaways
Due to its size, Chiang Mai has a lot of mountains for you to escape to when you need a getaway from the city. Including well-known destinations like Doi Inthanon, Doi Ang Khang, Doi Tung, and many more. Easily accessible by bus or private car, these breathtaking destinations are perfect for a quick getaway.
Fantastic Nightlife Attractions
Who doesn't love a great night out? If you are all about 'work hard, play harder' then Chiang Mai might be the city for you. Even during the day, the city is peaceful, but at night it offers the best nightlife experiences possible. You can start your night at a jazz club then hop from bar to bar easily!
Conclusion: Chiang Mai would be the best city for you to live in Thailand if you are a digital nomad. Because, the cost of living there is inexpensive. They have so many cafes and coworking spaces for you to work and meet like-minded people. Moreover, it is the most peaceful city you could ever think of in Thailand.
Krabi – Peaceful Coastal City
Enjoy the beaches and islands with minimal cost of living in Krabi. As one of the provinces in southern Thailand, it is known for its peaceful beaches and breathtaking views. And of course, Krabi is also a lot cheaper than a bigger city like Phuket.
Affordable Cost Of Living
As mentioned before, compared to Phuket, the cost of living is relatively cheaper. A meal in local places can start around USD $2 and the rental accommodation can start from USD $175 a month.
Diverse Community
When you go to Krabi, you will notice a diverse community due to the residents from around the world. This has resulted in the province having a multicultural community with a perfect blend of Muslim, Chinese-Thai, Buddhist, and some gypsies.
Expat Friendly But Not Too Touristy
Relocating to Krabi can be somewhat challenging but, as an expat-friendly city it will help make the move easier for you. You will be able to talk and make friends with locals and expats who have been living there, not only the expats who are tourists.
Various Food Scenes
The food scene here is diverse and amazing to explore. There is Thai food, Southern Thai food, Indian food, Malaysian food, Chinese food, and other cuisines you might enjoy.
Breathtaking Islands
Krabi is also known as a home to multiple islands, and invites tons of tourists each year. As an expat who lives in the area, you can visit these amazing islands as often as you want with accessible tours and boat rides.
Rock Climbing Is The Thing
Krabi offers not only a wide range of outdoor activities, but it is also an ideal place for rock climbing lovers to challenge themselves. If you are a professional rock climber, you may even find employment in the industry since there are several climbing tours.
Conclusion: Krabi is not as busy as Phuket. Which might be more suitable for those who love the beaches, islands, and outdoor activities. It would be easier to settle down as it's welcoming to expats and has a good number of expat communities.
Kanchanaburi – Historical River City
Living in one of the most historical cities in Thailand is exciting, especially when they are a perfect mix of old meets new. Cost of living is relatively cheap. There are many local food places and activities that you can enjoy, including:
Loads Of Tourist Destinations
While living there as an expat, you may find yourself busy visiting all of the destinations and landmarks in this city. It has a variety of places for you to explore, from the historical landmark 'Bridge on the River Kwai' to the beautiful Erawan National Park.
Become A Part Of The Gems And Jewelry Industry
Mining has been one of the thriving industries in Kanchanaburi for decades. With a unique and skilled craftsmanship, the gems and jewelry industry in Kanchanaburi has been growing world-wide.
If you relocate there with industry-specific knowledge, you can make a job out of it by investing in or exporting the gems.
Local Food Selections
Here's the thing, Kanchanaburi has been influenced by Myanmar, Cambodia, and Japan. Additionally, cultures like Mon and Khmer also have impacts on cuisine in the area as well. You will definitely find yourself trying different dishes from all of the cultures for sure.
Surrounded by Nature
You can have your getaways easily in Kanchanaburi. You can go camping next to the Kwai River, Sangkhlaburi, E-Tong Pilok Village, and many more. Alternatively, you can relax by the waterfalls located in the city.
Conclusion: Kanchanaburi is a nice city for those who love history, nature, waterfalls and mountains. It is definitely more suitable for singles than families since it doesn't have any international schools.
Bangkok – Sleepless City
Bangkok is one of a kind. Not only is it the most popular city in Thailand with tourists but it is also home to a large number of expats from all over the world due to its growing economy, facilities, and blooming expat communities. Let's see what else makes this city a sleepless city:
A Range of Neighborhoods
Just like other big cities throughout the world, Bangkok has so many areas for expats to settle down. From the heart of the city like Asoke area to a suburb area like Lat Krabang, there are differences in the cost of rental, food, communities and job opportunities.
Thriving Startup Community
There are a lot of buildings and coworking spaces in Bangkok that are made for startups. There are plenty of job opportunities in startup environments. Also, there are so many international agencies and companies as well. It's safe to say that this is one of the best places to live in Thailand.
Day-to-night Adventure
Bangkok has a lot to offer. During the day, you can have a nice chill day at coffee shops, restaurants, gyms, and shopping malls. During the night, you can check out all the rooftop bars, clubs, and enjoy food at night markets. When in Bangkok, you will never run out of things to do.
Family Friendly
Yes, Bangkok is suitable for any family. Not only are there a number of outstanding schools you can choose for your kids, but it also has a wide-range of family-friendly activities as well.
The Best Healthcare in Thailand
As the capital city of Thailand, Bangkok has a more robust healthcare system than the other cities. You will find loads of international hospitals and clinics options in the city. Some might be specialists in a specific field. But it's always a good idea to have a health insurance plan to make sure that you will get the best treatments at all times.
Conclusion: Bangkok is suitable for those who love city life, vibrant nightlife scenes, activities and making connections. Bangkok offers a variety of cultural experiences, delicious food, and affordable cost of living. Moreover, it is suitable for those who are relocating with their family.
Nakhon Ratchasima (Korat) – The Biggest City in Thailand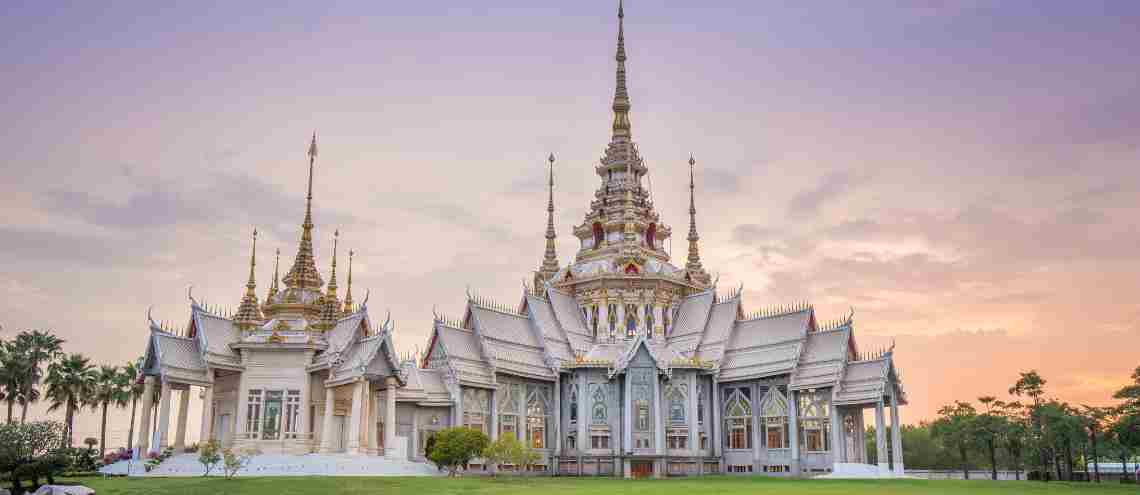 Relocating to Korat might be a really good idea if you are looking for a city that has everything to offer for expats but still retains its unique flair. Korat is the biggest city in Thailand with a lot of mountains, waterfalls, villages, cultures, and destinations. Here are a few things that make this city perfect for you:
Teaching Opportunities
Despite the size of the population in Korat, you can easily find teaching jobs. You can look for teaching jobs both in public schools and international schools. The differences would be the payment and the working environment.
Learn A New Tongue
Did you know that people in Korat have their own dialogue? It is totally different from the common Thai that people are speak. But do not worry, as you live there, you will get used to it and might pick up along the way.
Low Cost Of Living
Even though it is the biggest city in Thailand, Korat is still cheaper than other major cities in other parts of the country. For example, a one-bedroom apartment in the heart of the city only starts from USD $170. Transportations might not be as easy, but you can rent a motorbike to commute around.
Connect With Nature
Because of its size, Korat has a lot of nature for everyone to explore. You can go to Khao Yai National Park for bird watching, trekking, camping, and many more. Or you can check out other destinations to get away from the city life.
Conclusion: Although Korat is the biggest city in Thailand, it has less to offer in terms of job opportunities and infracstructure compared to Bangkok and Chiang Mai. That said, it comes with the natural attractions and activities.
This city would be the best place to live in Thailand for you if you are looking for a teaching job and you are looking to chill and connect with local people and cultures.
Nan – A Peaceful City
Nan is known for its beautiful nature scenes, history, and peacefulness. It wouldn't be a lie to say that this city would be more suitable for those who work online. Because the city is not too big, it doesn't have a lot of job opportunities but it has a lot of facilities for working remotely along with these reasons:
Coffee Shops Are Everywhere
Nan is a slow-life city. You will find many specialty coffee shops in every area you go. You can grab a coffee and sit there working for hours, enjoying the beauty of the surrounding nature. Moreover, the internet connection is smooth, so you can work from anywhere in the province.
Connect With The Locals
Nan is one of the cities with a lot of history and cultures in the past, and you can see glimpses of it in everyday life. If you relocate to Nan, you will get a chance to also connect to the city's historical and cultural stuff. And that's the best way to explore the city!
Incredibly Low Cost Of Living
You can wake up in the morning and have a local breakfast for less than USD $2. If you go to a fancy restaurant, it might cost you only up to USD $5 for one person. A one-bedroom apartment normally starts at USD $40.
Peace Of Mind
You will love Nan if you want to feel peaceful at all times. Even in the heart of the city, it is still not so hectic. If you choose to relocate to a suburb area like Pua, you will wake up to the misty mountain views everyday. The city is relatively small and quiet but also very friendly.
You can also go hiking or camping in the mountains, splashing water in the waterfalls easily.
Conclusion: Nan is perfect for those who are working remotely since the job market there is very limited. It would be the best place to live in Thailand for you if you are a true nature and outdoor enthusiast with a peaceful environment.
Lopburi – The Monkey Kingdom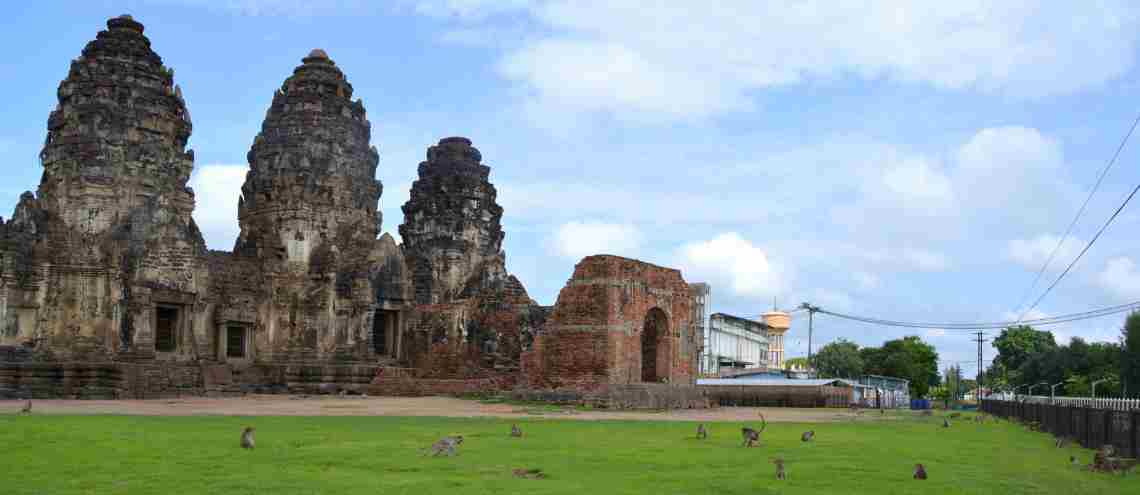 Unlike all cities in the world, in the center of Lopburi, people and monkeys live in the same neighborhood. Lopburi is also a starter city for a lot of expats who have relocated to Thailand, and here are the reasons:
Inexpensive Cost Of Living
The cost of living in Lopburi is relatively cheap compared to Bangkok. A one-bedroom apartment could start at USD $110, and you can pretty much live a comfortable life by making more than USD $530 a month.
Thriving Teacher Community
In Lopburi, there is a community for expats who teach in the area. Even Though it is a small city, it still has constant teaching jobs to offer. There are many schools and language centers in the area that hire native English speakers to teach children and adults.
Join The Non-profit Organizations
You can also start by joining a non-profit organization in Lopburi. Especially if you are having a strong passion about community developments and social welfare.
Jobs In Agriculture Industry
Lopburi is an agricultural city. There are various agricultural tours going on. This means you can also find a job in this industry as well whether it's as a tour guide, a researcher, or a farm manager.
Conclusion: If you have been in Thailand for a while and you can speak a bit of Thai already, Lopburi would be the best place to choose. Since it is not too far from Bangkok. It is a small local city where you can explore the history and connect more with the locals.
Chonburi – Beaches And Party
Chonburi is a province which is not too far away from Bangkok. This city is full of coastal areas, water activities, islands, and a vibrant city life that you might fall in love with. Here are some reasons that Chonburi might be the best place for you to live in Thailand:
Blooming Educational Systems
The fact that there are more than 9 universities and many more schools in the area makes it very suitable for expats who are looking for teaching jobs. There are some international schools as well.
Affordable Coastal Lifestyle
There are a lot of beaches and some islands in this city, but it's not as expensive as the coastal cities in Southern Thailand like Phuket, specifically when you are living near the university area. A meal can be as cheap as USD $1.5 and the housing could start from USD USD $100 a month.
Delectable Seafood
Since it's a coastal city, there are a lot of local fisherman villages, which will give you access to fresh seafood everyday with local prices. Some shops might even offer to boil or steam the seafood for you.
Nightlife
Whether you choose to relocate to the heart of the city or to the beach side, the nightlife in this area is always vibrant. During the day, you can enjoy the beautiful beaches and the various food places. At night, you'll find yourself hopping from club to club all night long.
Growing Manufacturing Industry
Certain areas of Chonburi serve as industrial manufacturing hubs, including well-known industrial companies. This makes Chonburi an ideal location for engineers and other professionals with specialized skills for working in manufacturing.
Conclusion: Chonburi is an excellent location for those seeking jobs in the teaching or manufacturing fields. With its growing economy and low cost of living, it's a perfect place to live in Thailand for anyone looking for a bustling town with beautiful beaches and nearby islands.
Pattaya – A Capital Of Fun and Entertainment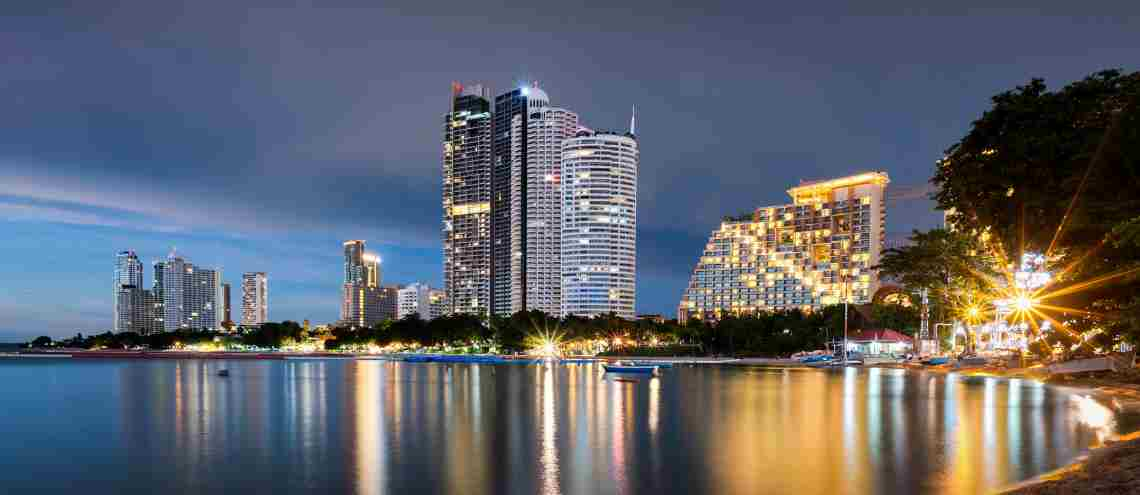 Pattaya is not only one of the most visited cities in Thailand, but also a permanent home to large numbers of expats from around the world. The city is known for its wide range of activities that you can enjoy all day and night. Let's explore whether Pattaya is the right city for you to relocate to:
The Party Never Ends
You know this is your city if you are a party animal. Pattaya has so many hangout spots where you can drop by and have the time of your life. Your options include chill pubs, EDM clubs, luxurious rooftop bars, and many more.
Surrounded by Islands
Pattaya can be very busy and a bit overwhelming for some people. But do not worry, you can hop on the boat and visit one of the islands around Pattaya. Within one hour, you will be on Koh Laan, Koh Phai, and many more
Easy Transportations
It is a breeze to navigate Pattaya and its surrounding areas. You can hop on a local bus or van to travel within the city and to other cities in Thailand.
Big Job Market
When moving to Pattaya, you do not have to worry much about the job opportunities. Since the city's economy is related to tourism, you can easily find a job in the hospitality field. Teaching is also another option because there are international schools as well.
Thriving Expat Communities
Relocating to Pattaya can be challenging, but with the expat communities there, you will be at ease. You can join Facebook groups to meet new people or go out and make new friends in any bar.
Conclusion: Pattaya is the city that offers you the most out of the party life. Meeting new people easily throughout the city at a cafe, coworking space or even at a pub! Also, this city is suitable for both those who want a contract job and digital nomads.
Koh Samui – Tourism Destination Island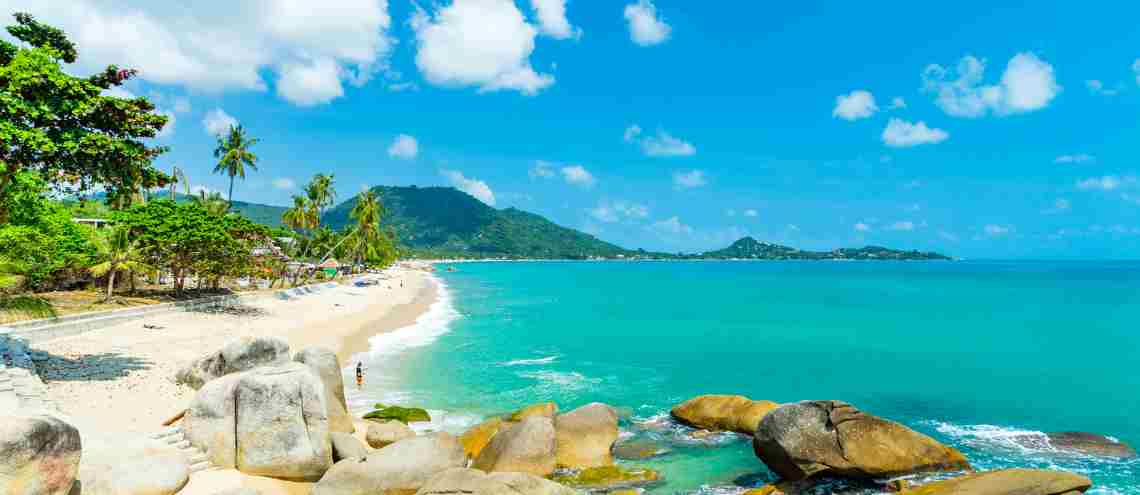 Koh Samui is on another level compared to Phuket as it is is the gem of the Gulf of Thailand. You can live in very fancy apartments here or in a local apartment. Both will still let you experience the best of what the island has to offer including:
Stunning Beaches
There are over 10 beaches in Samui that you can visit where you can enjoy clear water and beautiful beaches. If you enjoy water sports or activities, you will love it here for sure.
Food Scenes
You will find local food places readily available everywhere in the city. That said, the downside is that Southern food is often very spicy. If you love spicy food, that can be enjoyable. However, if you don't, you may need to pay a bit extra to eat in restaurants in tourist areas or in a Western restaurant.
Moreover, there are choices for Indian food, Malaysian food, and a lot more. Alternatively, you can try out different types of food just by walking down the street or food market.
Affordable Luxury Lifestyles
Koh Samui is full of luxury hotels and resorts, but they don't cost as much as you would have thought. A two-bedroom in a luxury condominium can start from USD $800 a month. This price includes two bedrooms, two bathrooms, a living room, a kitchen, and many more facilities.
Career Paths in Hospitality
Due to the number of tourists visited each year, Koh Samui has a growing hospitality industry. If you have a background in the industry, it would not be too hard for you to get a job there and grow towards the career path. Also, most people on the island speak English which is convenient for expats.
Conclusion: Koh Samui is good for you if you love the coastal city with a laid back lifestyle. There are a lot of job opportunities in the hospitality industry which can make you good money. The city has it all, from the beaches, local food markets to luxury hotel dining places.
Koh Tao – Perfect Location for Divers
Koh Tao, the Turtle Island, is a small island in the Chumphon Archipelago area. Many people from around the world come here each year to learn how to dive, and some of them fall in love with the island and decide to stay there long-term. Let's see what's there to offer:
Less Language Barriers
Most people in Koh Tao can communicate in English well enough for you to feel welcomed to the area. Also, it's easy to make new local and expat friends since it's a small island that you will bump into the same faces often.
Tight-knit Expat Community
People who visit Koh Tao, most of the time, share the same interest in diving. That is a solid reason for the massive expat community, which is a good thing for those who want to relocate to the area where you can find a bunch of people who are like-minded.
Become A Diving Instructor
As mentioned, Koh Tao attracts a large number of divers from around the world. If you have a certificate to teach, you can make up to USD $3,000 a month.
Great Spot For Digital Nomads
If diving is not one of your talents, you can also live there as a digital nomad. There are a lot of cafes and coworking spaces for you to meet new people and build your connections.
Conclusion: Koh Tao is the way to go if you are a diving enthusiast or if you like the beaches. An easy-going way of life can be found here with a chance for you to join the community, which would make your relocation experience much more rewarding.
Important Note Before Relocating
Relocating is never easy. It's essential to prioritize securing comprehensive health insurance before you relocate. This helps protect you from unexpected medical bills and make sure you will have access to the best treatments possible.
If you feel like Thailand is not quite what you're looking for after reading this article from Pacific Prime, you might be interested to explore the best places to live in Vietnam.
FAQs
What are some of the best places to live in Thailand?
As mentioned in this article, there are various cities that you can live as an expat in Thailand. It depends on your priorities and what you are looking for.
Which areas of Thailand are considered to be the safest for residents?
Thailand is generally safe to live in. However, you might have to watch out for pickpocket attempts which mostly happen in very crowded tourist areas.
In which parts of Thailand do many expats choose to live?
Most of the expats who relocated to Thailand as digital nomads would choose to be in major cities like Bangkok, Phuket, and Chianmai. They all have great transportations and it is very easy to make new connections with other expats due to the massive expat community .
Where is the most affluent area in Thailand where wealthy Thai people live?
Bangkok is one of those cities for sure. It has a higher cost of living compared to other cities in Thailand. Bangkok is also where the biggest companies are located. It is the city that has everything to offer.
Is it possible to maintain a comfortable lifestyle in Thailand with a monthly budget of USD $3000?
Yes, that is definitely possible. Even if you choose to stay in a major city like Bangkok, USD $3,000 a month should be enough to provide you with a comfortable lifestyle. With that budget, you can afford to live in a fancy condominium with every facility you can think of.
Latest posts by Serena Fung
(see all)