Top 8 Best Places To Live In Vietnam
From well-known cities like Ho Chi Minh City to chill, slow-life cities like Da Lat, Vietnam has a lot to offer for expats. With so many options, it can be challenging to decide where to live. In this Pacific Prime article, we have compiled a list of the top 8 best places for expats to live in Vietnam.
Whether you're a retiree, a digital nomad, or a young family, this guide will provide you with valuable insights into some of the most livable and desirable destinations in this vibrant and captivating country.
So, sit back, relax, and let us guide you through the best places to call home in this beautiful Southeast Asian country which is considered as one of the best places to live in Asia!
Can Tho – Riverside City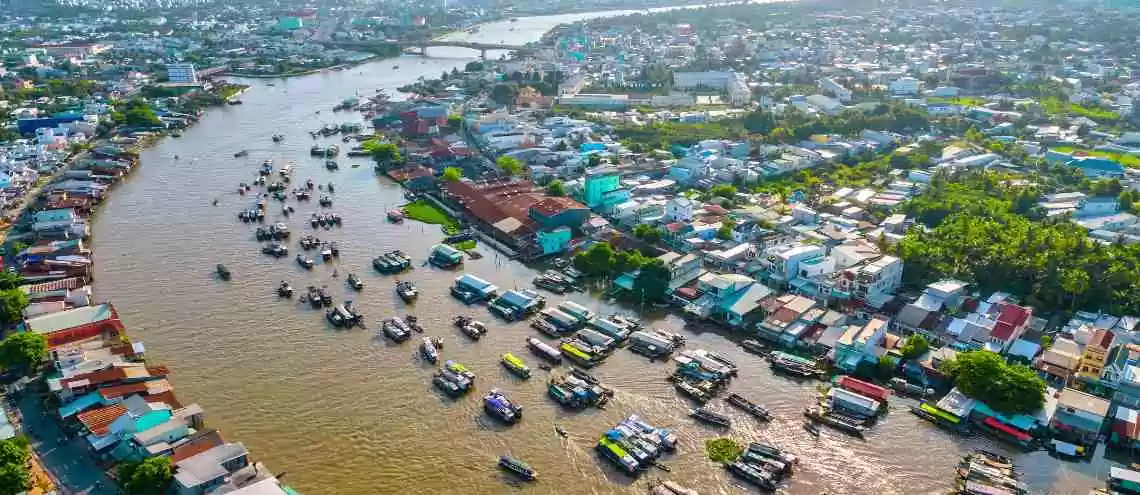 Can Tho is the largest city in the Mekong Delta region in southern Vietnam. If you love food and are also looking for an affordable lifestyle, this is the city for you. It is also a hub for trade and commerce with a growing economy. Here are some more benefits of living in this city:
1. Affordable Cost of Living
Compared to larger cities like Ho Chi Minh City and Hanoi, the cost of living in Can Tho is lower, making it an attractive option for those seeking a more affordable lifestyle.
2. Vibrant Food Scene
The food scene in Can Tho is diverse and ever-evolving, with new restaurants and street food vendors popping up all the time. Moreover, Can Tho is also known for its fresh seafood, with the city's rivers and canals providing an abundance of fish and shellfish.
3. Convenient Location
Can Tho is well-connected to other parts of Vietnam. Within Vietnam, you can get to Can Tho by direct flight from major cities. You could also hop on a bus or rent a car to travel along the Mekong Delta.
4. Opportunities to Teach English
Like many other cities in Vietnam, there is a great need for English teachers in this city. Meaning, if you are interested in teaching and traveling, Can Tho is a great place to consider working in.
5. Good Healthcare
There are several hospitals and healthcare services in the city, providing high-quality healthcare to both its residents and expats. Many of these facilities have English-speaking staff and are accustomed to working with foreign patients.
6. Growing Expat Community
Due to the growing numbers of expats in Can Tho, it's safe to say that the expat community in the city is growing at a steady pace. There is a Can Tho International Club and many more groups that organize regular events and activities for expats and locals alike.
Conclusion: If you're a foodie who enjoys experiencing local cultures and lifestyles, Can Tho is the perfect place to live in Vietnam. With abundant delicious cuisine and friendly locals, you'll have plenty of opportunities to immerse yourself in the local way of life.
Dalat – The City of Greenery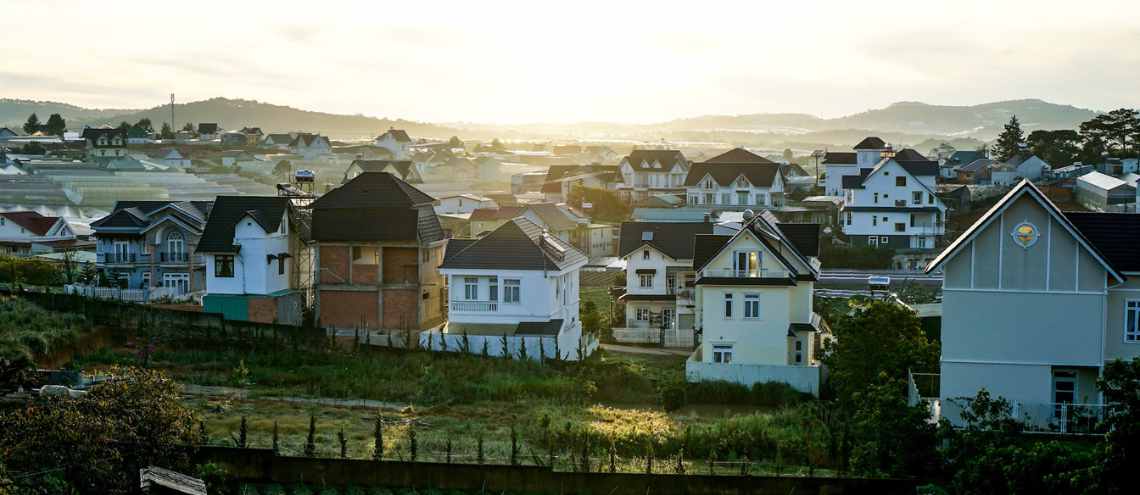 If you love the mountains, Dalat is the best place for you to live in Vietnam. Dalat is known for its cool climate, picturesque scenery, and French colonial architecture. Also, the city has more to offer than just year-round cool weather. Let's see what they are:
1. Beautiful Natural Surroundings
With its breathtaking scenic landscapes, Dalat offers a chance for you to reconnect with nature. The city is famous for its scenic landscapes, which include lush forests, rolling hills, and serene lakes. These natural attractions make it a paradise for nature lovers.
2. Good Healthcare Facilities
Even though Dalat is a small laidback city, it has a very good healthcare system to offer. You will be glad to know that well-known and popular healthcare providers usually communicate in English.
But expats who plan to stay there for an extended period of time may want to consider purchasing private health insurance to ensure they have access to the best medical care available. Many international insurance providers offer coverage for expats living in Vietnam.
3. Outdoor Activities
The reason why Da Lat is one of the cities to live in Vietnam is that it is a paradise for those who love outdoor activities. Whether it's trekking and hiking, camping, golfing, or any water sports, this city has it all.
4. Good Quality of Life
Dalat is a small city with a laidback lifestyle. The cost of living in Dalat for expats is relatively low compared to other major cities. For example, A one-bedroom apartment can cost around 4-6 million VND ($175-$260) a month and renting a motorbike is around 1.5-2.5 million VND ($65-$110) a month.
Conclusion: If you enjoy being close to nature, engaging in outdoor activities, and prefer cooler temperatures all year round, then Da Lat might just be the perfect place for you to call home.
Da Nang – The Economic Hub of Central Vietnam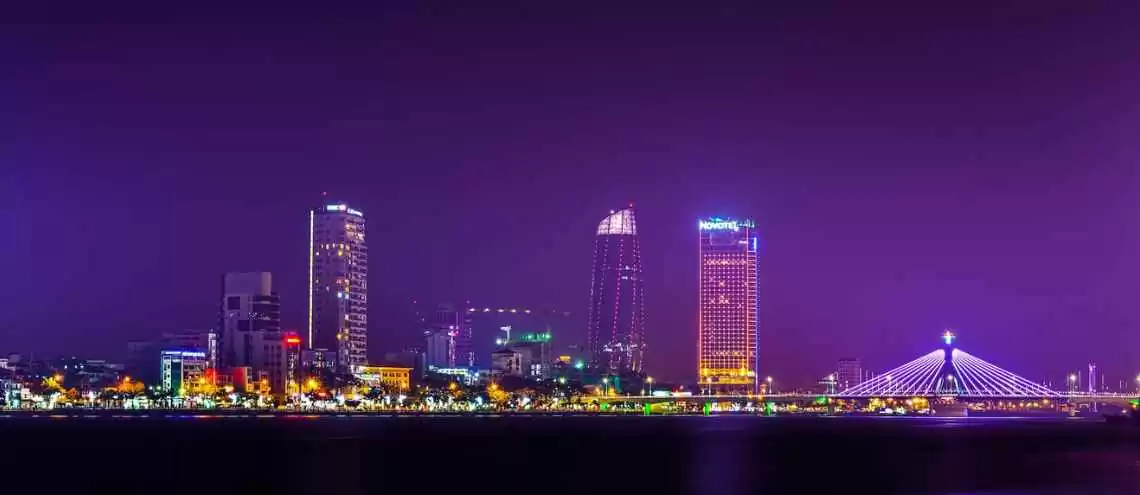 Da Nang offers a high quality of life at an affordable cost. It is an important commercial and educational hub in central Vietnam, with a booming port industry that adds to its economic significance. Here are some of the reasons why you should consider moving to Da Nang:
1. Modern Infrastructure
This city has a well-developed infrastructure, with modern transportation, communication, and utility systems, making it a convenient and comfortable place to live both for locals and expats.
2. Loads of Coworking Spaces
The startup community in Da Nang is growing rapidly in the past few years. This resulted in the city having many coworking spaces. These spaces offer high-speed internet and other facilities which are perfect for the needs of digital nomads and entrepreneurs.
3. Plenty of Activities
If you enjoy chilling next to the beach and have a chill vacation kind of lifestyle, Da Nang has beautiful beaches, clear blue water, and several activities for you to enjoy. Not only that, but you can also go for a hike at famous destinations like the Marble Mountains as well.
4. High-Quality Healthcare
As an expat, you do not have to worry about the healthcare system in Da Nang because it offers excellent healthcare facilities, with modern hospitals and clinics with English speaking doctors and nurses.
5. Expanding Job Market
Like mentioned before, Da Nang is growing rapidly in terms of the economy as the city has developed. The common jobs for expats living in Da Nang are English teaching, software development, web design, and many more.
6. Affordable Cost of Living
Even though the city is growing, the cost of living is still affordable with loads of options within your budget. The cost of food and dining out is also reasonable with several local street foods. Transportation costs are also relatively low as well.
Conclusion: If you want to live in a city with ample job opportunities and a thriving expat community but without the overwhelming hustle and bustle of a big city, Da Nang is the perfect choice for you.
Hanoi – A Perfect Blend of Tradition and Modernity
The fact that this is the capital city of Vietnam, without a doubt, this city is full of skyscrapers and modernity while representing the definitions of ancient city in the most contrasty, yet perfect ways. Let's see what else are the benefits of living here:
1. Cost-effective Lifestyle
Just like other cities above, Hanoi offers a very comfortable lifestyle at a low cost. Because it has a strong street food culture which makes it easier and cheaper to get food. Also, there are many options for shopping and entertainment.
2. Cultural and Historical Attractions
People fall in love with Hanoi because it is a perfect city that combines the old and the new together seamlessly. You can connect to the locals more by visiting their historical attractions like temples and museums.
3. Exciting and Dynamic Nightlife
Days or nights, Hanoi never disappoints you. In Hanoi, you can experience the nightlife in the best way possible. From cozy pubs and live music venues to rooftop bars and nightclubs. Moreover, the drinks are cheap compared to other cities around the world!
4. Thriving Expat Community
Hanoi has a growing expat community that includes teachers, entrepreneurs, digital nomads, and professionals from various industries. It's excellent for expats planning to move there, as you can connect with like-minded individuals and become part of the community as you settle and live in the city.
Conclusion: Hanoi is the perfect city for you if you want to experience the beauty of cultural and modern life combined. It offers a vibrant city life for those who love the urban lifestyle.
Ho Chi Minh City (HCMC) – The Business and Financial Hub of Vietnam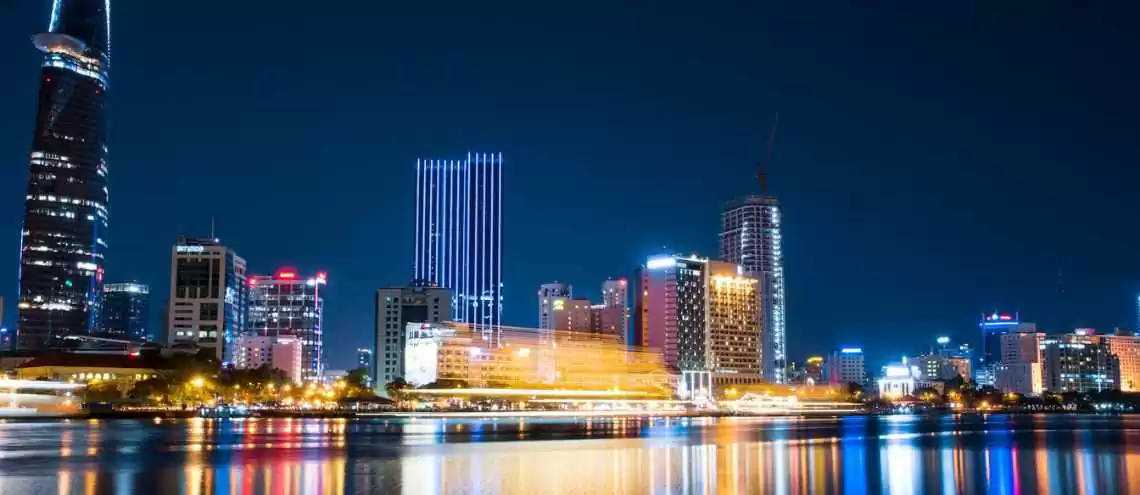 Ho Chi Minh City (Saigon) is one of the best places to live in Vietnam as an expat for sure. The city is safe, affordable, and has a lot more to offer than just the urban lifestyles. Additionally, for the following reasons, it could be considered one of the most accessible cities to relocate to:
1. Growing Economy
Of course it is the business and financial hub of Vietnam because of its location which is in the south of Vietnam and serves as a gateway for its agricultural production and export, This in turn, helped the economy grow rapidly in the past few years.
2. Job Opportunities
With that being said, there are plenty of job opportunities in Ho Chi Minh City. Especially in the fields of IT, finance, and manufacturing. There are also opportunities for English teachers due to its booming education industry.
3. Consistently Warm Climate
The average temperature in Ho Chi Minh City is around 2-28°C (81-82°F) throughout the year. Which is a perfect temperature for those who do not like too cold or too hot weather.
4. Coffee Culture Galore
People in this city have a very strong connection with coffee. The coffee culture in the city has developed over hundreds of years since the French brought coffee into the country. So, you can be sure to find various types of coffee shops throughout the city with unique tastes.
5. Strong and Welcoming Expat Community
You can even make friends before you move there. Because there are a lot of expat communities in the city that are welcoming to new joiners. Once you move there, you can also enjoy their meetups and activities as well.
6. Top-tire Hospitals in Vietnam
Healthcare and hospital facilities in Ho Chi Minh City are actually the ones of the top hospitals in Vietnam. Which makes it worry-free for expats who live in HCMC. The hospitals and clinics are easy to access and the nurses and doctors speak English.
Conclusion: Ho Chi Minh City or Saigon is a great city when it comes to urban lifestyles and opportunities for professional job offers. Also great for those who are planning to move to Vietnam for the first time because it has a strong expat community.
Nha Trang – A Haven for Digital Nomads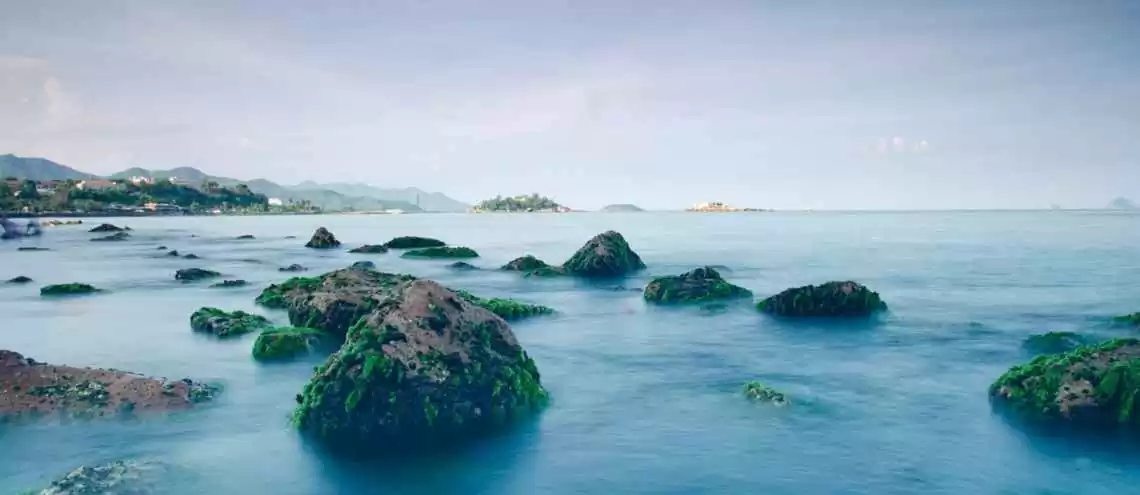 Nha Trang is home to retired expats, investors, and professionals, in addition to its fame for beautiful coasts, beaches and thriving tourism industry, there are numerous job and business opportunities available for you to pursue.
1. Great Hospitals and Healthcare
While Ho Chi Minh City is home to one of the best hospitals in Vietnam, Nha Trang has several facilities that offer outstanding healthcare services. You can easily fly to HCMC within an hour or visit local hospitals that offer excellent medical care.
2. Luxurious Lifestyles with Affordable Budget
French colonialists transformed this small area into one of the world's most luxurious vacation destinations. It boasts a wide range of accommodations. The city is filled with fantastic bars and clubs, providing a vacation atmosphere at an affordable cost compared to other major cities worldwide.
3. Perfect Climate Throughout the Year
As a coastal city, Nha Trang enjoys an average temperature of 26-28°C (78-82°F) throughout the year. This is one of the reasons why retired expats choose to live here.
4. Fewer Language Barriers
Nha Trang has a diverse expat population, including people from Australia, Europe, and the USA. Many local people speak French and English, making it easier for you to communicate with them.
5. Chances to Invest
Some expats living in Nha Trang own small businesses, while others invest indirectly by purchasing shares in Vietnamese firms. Vietnam also encourages foreign investment in certain sectors as well.
Conclusion: Nha Trang is a beautiful city, and is an excellent option for anyone seeking a slice of paradise. It offers luxurious living at a reasonable cost and provides opportunities to invest, work, or start a business. Consider this city if you are looking for luxurious living at an affordable cost.
Vung Tau – A Relaxed and Affordable Coastal City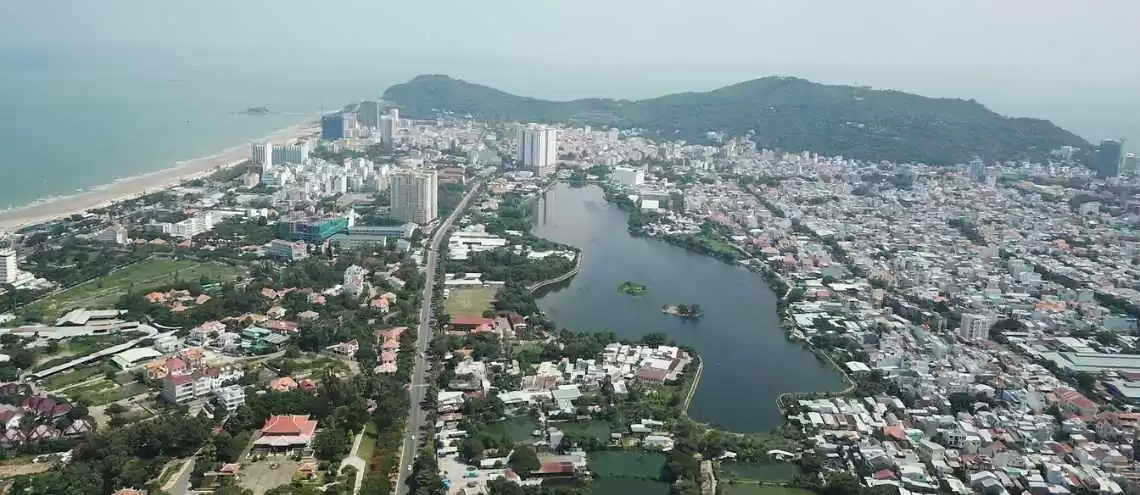 The large expat community in Vung Tau creates an exciting and supportive environment for newcomers, providing established social networks and access to familiar amenities. It is considered one of the best places to live in Vietnam for expat because of its coastal lifestyle with reasonable cost.
1. Dynamic Expat Community
Vung Tau boasts a diverse community of expats, adding to the city's population of 527,000 residents. Despite the laid-back lifestyle and affordable cost of living, the number of expats continues to grow.
2. Growing Healthcare System
The healthcare system in Vung Tau is improving and the city offers high-quality medical care, with several hospitals and clinics at affordable prices. Many of these facilities have English-speaking staff and are equipped with state-of-the-art technology.
3. Seafood Heaven
One of the best things about living in Vung Tau is the seafood. As it's a coastal city, it has access to fresh seafood that is caught daily. You can enjoy the taste of the ocean in every meal and it's not expensive at all. Making this city heaven for seafood lovers without a doubt.
4. Oil and Gas Industry
Vung Tau is a hub for Vietnam's oil and gas industry, with many multinational companies operating in the city. Expats with experience in this industry may find job opportunities in areas such as engineering, project management, and exploration.
Conclusion: This city offers expats a unique lifestyle, with a great balance between the convenience of modern amenities and the natural beauty of the surrounding environment. In terms of the job market, there are opportunities available for expats with the right qualifications and experience to work in this city including education, hospitality, and tourism industry as well.
As the former imperial capital of Vietnam, Hue is one of the cities in Vietnam attracting a large number of expats and digital nomads. It has a rich cultural heritage, traditional food, and a relaxed pace of life. Here are some more great benefits of living there:
1. Convenient Location
Hue is located in central Vietnam, making it a convenient base for exploring other nearby destinations whether by bus, private car, or plane.
2. Access to Healthcare
In Hue, there are several healthcare facilities including the Hue Central Hospital and the International Hospital Hue. So, it is easier for expats to access a good healthcare system without worrying about communications.
3. Coworking Spaces
Since Hue is a big city and has a growing number of digital nomads, there are many coworking spaces for you to explore and connect with like-minded people. Despite the fact that the job markets here are not so wide, expats who live here tend to work online or as English teachers.
4. Affordable Living
Hue has a lower cost of living than other major cities in Vietnam. This makes it an attractive option for expats and digital nomads looking to save money on expenses such as accommodation, food, and transportation. Yet, still living a comfortable lifestyle without breaking the bank.
Conclusion: Overall, living in Hue offers a unique cultural experience, good internet connectivity, affordable living, access to healthcare, and coworking spaces for expats and digital nomads.
Make Sure You Are All Set to Move to Vietnam
We can't deny that Vietnam is one of the best places to live in Asia. Even though there are some great healthcare services, it is always a good idea to secure insurance plans before you move to a new city or country. This can ensure you will get the best of services when something unexpected happens.
Pacific Prime has over 20 years of experience in the insurance industry, and we can help you find a plan that will meet your requirements. Contact a Pacific Prime advisor to learn more today!
If Vietnam sounds a bit off for your preferences, you can also check out the best places to live in Indonesia. Maybe it's your cup of tea!
FAQs About Moving to Vietnam
Curious more about Vietnam? Here are some questions and answers you might want to know as well. Whether it's about the areas, the cities, or some legal stuff.
Which Part Of Vietnam Do Most Foreigners Reside in?
Most non-Vietnamese people or expats usually live in the southern part of the country, especially in Ho Chi Minh City and Vung Tau, given their strong economy, job opportunities, and excellent healthcare system.
What Is the Top Location For Retirees in Vietnam?
There are several choices for retirees to live in Vietnam, including Da Nang and Nha Trang. Even though Nha Trang has a large number of retired expats, Da Nang is also suitable for retirees.
Which Vietnamese City Has the Highest Wealth?
Ho Chi Minh City (HCMC), also known as Saigon, is generally considered the wealthiest city in Vietnam. Despite the size of the city, the growth of the economy. Moreover, HCMC is considered an economic hub of Vietnam, accounting for a significant portion of the country's gross domestic product (GDP).
What Is the Most Beautiful Area in Vietnam?
It really depends on what you are looking for. If you like beaches, Nha Trang would be the most popular destination to admire the beauty of the blue ocean with the clear sky. But if you like colder weather and love mountains, Da Lat would be a nice city to explore.
Vietnam VS Thailand, Which Country Is A Better Choice for Expats to Move to?
Vietnam may be a slightly cheaper option than Thailand. On the other hand, Thailand has been a popular destination for expats for decades, and it has a well-established expat community with plenty of support and resources.
Overall, it depends on individual preferences, priorities, and circumstances. It is recommended to thoroughly research both options and weigh the pros and cons before making a decision.
Which City Is The Most Suitable for Living in Vietnam?
It's not quite easy for anyone to choose which city to live in, in Vietnam, but you can start by choosing from your preferences and priorities. If you want to settle down in a city that has a strong expat community and urban lifestyle, Ho Chi Minh City seems like the best option.
But if you are looking for a city that is suitable for living and offers a chill lifestyle, coastal cities like Nha Trang or Vung Tau would be a good idea.
Is Vietnam Warmer Than Thailand?
According to their locations, the weather and temperature in both countries are pretty much the same. In Vietnam, the average temperature would be around 25-30°C (77-86°F). In Thailand, it would be around 30°C (86°F).
What Is the Cleanest Urban Center in Vietnam?
Da Nang is known for its clean environments resulting from the efforts to improve the environment, such as cleaning up the beaches and streets, using less plastic, and making more green spaces. They have been doing this since 2020 and continue to work on it.
Are Foreigners Welcomed in Vietnam?
The fact that Vietnam is a popular destination for tourists worldwide makes it safe to say that locals are welcoming to expats and are very helpful.
Is It a Good Idea to Move to Vietnam?
If you are looking for a new environment to live in and explore, Vietnam is a nice option. The cost of living is lower than in some other countries in Southeast Asia. Things you need to consider before moving there are the language, job market, housing, and healthcare system.
11. Can a Foreigner Purchase Property in Vietnam?
Yes, foreigners can buy condominiums or apartments in Vietnam but cannot purchase the land. The Law on Housing Of Vietnam says that foreigners can own up to 30 percent of properties in given areas
Do People in Vietnam Speak English?
Not all Vietnamese people can speak English, but over 50 percent of the population can communicate in English, especially in big cities and tourist areas.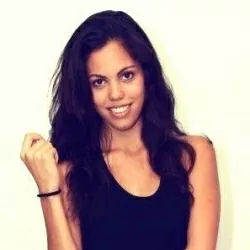 Latest posts by Jantra Jacobs
(see all)