The 8 Best Places For Expats To Live In Indonesia
One of the main reasons Indonesia is such a great choice for expats is because of its incredible natural beauty. The country is home to some of the most stunning beaches, mountains, and forests. Whether you enjoy hiking, surfing, or just soaking up the sun, Indonesia has something to offer everyone.
Indonesia is a country known for its stunning natural beauty, tropical climate, rich and diverse cultural heritages, and friendly people. The Southeast Asian country is made up of thousands of islands, each with its own unique character and charm.
Home to over 300 different ethnic groups, each with their own traditions and customs, Indonesia's diversity is reflected in its food, music, and art. All these make Indonesia a truly unique and exciting place to live. In this article, we've put together a list of the 8 best places for expats to build a new life in.
Jakarta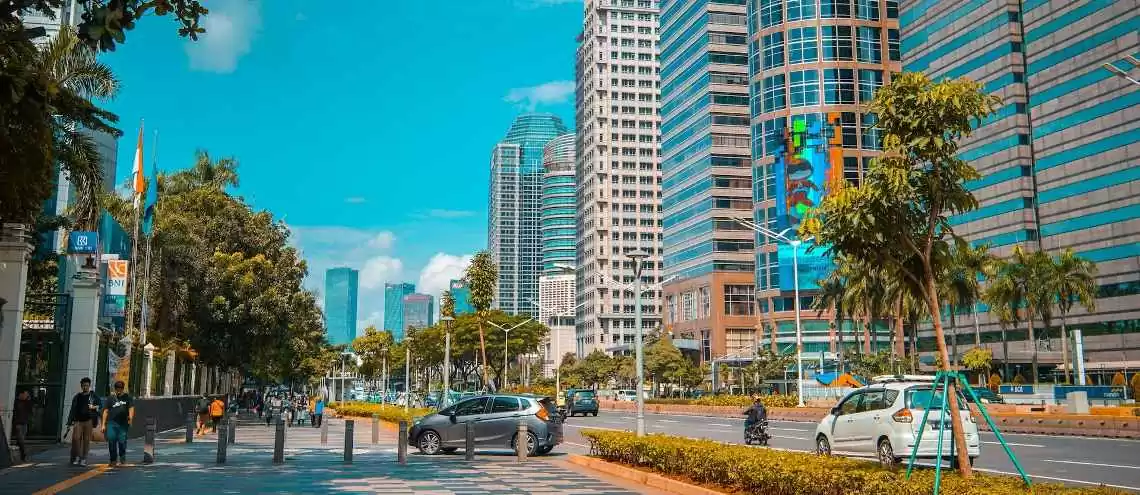 The capital and largest city of Indonesia, Jakarta is a bustling and vibrant city that offers a unique blend of traditional Indonesian culture and modern amenities, making it an ideal place to live for those who want to experience a new culture while still enjoying the comforts of home.
With its long list of attractions, including the National Monument, the National Museum of Indonesia, and the Istiqlal Mosque, you will never feel bored in Jakarta. The city also has plenty of parks and green spaces, including Taman Mini Indonesia Indah, which features miniatures of Indonesia's different regions, and the Ragunan Zoo, which is home to a wide variety of animals.
The city's variety of restaurants, bars, and nightclubs makes creating a lively and exciting lifestyle almost easier done than said. The city has a thriving art and culture scene, with a number of galleries and museums showcasing Indonesian art and history.
The economic center of Indonesia offers a range of job opportunities in a variety of industries, including finance, technology, and healthcare. Some of the top employers in Jakarta include Bank Mandiri, Telkom Indonesia, and Unilever.
There are a variety of accommodation options available, from luxury apartments to more affordable options. Popular areas with expats include Menteng, Kemang, and Pondok Indah. Jakarta also has a variety of international schools that cater to the needs of expat families. Some of the most popular schools include Jakarta International School, British School Jakarta, and Jakarta Intercultural School.
Bali
Bali, one of the most popular islands in Indonesia, is not only a great tourist destination but also a great place to live in. The island offers a tropical climate, beautiful beaches, and lush greenery, making it an ideal place for those who love nature.
Known for its gorgeous beaches and stunning natural landscapes, including Mount Agung, the rice terraces of Tegalalang, and the famous Tanah Lot temple, Bali certainly won't disappoint the nature explorer in you. The island has a rich cultural heritage, with traditional dances, ceremonies, and festivals that are celebrated throughout the year. What's more, Bali is home to a friendly and welcoming community, making it easy for expats to settle in and feel at home.
The island offers a wide range of activities for expats, including yoga, surfing, and hiking, as well as a thriving food and nightlife scene. A good range of accommodation options are available, from luxury villas to more affordable apartments and guesthouses. Popular expat areas include Seminyak, Canggu, and Ubud.
While generally more expensive than other parts of Indonesia, Bali is still more affordable than many other popular expat destinations, making it an attractive option for those seeking a laid-back lifestyle, particularly those with a focus on wellness, spirituality, and eco-consciousness.
Surabaya
The second largest city in Indonesia and a popular destination for expats, Surabaya has a rich culture, a vibrant lifestyle, diverse work opportunities, quality education options, and affordable housing.
Surabaya is a bustling metropolis with abundant entertainment options ranging from shopping centers, restaurants, cinemas, and parks. The city is home to several iconic landmarks, including the Submarine Monument, House of Sampoerna, and Tugu Pahlawan (the Heroes Monument).
Being the cultural hub of East Java, Surabaya offers numerous attractions, such as historical sites, scenic landmarks, museums, and theaters. Examples include Kampung Kapasan and Ampel Mosque. Expats can explore these places and learn about Indonesia's history and culture.
A rapidly growing economic center in Indonesia, Surabaya boosts numerous income opportunities in different sectors. The city has many corporations, start-ups, and government institutions that employ expats in skilled positions. Top industries include finance, banking, engineering, tourism, and education.
The city hosts the Institut Teknologi Surabaya (ITS) and the Universitas Airlangga, which are highly ranked for academic excellence. What's more, the city has several international schools offering curriculums for expat children, including the Surabaya European School, Singapore National Academy, and Cita Hati Christian School.
Surabaya has a variety of housing options to suit expats' preferences, ranging from modern apartments to traditional Indonesian-style homes. Most expats find housing affordable in comparison to other southeast Asian cities. The cost of living, including accommodation, transport, and food, are also relatively inexpensive.
Flores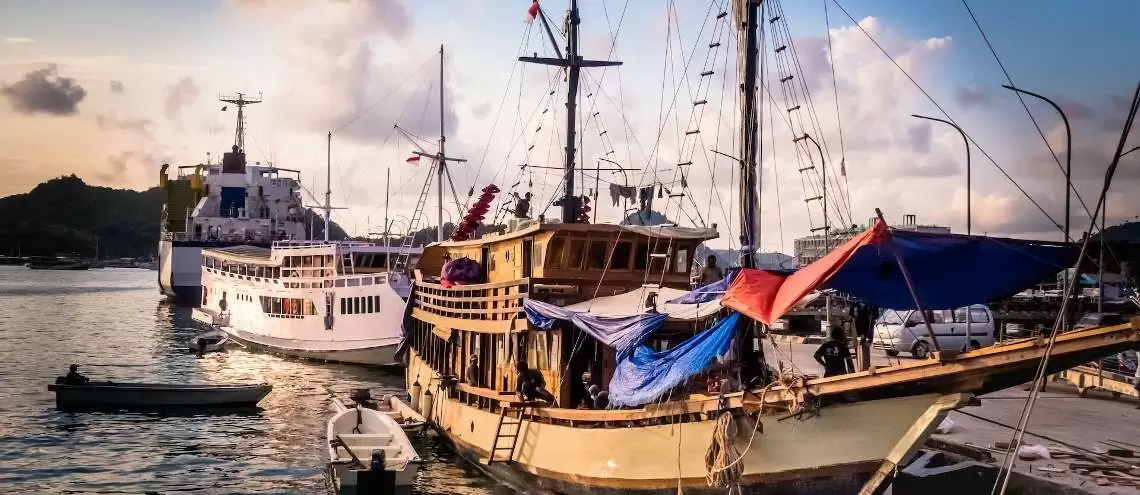 Flores is a beautiful island located in eastern Indonesia that has become increasingly popular among expats looking for a unique and adventurous place to live. There are several reasons for that, namely its natural beauty, varied accommodation options, schools, laid-back lifestyle, and more.
The island is home to several stunning national parks, including Komodo National Park, where expats can see the famous Komodo dragons. Additionally, Flores has beautiful beaches, waterfalls, and hiking trails for expats to explore.
Accommodation in Flores is varied and affordable, with options ranging from apartments to villas. Many expats choose to live in the city center of Labuan Bajo, which is known for its stunning views of the ocean and nearby islands.
Expats with children will be happy to learn that there are a number of international schools in Flores offering high-quality education. These schools often follow international curriculums and offer a range of extracurricular activities.
The climate of Flores is another draw. The dry season, which runs from April to September, is the best time to visit as ferries will run between the islands and the hiking, snorkeling and beaches are at their best. What's more, the temperature of cities at sea-level (Labuan Bajo, Ende, and Maumere) are usually warm, making it a great place to live year-round.
Flores, being a great destination for tourists, is a great place to start a business or find employment. Plus, the culture of Flores is unique and welcoming, making it a great place to settle down and make new friends.
Semarang
Located in the central part of Indonesia, Semarang is the capital of the province of Central Java. It has a unique blend of traditional and modern features. With its affordable cost of living, diverse work opportunities, and high quality of life, Semarang is a darling for expats everywhere.
One major attraction in Semarang is the Old Town, which is a historical district featuring architecture from the Dutch colonial era. The city has a vibrant Chinatown, known as Kampung Pelangi, which is famous for its colorful houses and delicious street food. Another attraction is the Sam Poo Kong Temple, a Chinese temple that is dedicated to Admiral Zheng He, a famous Chinese explorer.
Semarang offers a wide range of options from luxurious apartments to affordable housing. There are several international schools and universities in the city that provide quality education to expat children. On top of that, Semarang has a growing economy with lots of job opportunities in manufacturing, logistics, and tourism.
The lifestyle in Semarang is laid-back and relaxed, with a friendly and welcoming community. The city offers a wide range of recreational activities such as water sports, golf courses, and parks. Semarang also has a well-developed healthcare system with modern hospitals and clinics that provide excellent medical care to expats.
The cost of living in Semarang is relatively low compared to other Indonesian cities like Jakarta and Bali. If you don't plan on driving, you'll be pleased to know that the city has a well-developed public transportation system that makes it easy for expats to get around.
Makassar
Makassar, in the South Sulawesi province, is a bustling metropolis that has a unique blend of tradition and modernity. Its rich diversity and culture, affordable cost of living, plenty of work opportunities, and top-notch schools are certain to impress all who have spent time there.
You cannot say you know Makassar unless you have seen Fort Rotterdam – a historical site dating back to the 16th century. Another must-see is the Losari Beach, which is known for its beautiful sunset views and delicious street food. Trans Studio Makassar is a theme park that offers a wide range of indoor and outdoor rides and attractions, including roller coasters, water rides, and live shows.
Accommodation in Makassar ranges from budget-friendly options to luxurious apartments and houses. The city has international schools, such as Makassar International School, that cater to expat families. Work opportunities in Makassar are abundant, especially in the tourism industry, with many hotels and resorts looking for English-speaking staff.
The lifestyle in Makassar is vibrant and diverse, with plenty of activities to explore. The city is famous for its traditional Buginese culture, which includes dances, music, and festivals. The cost of living in Makassar is relatively low compared to other Indonesian cities, which are generally not expensive places to begin with.
Yogyakarta (Jogja)
Yogyakarta, commonly called Jogja, is in the central region of Java Island. It is a great place to live due to its unique blend of traditional Javanese culture and modern amenities. Another big draw of Jogja is its affordability, with a low cost of living compared to other cities in Indonesia.
If you're into history, you must visit the Borobudur Temple, a UNESCO World Heritage site that dates back to the 9th century. Another must-see for you is the Prambanan Temple, a Hindu temple complex that is also a UNESCO World Heritage site. For those who enjoy the arts, the city offers numerous cultural performances, including traditional Javanese dances and gamelan music.
Jogja is also known for its vibrant arts and music scene, with numerous galleries, art centers, and music festivals throughout the year. Locals are known for their hospitality towards visitors. The city is also well-connected to other parts of Indonesia, with easy access to Jakarta and Bali via air and train.
Accommodation in Jogja is affordable, and the city has a number of international schools, such as Yogyakarta Independent School and Yogyakarta International School. Work opportunities in Jogja are abundant if you speak good English, especially in the tourism industry.
With its high quality of life, rich cultural experiences, and affordable living, Yogyakarta is an excellent place to call home.
Bandung
Known as the "Paris of Java" for its beautiful colonial architecture and serene atmosphere, Bandung, the capital of West Java province, is a vibrant and bustling metropolis with a vibrant economy, world-class universities, and a diverse population.
Surrounded by verdant hills, tea plantations, and strawberry fields, the natural beauty of Bandung is breathtaking. Other popular tourist destinations include the Tangkuban Perahu volcano, the Ciater hot springs, and the majestic Kawah Putih crater lake.
Accommodation in Bandung is affordable and varied, with options ranging from modern apartments to traditional villas. Many expats choose to live in the Dago and Ciumbuleuit areas, which offer stunning views of the city and easy access to popular restaurants, cafes, and shops.
For expats with children, Bandung has numerous international schools that offer high-quality education in English. The city also has a thriving business community, with many opportunities for employment in industries such as technology, manufacturing, and hospitality.
There is a strong sense of community and a focus on family. The city has numerous parks and green spaces, making it easy to enjoy outdoor activities such as hiking and cycling. Healthcare facilities in Bandung are of a high standard, with many modern hospitals and clinics offering medical services at affordable prices.
Bandung is relatively affordable compared to other major Indonesian cities such as Jakarta and Bali. However, living expenses can vary depending on an individual's lifestyle and accommodation choices. With its unique and attractive blend of modern city living and traditional culture, Bandung is an excellent choice for those looking to live in Indonesia.
Conclusion
Few countries can match Indonesia on cultural diversity, natural beauty, and economic opportunities. The eight places presented are the favorite choices of many expats, and they are attractive in their own distinct ways. What they have in common is that they all offer a relaxed lifestyle and a welcoming community.
But Indonesia is by no means the only great place to be for expats in Asia. Vietnam, being a former French colony, is a country where Asian traditions mix impeccably with Western style, and the easygoing and helpful people of Taiwan are often said to be the most beautiful scenery of the island. And these are just two examples. For a more comprehensive list of great Asian places for expats, please read our guide – Best Places for Expats to Move to in Asia.
Wherever you choose to be in the end, don't forget to secure suitable expat health insurance or international health insurance for yourself and your loved ones. The last thing you want as an expat is having to worry about paying the medical bills, when what you need is quality healthcare and plenty of rest.
With more than 20 years of experience in insurance, Pacific Prime can certainly help you secure the plan that meets your requirements and fits your budget. What's more, you won't pay extra compared to going directly to the insurer. So contact us for a plan comparison or FREE quote today!
Frequently Asked Questions
Is English commonly understood in Indonesia?
English is commonly understood in Indonesia. The Indonesian government has declared English as a compulsory subject to be taught to students from elementary school to university level.
Is the quality of healthcare services good in Indonesia?
Indonesia has made significant progress with its healthcare system in recent years. The government has implemented various initiatives to improve access to healthcare services, particularly in rural areas. There has also been an increase in the number of private hospitals and clinics in the country, which has helped to improve the quality of care available to patients.
Is Indonesia a safe country to live in?
Indonesia is generally a safe country to live in, but like any other country, there are certain risks that individuals should be aware of. Natural disasters such as earthquakes, volcanic eruptions, and floods are common in Indonesia due to its location in the Pacific Ring of Fire.
In addition, petty crimes such as pickpocketing and theft can occur in crowded areas such as markets and tourist sites.

Latest posts by Martin Lee
(see all)