Living Abroad In China For Expats And Digital Nomads
Living abroad in China as an expat and digital nomad can be a whole new experience. You need to adjust to a new environment, a new monetary system, a new school system, a new healthcare system, a new culture. Pacific Prime is here to ease that transition!
In this article, we will help you learn all about the cost of living in China and whether or not it's considered expensive (here's a hint – it's super affordable!). We also want to make your moving process easier by clarifying the visa requirements you must meet to enter the country.
Another great resource available to you is our general guide for living abroad in Asia – it's one you won't want to miss!
A Guide For Expats About Living Abroad In China
This guide for expats who are learning about living abroad in China will break down the financial expectations your new home may have. We'll do so by talking about housing, food, transportation, educational, and healthcare expenses. We'll also discuss Chinese visa requirements.
By the end of this article, you'll be ready to read about the best places to live in China!
Cost Of Living In China Vs. The USA
On average, the cost of living for one person in China is $754 a month, while the cost of living for one person in the USA is $2,213 a month. The average family in China usually spends $1,982 a month compared to $5,003 a month for a family in the USA.
These averages come from crowd-sourced data, and they are intended to give you a general idea of what you may spend, not exact prices.
To understand how much you might spend in China, we will break down the housing, food, and transportation living expenses and compare them to those in the USA.
Housing Expenses In China Vs. The USA
Housing expenses in the USA can be more than triple what it costs in China. For one person in China, rent on average costs $339 a month while in the USA it costs $1,399 a month. For a family in China, rent costs $583 a month on average while it's $2,331 a month on average in the US.
Here are some average prices:
1-bedroom apartment downtown

: $385 in China vs. $1,483 in the USA

A cheap 1-bedroom apartment

: $263 in China vs. $1,154 in the USA
Food Expenses In China Vs. The USA
On average, food expenses in China cost $255 a month while food expenses in the USA cost $568 a month. Both eating out and buying groceries are significantly more affordable in China, often being as low as a third of the price in the United States.
Eating out averages:
Lunch

: $4.25 in China vs. $16.60 in the USA

Dinner

: $22.90 in China vs. $63.30 in the USA

Fast food meal

: $5.12 in China vs. $9.07 in the USA
Grocery averages:
1 qt of

milk

: $1.89 in China vs. $1.05 in the USA

1.1 lb of

bread

: $1.51 in China vs. $3.04 in the USA

2.2 lb of

rice

: $1.13 in China vs. $3.99 in the USA

12

eggs

: $1.80 in China vs. $3.91 in the USA

2.2 lb of

chicken

: $4.13 in China vs. $11.70 in the USA

2.2 lb of

apples

: $1.83 in China vs. $4.66 in the USA
Transportation Expenses In China Vs. The USA
In China, the transportation expenses are $75.20 a month on average. In the USA, transportation expenses are $98 a month on average. While it costs about the same to buy gas for a car in both countries, it is over twice as expensive to use public transportation in the United States.
Transportation average costs:
Local transport ticket

: $0.39 in China vs. $2.23 in the USA

Monthly local transport ticket

: $20.40 in China vs. $65.50 in the USA

Taxi Ride for 5 miles

: $4.77 in China vs. $17.40 in the USA

¼ gallon of gas

: $1.20 in China vs. $1.01 in the USA
Salaries In China Vs. USA
The average salary after tax in China is $834 monthly or $10,008 annually. The average salary after tax in the USA is $4,223 monthly or $50,676 annually. While these are drastically different, it's important to remember that average living expenses in China are about a third as much as in the US.
If you move to China with some money saved, or if you continue earning your United States salary, you should be able to live in China quite comfortably.
Is China Expensive To Live In?
The average cost of living in China is about 66% less expensive than the cost of living in the United States. With that in mind, China does not seem expensive to live in. This will depend on your location, however. Hegang is considered cheap while Hong Kong and Shanghai are the most expensive.
Education For International Students In China
One thing to consider about living expenses in China is the cost of education for international students. There are three main scholarships you can utilize in China, as well as local scholarships offered by each university.
These are the three types of general China scholarships for international students:
Chinese Government Scholarship

: This full ride covers tuition, accommodation, living expenses, and insurance. With it, you are limited to Chinese study and cannot pursue other majors.

Local Government Scholarship

: These will be dependent on the local city or province of your university.

Confucius Institute Scholarship

: This is a fully funded scholarship offered to students who will study the Chinese language and culture. It covers tuition, housing, insurance, and monthly personal expenses.
Healthcare In China For Expats
Another expense factor to consider is healthcare. Basic public healthcare is free in China due to China's social insurance plan. The plan can cover most expats, though it depends on your exact region. It can, however, be more difficult to find English-speaking healthcare professionals.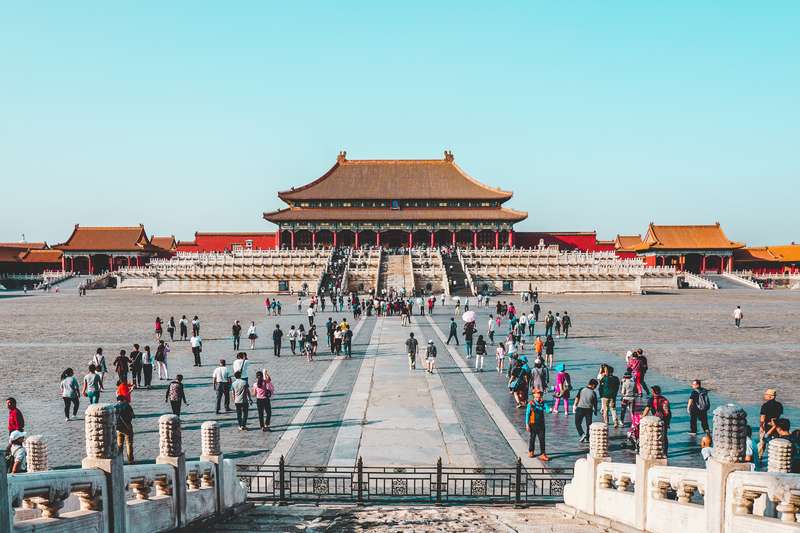 Both booking and appointments are done in Mandarin or Putonghua. Wait times can be extremely long through the public system.
If you'd prefer to get a private healthcare plan in China, you will have access to international hospitals, clinics, and VIP wards. These locations have a higher standard of sanitation and care, on par with what you'll be familiar with from Western countries.
Regardless of whether you go public or private, Pacific Prime highly recommends that you find the right international plan for your needs. In addition, if you plan to do any traveling while in China, you'll want to make sure that you have healthcare coverage for whatever country you find yourself in.
Moving To China From The USA
If you are planning on moving to China from the USA, you will need to apply for the correct visa that will let you enter the country. You cannot enter China without an entry visa, even as a tourist. You must also have a valid visa to exit China, so make sure your visa doesn't expire.
If you don't have a visa, if it expires, or if you overstay your visit, you may be detained and receive a fine. To prevent this, make sure you get the right visa for work, school, or tourist activities and that it will last for the full length of time you plan to live in China.
These are some of the Chinese Visa Categories:
C:

For foreign crew members on aircrafts, trains, ships, or vehicle drivers who are involved in cross-border transportation activities

D:

For individuals who plan to live in China permanently

F:

For individuals who plan to go to China for exchanges, visits, studying, tourism, and other activities

L:

For individuals who plan to visit China as a tourist

M:

For individuals who plan to go to China for commercial and trade activities

R:

For individuals who have high-level talents and skills that are in high demand in China

X1:

For individuals who plan to study in China for longer than 180 days

X2:

For individuals who plan to study in China for no longer than 180 days

Z:

For individuals who plan to work in China
Read about more types of Chinese visas here.
These are the basic documents needed for every visa application:
Passport

Visa application form and photo

Proof of legal stay or residence status

Photocopy of previous Chinese passports or visas (if applicable)

Supporting documents

depending on the visa you need
Living In China As An American
Living in China as an American is totally different than living in the US. A few tips to help you adjust and fit in include learning the language, learning the history, understanding that Chinese people are direct (and that's not considered rude), respecting hierarchy and status, and being humble.
Learning The Language

: In China, there are several languages spoken, and the most widely known are Mandarin and Cantonese.

Learning The History

: China has thousands of years of history behind it. To be respectful, empathetic, and avoid making a fool of yourself, be sure to study up on basic Chinese history.

Understanding That Chinese People Are Direct

: To an American, some of the questions a Chinese person asks you might be considered rude and overly personal, but in China, that's not the case.

Respecting Hierarchy And Status

: Tradition and age play a crucial role in social interactions in China. Make sure you respect your elders and others who have status over you.

Being Humble

: Chinese culture is very humble, and people don't draw attention to their achievements. This is drastically different from American culture which celebrates the individual and encourages outward praise.
Conclusion
Now that we've looked in detail at the cost of living and educational and healthcare expenses in China, you should have a better idea if this is the right place for you to move. If it is, be sure to learn more about the expat health insurance options available to you.
If China isn't the right place, consider living abroad in South Korea or Hong Kong. And always, safe travels!
Latest posts by Serena Fung
(see all)