Best Places to Live in Greece for Expats
From the beautiful ruins of Athens to the breathtaking views in Santorini, Greece is a beautiful country with a rich history, stunning beaches, and a warm, sunny climate. It is no wonder that many people, expats included, are considering moving there.
Greece is also popular for its world's best islands, which are grouped into Ionian, North Aegean, Cycladic, Dodecanese, Sporades, and Saronic islands. And not to forget, the Crete. Each city or island offers its own unique culture and traditions.
With so many options, it can be difficult to choose the right city to call home. Our team of experts has put together a list of the top 10 cities to live in in Greece.
Top 7 Places to Live in Greece in 2023
Athens – The Capital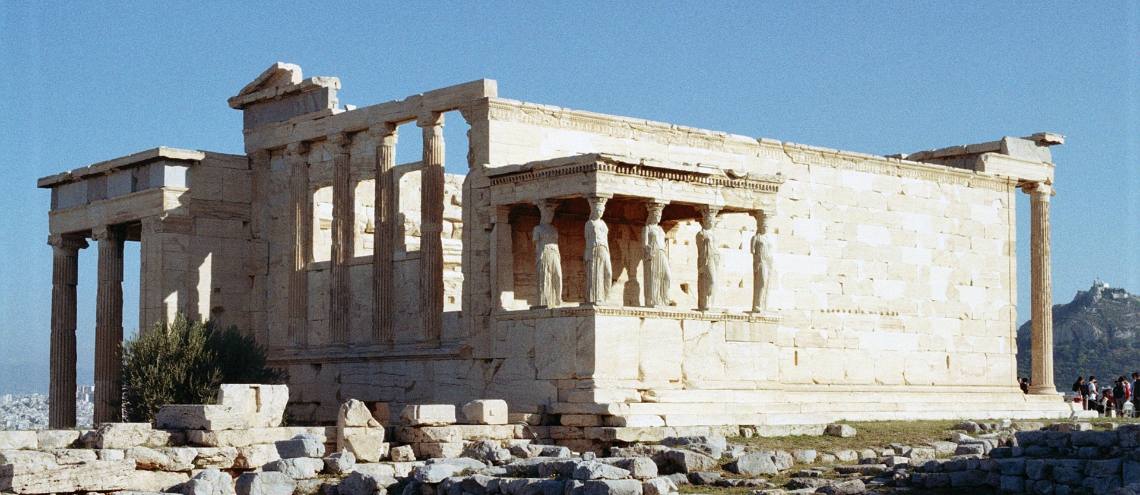 Athens is Greece's capital city and is one of the most popular places to live in the country. It is known for its rich history and culture and is home to some of the world's most famous landmarks, such as the Acropolis and the Parthenon.
Athens is also a hub for business and commerce, with a thriving economy and many job opportunities.
So, if you want to live in a Greek town with modern amenities but is also enveloped with culture and character, Athens should be on top of your list.
Why should you consider moving to Athens as an expat?
Beautiful Weather: Athens is located in the Mediterranean region so you can expect warm, sunny weather for most of the year. This also makes it an ideal place to enjoy outdoor activities, such as hiking, swimming, and exploring the city's many parks and gardens.
Delicious Food: Greek cuisine is renowned for its fresh, healthy, and flavorful ingredients, and Athens is no exception. The city offers a wide variety of dining options, from traditional tavernas and souvlaki shops to trendy cafes and gourmet restaurants.
Affordable Cost of Living: Compared to other major European cities, Athens offers a relatively low cost of living, making it an attractive destination for expats looking for a more affordable standard of living.
Thessaloniki – The High-Tech City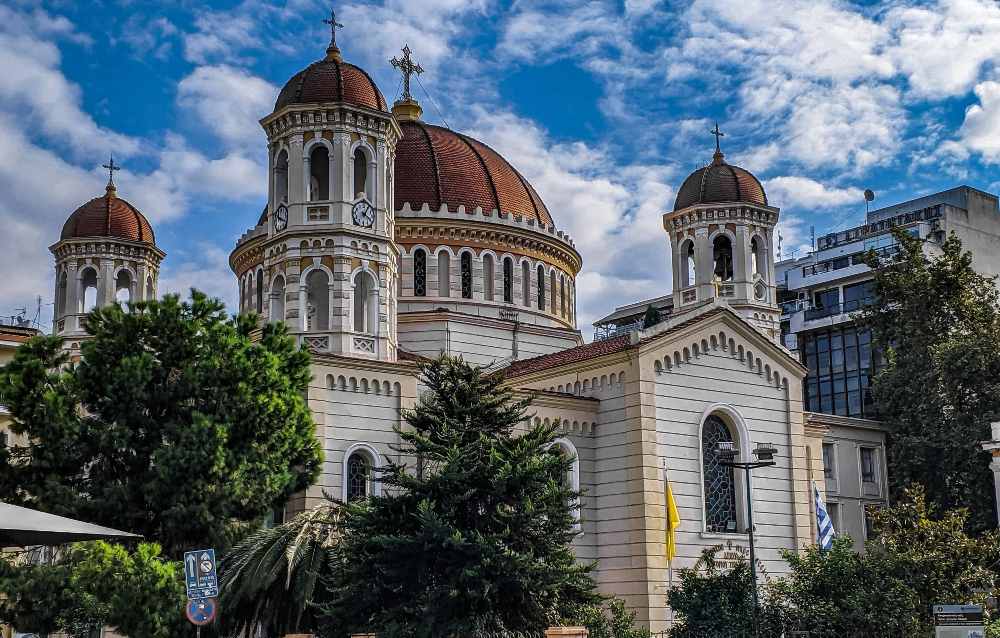 Thessaloniki is Greece's second-largest city and is located in the northern part of the country. It is known for its vibrant nightlife, rich history, and delicious food. The city has a thriving economy and is home to many universities and research institutions.
Why is Thessaloniki a good option for expats?
Affordability: Thessaloniki is one of the most affordable cities in Greece and offers a high standard of living for expats on a budget. The cost of living is lower than in other major cities in Greece, such as Athens, and is comparable to other European cities.
Rich Culture: Thessaloniki is a culturally rich city with a vibrant nightlife, numerous cultural events, and a rich history that can be seen in its many historical monuments and museums. The city is also famous for its street food, festivals, and music scene.
Easy access to other destinations: Thessaloniki is located in the north of Greece and is well-connected to other cities in the country by road, rail, and air.
Chania – The Land of Scenery
Chania is a beautiful city located on the island of Crete. It is known for its picturesque old town, stunning beaches, and rich cultural heritage. Chania is a popular tourist destination and a great place to live for those who enjoy a relaxed, Mediterranean lifestyle.
Why is Chania a good place to move to for expats?
History and Culture: Chania is one of the most historically rich cities in Greece and is known for its stunning architecture, narrow streets, and rich cultural heritage.
Friendly Community: The local people in Chania are known for being warm and friendly, making it a welcoming destination for expats.
Growing Economy: Chania is experiencing steady growth in its economy, with various job opportunities in industries such as tourism, agriculture, and technology.
Patras – The Port City
Patras is a large port city in the western part of Greece. It is known for its rich history and cultural heritage, as well as its happening nightlife. Patras is also home to many universities and research institutions, making it a great place to live for those in the academic or scientific fields.
Here's why Patras is attractive for expats:
Cost of Living: The healthy competition between businesses in Patras keeps the prices lower than in some other cities of Greece.
Work: The flowing river and large port make Patras a hub for commercial businesses and activities, and expats can easily pick up additional work in the city without any problems.
Culture: The smaller streets off main Korinthou and Maizonos boulevards are pedestrian-only and are packed with clubs, bars, museums, shops and galleries.
Corfu – The Heritage Land
Favourite to many Hollywood and British celebrities, the town of Corfu is packed with greenery and perfect beaches. Corfu is ideal for anyone that loves the great outdoors. And the old town itself is a UNESCO Heritage site with two fortresses overlooking the city.
Moreover, winter months are quite lively in Corfu, making it an ideal place to live year-round than some of the other towns.
What makes Corfu the ideal place for expats?
Diverse Culture: The island has been home to several invading armies in the past, making it culturally diverse. The cultural blend makes the island unique, which is not entirely Greek but feels more exotic and exciting.
Historical Landmarks: Similar to other Greek islands, Corfu has historical landmarks that date back to the Spanish empire and pockets of British culture, including an old cricket ground.
Easy Access: The port and the airport are situated right in the city, meaning that there are always fresh supplies, appliances and online purchases delivered to you easier than on other islands.
Rhodes – The Historic Town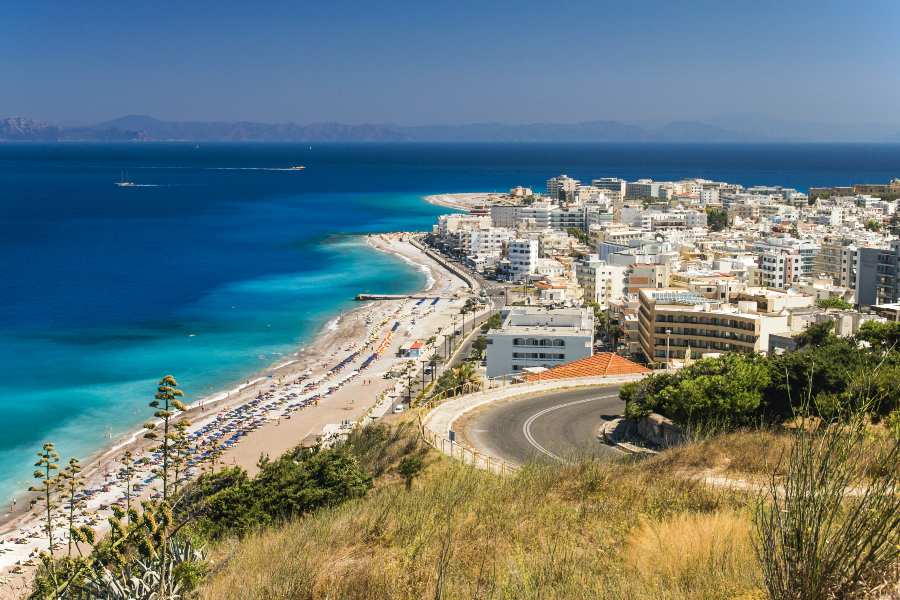 From good healthcare to a healthy job market, Rhodes is large enough to house all your needs as an expat. And it is just small enough to offer a sense of a traditional greek lifestyle. The city is divided into two towns – the old town and the new town.
Why expats should consider Rhodes, Greece?
Vibrant Culture: Rhodes is a historic island that many civilizations have influenced throughout its history. As a result, there is a rich cultural heritage to be explored on the island, including ancient ruins, medieval castles, and beautiful churches and monasteries.
Natural Breathtaking Landscapes: Rhodes is known for its stunning natural beauty, including crystal-clear waters, golden beaches, and lush forests. The island is also home to several protected nature reserves, making it a great destination for nature lovers and outdoor enthusiasts.
Bustling Social Scene: Rhodes has a vibrant social scene with various bars, cafes, and restaurants to explore. There is a lively nightlife scene, as well as many cultural events and festivals held throughout the year.
Santorini – White Towns and Blue Waters
Instagram influencers' favorite travel destination, Santorini, is also a good option for expats looking to move to Greece. The white towns and dramatic mountain scenery make Santorini one of the most iconic destinations in the Mediterranean.
Why should expats consider moving to Santorini?
Friendly Community: It's easier to make friends and build connections in Santorini than on other Greek islands. However, the town may get busy with high tourist traffic during the holiday season.
Stunning Scenery: Santorini is one of the most picturesque islands in the world, with its iconic blue-domed churches, white-washed buildings, and breathtaking caldera views. The island is famous for its breathtaking sunsets, which can be seen from many restaurants, cafes, and bars.
Active Lifestyle: Santorini is an ideal destination for people who enjoy an active lifestyle. There are plenty of opportunities for outdoor activities, such as hiking, swimming, windsurfing, and snorkeling. The island is also a popular destination for yoga and wellness retreats, making it an ideal place for those looking to improve their physical and mental well-being. Additionally, the island's vibrant nightlife and its many restaurants, cafes, and bars make it a great place to socialize and meet new people.
Conclusion
Greece is a beautiful country with a rich history, culture and diversity. Whether you are looking for a lively neighborhood, an active town or a peaceful and quiet island, Greece has many options for you to choose from.
Found this article helpful? Then make sure to check out our piece on the best places for expats to live in Germany.
On another important note, you should also look into expat health insurance options and the kind of coverage you need depending on the country you choose to go to. Pacific Prime offers comprehensive international health insurance plans no matter where you decide to live.
In addition, we also have specific plans for those living in Greece as expats as well. Get in touch with us to learn more!
Frequently Asked Questions
What are the most popular cities for expats in Greece?
Athens and Thessaloniki are popular destinations in Greece among expats. Thessaloniki is famous for its high-tech industries, while on the other hand, Athens offers rich culture, history and diversity for expats. 
Which city in Greece is considered the best for American retirees?
Santorini as it is one of the most famous islands of Greece and the most popular tourist destination during the summer. You may also want to look into other islands that offer culture, good food and lively neighborhoods such as Corfu, Athens, Rhodes and Crete.
What is the estimated cost of living for a comfortable lifestyle in Greece?
The cost of living per person differs from one town to another. The average cost for an individual living in Greece per month is €600 without the rent. If you are a student, then €500, and if you are a family of four, it might cost up to €2000 per month. 
Is it possible for an American to relocate to Greece?
The EU offers many categories of residence permits, and US citizens will need to secure a visa from the Greek Embassy or the Consulate that has jurisdiction over the area of their residence abroad. 
Are healthcare services free for American citizens in Greece?
The ESY, The Greek healthcare system, offers free healthcare to all the citizens and residents of Greece. In addition, expats, EU citizens, or unemployed people are eligible for this healthcare system.