The 9 Best Places to Live in Germany for Expats and Digital Nomads
Germany is a country with a vibrant economy, a safe environment, plenty of historical sites, scores of ancient and modern architectural wonders, and lots more. Whether you're looking forward to a life in a world city or one spent in a quiet town or anything in between, Germany has an answer for you!
And if you think Germany must be an expensive country to live in, you're only half right. Some cities can be quite expensive, but for most of us, options still abound: Berlin, for example, is very affordable compared to places like London and Paris, despite the fact it is Germany's capital with lots of tech startups and a real hub for arts, culture and nightlife. And rents in Düsseldorf are approximately 20% lower than in Berlin.
So, are you ready to discover Germany in all its glory? If you are a digital nomad, good for you! Even if you're not, you'll see that looking for suitable employment is not as hard as many think. Below we list the 9 cities at the top of our wish list.
9 Best Places to Live in Germany for Expats
Berlin
Germany's capital is a great choice for many reasons – you can do well there even with only limited command of German, there are plenty of job opportunities (particularly tech jobs) due to its high concentration of startups, and it's relatively affordable as Western European cities go.
What's more, from the new Humboldt Forum which houses the famous Ethnological Collections and the Museum of Asian Art on its upper floors, to the Berlin Wall Memorial which reminds locals and visitors alike of a time when there were not one but two Germanys, the city is filled with attractions.
You will not feel bored in Berlin unless you try. Little wonder so many expats who saw Berlin as a springboard for launching a new chapter of their life in Germany, end up falling in love with it!
Frankfurt
Frankfurt is home to the headquarters of the European Central Bank, the Frankfurt Stock Exchange, and Deutsche Bank. The city is not only the financial center of Germany, but of Europe and even the world at large. If you're in banking and finance, Frankfurt will fit you like a glove.
English is widely spoken by the locals, though having a basic command of German definitely helps in your work and also when going about your daily life.
And we definitely would not recommend a city if all it's got were job opportunities. Frankfurt Zoo, in the heart of the city and open 365 days a year, is home to some 500 animal species from around the world, and the city's magnificent museum embankment is a cultural landscape unlike any other in Europe. The list goes on.
Hamburg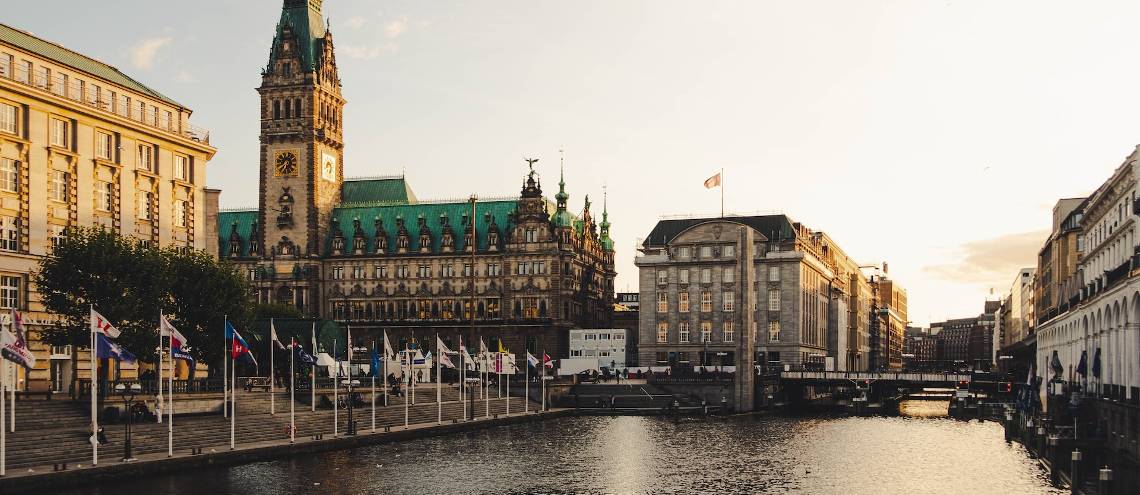 Not as fast-paced as its bigger siblings, Hamburg is your kind of place if you're looking for a more relaxed lifestyle. There, you can walk along the beach on the Elbstrand, ride a bike around the Alster lake, or explore Hamburg's canals in a kayak.
If you like to visit museums, you'll be delighted to know that the Hamburg Kunsthalle on Glockengießerwall is one of the largest art museums in Germany, and you can find masterpieces of German Romanticism, Impressionism and classic Modernism, as well as international contemporary art among other periods in there.
And there is no need to worry about finding suitable employment in Hamburg: with a high employment rate at 92.1% of the working age population, there are lots of job opportunities for expats. What's more, English is widely spoken and understood in Hamburg.
Munich
If you like sunshine, you'll like Munich: The city has more sunshine than any other German city. Munich also has one of Germany's most beautiful squares – Marienplatz, and visiting the English Garden won't cost you a penny.
The pride of the people of Munich is the city's museums, which include the German Museum, the world's biggest museum of science and technology, the Alte Pinakothek, the Neue Pinakothek, the Pinakothek der Moderne, the BMW Museum, and many more.
For the shopaholics among you, plenty of therapy options exist, ranging from those on the luxury shopping boulevards such as Ludwigstrasse and Maximilianstrasse, to those in the far more affordable areas such as Glockenbachviertel district and Gärtnerplatz square.
With companies including BMW Group, Siemens, and Allianz AG choosing Munich for their headquarters, Munich offers good opportunities where you can easily find skilled jobs. Jobs are also available in the media, because the city is also a hub for cultural industries including music and publishing. Approximately one in three people living in Munich are foreign nationals. So is English widely used in Munich? You bet!
On the downside, however, Munich is one of the more expensive German cities in which to live…like they say, you can't have it all.
Stuttgart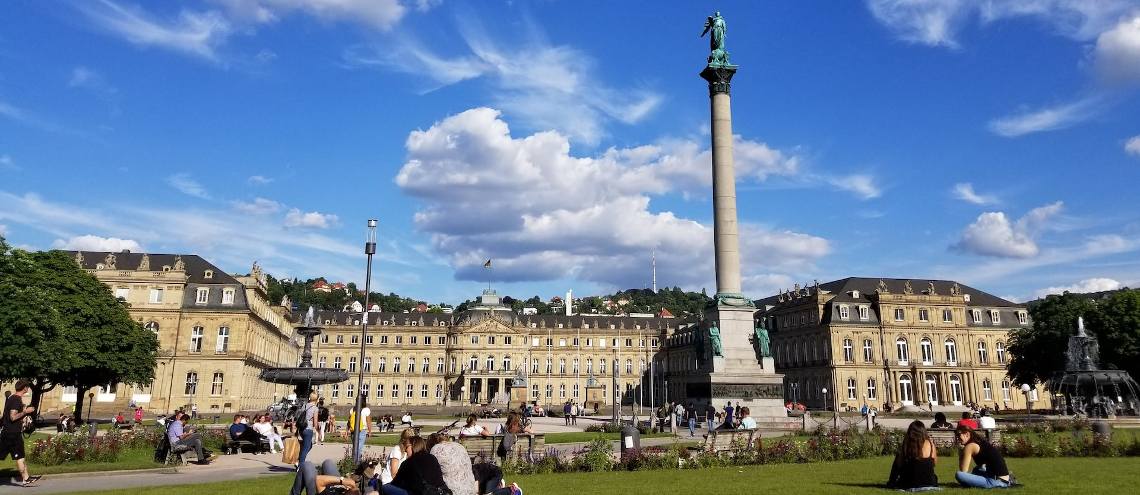 Stuttgart mirrors Munich in many ways – Many scientific, academic, and research institutions call Stuttgart home. Like Munich, Stuttgart is an expensive city to live in.
Automaniacs love Munich because it is home to BMW, and they are unlikely to find Stuttgart disappointing either, which is home to not one but two world famous brands – Mercedes-Benz and Porsche.
But even those two brands combined can't steal the spotlight in Stuttgart – the closest they can do is sharing it. In addition to the museums of the two car brands, there are Neues Schloss (New Castle) which has been compared to the Palace of Versailles of France, the Staatsgalerie Stuttgart (State Gallery) where you can find works by Oskar Schlemmer, Henri Matisse, Max Beckmann, Pablo Picasso and many others. And…did we mention the Stolzenfels Castle and the Schwetzingen Palace?
Many people in Stuttgart speak English to varying degrees, and many (especially the younger generations) are even fluent in it. And expats should find it reassuring that Stuttgart is among the best German cities to study or work owing to its diversified labor job market.
Dresden
Dresden is something of a paradox – it is a city with a list of historical landmarks too long to be recited in one breath, but at the same time it is sometimes called "Silicon Saxony". Yet Dresden manages to be both anyway, and in a way so harmonious it is awe-inspiring.
Dresden is famous for its three major landmarks – the Baroque Zwinger Palace, Semperoper opera house and the Church of Our Lady. But the city also has Brühl's Terrace and the Royal Palace, the Blasewitz borough, the Elbe Castles on the Loschwitz hillside, the garden city of Hellerau and, of course, the twelve Dresden State Art Collections. Here you will see treasures including Raphael's The Sistine Madonna and the Green Vault, the largest treasure chamber in the world.
If you have a technology background, your chances of finding good employment are good because the city has a large job market in science, engineering, and medicine. And although English is not as widely spoken in Dresden as in Munich or Hamburg, a lot of people in Dresden can communicate adequately in English, particularly the younger generations who were taught English in school.
Cologne
Your hunch is right, Cologne is the birthplace of men's perfume. This is also where the world-famous Cologne Carnival is held every year, where people sing and dance in bars and pubs around the Heumarkt and Alter Markt squares.
But fun is not limited to the first months of a year – Cologne also boasts a thriving music and art scene, making it a colorful place all-year-round. Landmarks include Musical Dome, the Wallraf Richartz Museum, and the Ludwig Museum where works by Picasso, Warhol and Lichtenstein are on display.
The UNESCO World Heritage Site of Cologne Cathedral will undoubtedly take your breath away. Learn why chocolate has inspired our senses for over five millennia during a guided tour of the Chocolate Museum. And when the weather is fine, take the Cologne Cable Car and see what the longest river of Germany looks like from above.
The city on the Rhine is also an important economic hub, so there are plenty of career opportunities for expats wishing to settle there. Although English is not as commonly used as in some other places in Germany, getting around is still fairly easy.
Leipzig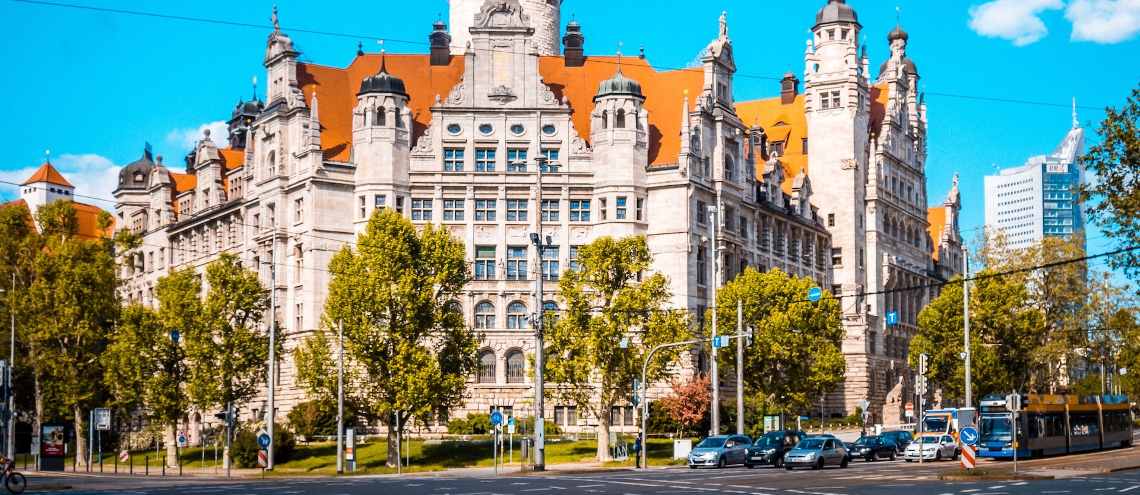 Already Berlin is an amazing and captivating city, but Leipzig is still sometimes called "the better Berlin", so you get the idea. The epicenter of the peaceful revolution of 1989 is also one of the prominent music capitals of Europe.
If you're into the history of the German Democratic Republic (GDR), more commonly called East Germany, then you must see the exhibition that details the work of official state security operatives in that period. If you are a "let bygones be bygones" kind of person, the Museum of City History in the Old Town Hall, the Museum of Fine Arts, the Gallery of Contemporary Art, and a long list of other museums and historical houses including the Bach Museum and the Mendelssohn House will be more than enough to keep you busy in the weekends, not to mention all the shops and bars along the picturesque alleyways of the Old Town around the market square.
And just like Berlin, Leipzig is home to numerous startups. BMW and Porsche also have production facilities in Leipzig, where the European Energy Exchange is also headquartered. So expats will have plenty of jobs to choose from. Although English is not commonly spoken, it is widely understood in Leipzig, especially among the younger generation.
Düsseldorf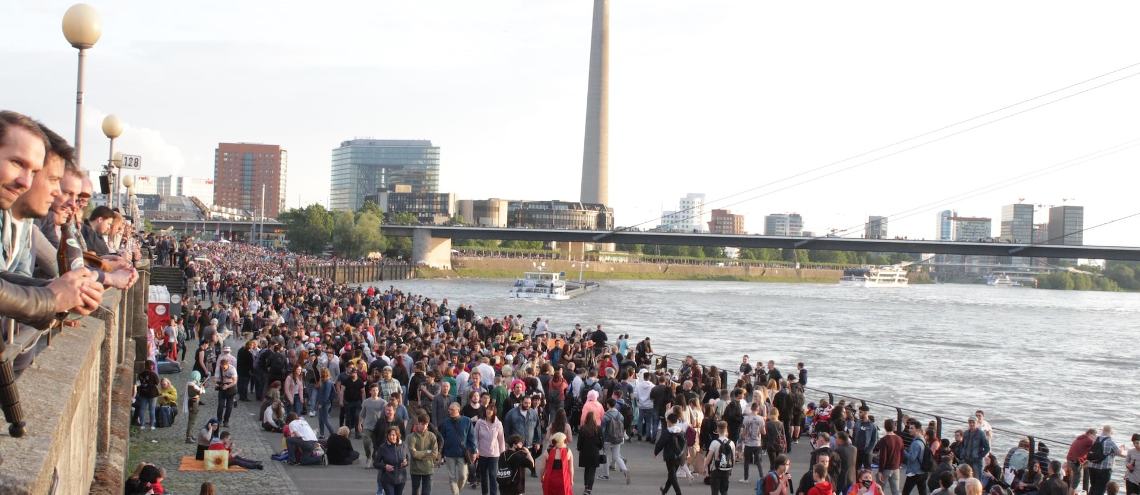 If something is trending in Düsseldorf, quite likely before long it will be trending all over Germany. The fashion capital of Germany has more than 800 showrooms presenting the latest creations of designers during fashion week, and every week is a fashion week.
Shoppers for the latest fashion are known to go on pilgrimages to Königsallee, which is lined with exclusive boutiques. The same sentiment exists in Carlstadt, a beautiful borough full of galleries, art dealers and antique shops. Unconventional fashion boutiques and numerous alternative stores have been attracted to the laid-back vibe of the Old Town to set up shop there. You can literally smell culture in the air in Düsseldorf.
Rents in Düsseldorf are approximately 20% lower than in Berlin. Thanks to the less competitive rental market, it's also much easier to find your dream place in Düsseldorf. With its very open and dynamic labor market and widespread use of English, Düsseldorf is a great place to live as an expat.
Conclusion
As the largest country in Europe by population and the size of its economy, and a country with a long and colorful history, Germany is not a country anyone can fully explore even in a lifetime. If you are one of the fortunate few who can embark on a journey to see Germany up close, don't miss it!
If you have enjoyed reading this article, make sure to also read our article on expat living in France. A word of warning though: France and Germany are neck-to-neck in so many ways, in the end you may find yourself falling in love with both!
Whichever country you choose in the end, don't forget to secure comprehensive international health insurance solutions for yourself and your loved ones. The peace of mind that comes from knowing you will be covered no matter what health issue comes up is priceless!
Naturally, we have dedicated health insurance plans as well for expats living in Germany. So if that fits your bill better, we can help too. So contact us today for unbiased advice or a FREE plan comparison!
Frequently Asked Questions
Is there a visa for digital nomads who want to live in Germany?
Currently, Germany does not have a digital nomad visa, But you can apply for a freelancer visa (Freiberufler), which allows you to work remotely for German clients. Once you're granted this visa, you can stay from three months up to three years in Germany.
Is English commonly spoken in Germany?
English is the most common foreign language spoken in Germany. But because Germany is a country of immigration, you will hear lots of other languages, especially in the cities. Also note that some medical professionals do not understand English, particularly in smaller cities.
What are the downsides to living in Germany?
Some German cities are quite expensive to live in, and German tax rates can be quite high. On the plus side, there is free education and free healthcare. You should also note that Germany lacks the sun-drenched beaches that you can find in southern Europe.
Who is entitled to free healthcare in Germany?
All citizens and legal residents in Germany are entitled to free public healthcare for medically necessary treatments. However, citizens are required by law to have either state or private health insurance that at least covers hospital and outpatient medical treatment, and pregnancy.
How long will it take to become a naturalized citizen of Germany?
To be eligible for naturalization, you have to have lived legally in Germany for at least eight years and possess the appropriate residence permit. You can save one year by completing an integration course. Note also that Germany generally does not allow its citizens to hold multiple citizenships.

Latest posts by Martin Lee
(see all)