Introducing 2018-2019 State of Health Insurance Report
Pacific Prime's report on the state of health insurance is back, and our second ever edition already has its upgrade. This report features all the extensive information like our 2017- 2018 inaugural edition but further provides in-depth insights by adding a section on trends in the global insurance market. This report also features commentaries from world leading insurance companies and Pacific Prime's own insurance experts.
To download a free copy of the 2018 – 2019 report, please click here or read this article further for a breakdown of what you can expect to learn about the state of health insurance.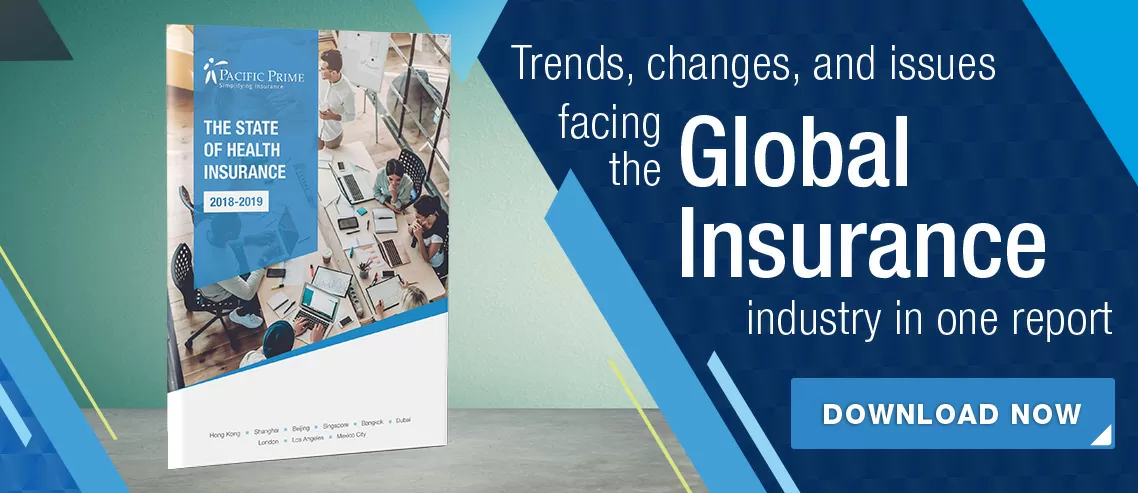 Why download the state of health insurance report?
Daily life and busy schedules can get in the way of other important factors in life. We at Pacific Prime understand that and have therefore created a one-of-its-kind report that will inform you of the changes in the world of insurance. The report answers key questions relating to health insurance and the industry's latest changes.
The following are key questions we answer in the report:
What is the cost of international health insurance?
How much have premiums increased by?
What trends and insurance industry changes are being seen globally?
What are the top insurance issues faced by individuals and businesses?
How has Pacific Prime developed in 2018?
Pacific Prime has been dealing with health insurance since the turn of the century. With our health report, which has been written by our team of insurance experts, we are confident that we will be able to answer your burning questions about health insurance. If that isn't enough to convince you that we know what we are talking about, you'll be happy to learn that our global report has been featured incredible websites such as Business Wire.
Key insights and breakdown
Breakdown
For ease of reading and to provide comprehensive coverage on the topic, our report is further broken down into 6 categories, as follows:
About the report: a little snippet, in the beginning, informing you about what to expect as you read on.
Changes to the global insurance landscape
Insurance trends
Top insurance issues faced by individuals and businesses.
Insurance costs and inflation in 2018
Pacific Prime in 2018
Key insights
These are among the prominent topics discussed in this edition of Pacific Prime's state of health insurance report.
People opting for simpler, less expensive plans
According to our salespeople, individuals are getting smarter when it comes to purchasing health insurance. People don't want to waste money unnecessarily, hence we are seeing a growing trend in individuals tailoring a plan to be just right for them.
Businesses want a face time
Pacific Prime's rapid growth in the corporate insurance world has allowed our salespeople to learn and pick up on a few things. One major point they have learned this year is that businesses want to build a strong relationship before buying any policy. In-person meetings are increasingly becoming the standard in the corporate health insurance world.
Health insurance costs
The cost of health insurance also rose in 2018. What we found in our research is that apart from the costs rising the gap between premiums in the most expensive countries have also risen when compared to the rest of the world. The United States has again emerged as the most expensive country for healthcare.
IPMI Report
Within our state of health insurance report we have also included our longest running report the IPMI inflation report or in formal terms the "International Private Medical Insurance Inflation report". Through this report, individuals can learn the rate at which premiums have been increasing by over the past years. By knowing this it allows policyholders to predict how much their premiums are going to cost when it comes time for renewal. Check out our 2018 IPMI report to learn more about this today.
Download your free copy of the State of the Health Insurance Report today!
To get comprehensive information on the state of health insurance in our world today, download our complimentary copy of the report. Apart from that, Pacific Prime also creates more focused reports for China, Hong Kong, Singapore, Thailand, and Dubai.
We are confident our second ever state of health insurance report will provide you with important information you seek in the healthcare world. Also, visit our "Prime Guides" section of the website to gain access to more materials relating to the healthcare world.