7 Best Places To Live In Japan For Expats
Japan is everything an expat could ask for in a new home, from the neon-lit cosmopolitan of Tokyo and a welcoming city like Osaka to tropical Okinawa and the coastal town of Yokohama. Explore your best-fit city in one of the best places to live in Asia before you hop on a flight.
While the language, customs, and way of life can be quite different from what you're used to, choosing the right home makes a world of difference in easing your relocation journey.
Here is Pacific Prime's roundup of the top places to live in Japan for expats and digital nomads!
Tokyo – City Of Opportunities
The bustling metropolis of Tokyo is Japan's capital for a reason. With a population of 14 million people, Tokyo is home to beautifully diverse neighborhoods, each with its own character and charm. Expats may stroll down trendy Shibuya one day and the historic streets of Akasuka on another.
What is Tokyo Known For?
Popular with Expats: Working for an international company? You'll find massive expat communities residing in Central Tokyo, such as in Minato-ku and Shibuya-ku. There, business centers, high-rises, restaurants, and shopping centers weave through peaceful residential streets and gardens.
High Cost of Living: Living in Tokyo comes with a price tag. It's the most expensive city in Japan, with high rents, food costs, and transportation fees. However, there are ways to save money if you're willing to make some sacrifices. For example, living further away from downtown Tokyo.
International Hub: Expats and digital nomads will have a much better shot at navigating daily lives here than in any other city. Tokyo attracts heaps of expats and tourists every year, which makes English a more commonly spoken language in the metropolis.
Fashion Capital: Tokyo is on the cutting edge of fashion with shopping options catering to every style. Are you more into haute couture? Ginza is your place. Curious about the colorful, adventurous subcultures of Japan? Head over to Harajuku where youths express their individuality through fashion.
Food Haven: Expect delicious culture and ////
Entertainment and Culture: You'll never be short on nightlife options in the sleepless city of Tokyo. Are your interests lie more on the cultural side? There are plenty of art galleries and museums to explore.
Family-friendliness: From outstanding international schools to top universities, you can find some of Japan's best education institutions in Tokyo. It has just as much to offer when it comes to family entertainment in Disneyland, Ghibli Museum, and more.
Kyoto – Former Capital
Witness living history in the ancient capital of Kyoto. It is famous for its rich cultural heritage and breathtaking natural beauty. Kyoto is home to countless temples, shrines, and historic sites. It's a great place for expats looking to immerse themselves in Japanese history, art, and traditions.
What is Kyoto Known For?
Climate: Seasons are distinctive in Kyoto, with temperatures falling somewhere in the moderate end. You will experience a short but hot summer, followed by a rainy monsoon season, a cooler but maple-filled fall, and a cold but not freezing winter.
Cherry Blossoms: Kyoto is absolutely stunning during cherry blossom season in April. It draws in thousands of tourists and locals alike with bursts of pink from flowering trees lining the city streets everywhere you go. Fittingly, the city is also home to botanical gardens the largest of its kind.
Festivals: The old capital is famous for the "three big Kyoto festivals": Aoi Festival, Gion Festival, and Jidai Festival – all of which have been celebrated for thousands of years. Expats and families are free to take part in a wide variety of festivals and events all year round.
High Cost of Living: Similar to most metropolises in Japan, living in Kyoto is costly, especially in popular districts like Gion and Higashiyama. This makes moving away from the city center the more budget-friendly option.
Arts and Culture: Kyoto is a must-visit city for its unique mix of the traditional and modern. Live among Buddhist temples, Shinto shrines, and gardens. If you are lucky, you might even see geishas scurrying from one tea house to another in the entertainment district of Gion.
Proximity to Osaka: Kyoto is a short ride from Osaka, which means expats can opt for a change of scenery anytime they like. As the cherry on top, Osaka is famous for its amazing food culture.
Excellent Transportation System: On that note, getting around the city is a breeze.
Osaka – Culinary Capital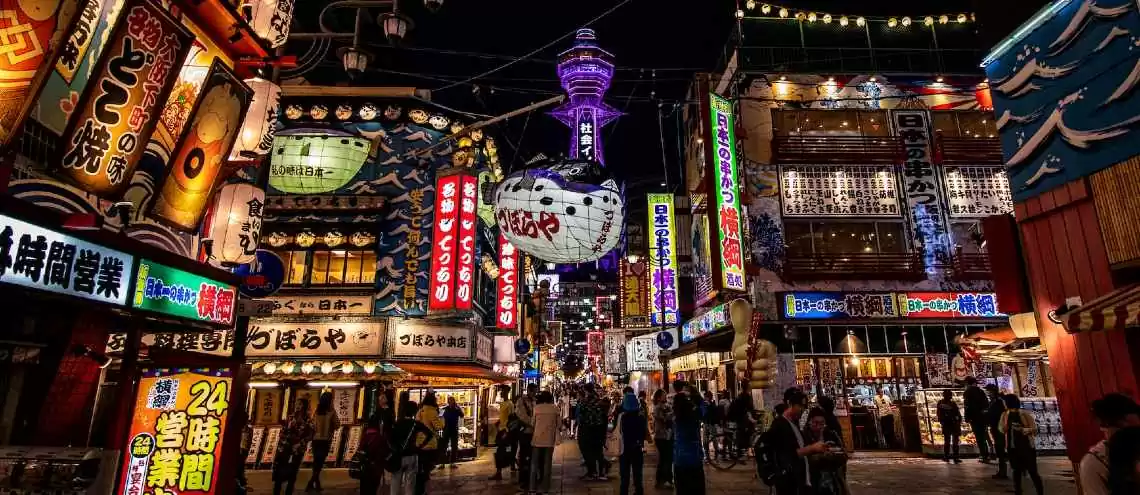 Foodies rejoice! Osaka lives up to its name as the city of origin for street food favorites like the takoyaki (octopus balls) and okonomiyaki (savory pancakes). The heart of the Kansai region is a cosmopolitan known for its lively and welcoming locals, perfect for expats looking to meet new friends.
What is Osaka Known For?
Food Haven: It's near impossible to describe Osaka without also mentioning its fantastic food scene. Besides the street food it is famous for, you'll have plenty of dining options from French and Italian to Thai and Indian restaurants.
Affordable City-living: The cost of living in Osaka is about 30% cheaper than in Tokyo, another metropolis, which makes Osaka a popular relocation destination for expats looking to live in a more affordable city.
Fewer Job Opportunities: Job opportunities are less abundant in Osaka than in Tokyo, so prepare for a longer job-seeking process.
Nightlife: Much like Tokyo, Osaka shines bright at night with a plethora of bars, shopping, and entertainment options open late into the night.
Friendly Locals: Compared to Tokyo, the locals here are generally welcoming and good-natured. That said, most speak limited English so it's recommended that you learn basic Japanese to communicate. If you're looking to improve your Japanese language skills, Osaka is a good place to start.
Arts and Culture: Osaka is also a great place to live if you're interested in music, theater, and comedy. The city is home to many venues and events where you can experience Japanese pop culture firsthand.
Okinawa – Laidback Island-living
Okinawa is the city to be if you love to live by the sea and experience a different facet of Japan. Expats and retirees will adore the easygoing vibe of this island. Its unique culture and beautiful surrounding are a great alternative to living in the bustling metropolises that Japan is famous for.
What is Okinawa Known For?
High Quality of Life: Okinawa is known for its high standard of living, with a low crime rate, clean streets, and a comprehensive healthcare system. It is the very picture of a peaceful island surrounded by breathtaking nature, which makes for a relaxed and stress-free lifestyle.
Water Sports: The island paradise of Okinawa has plenty to offer for fans of water sports. Enjoy crystal-clear waters and sandy beaches by swimming, snorkelling, scuba diving, surfing, and more. The city is your oyster. Not a fan of water? Go hiking in the lush green forests.
Subtropical Climate: Okinawa is sunny year-round and the perfect city for digital nomads looking to relocate to a Japanese city with fantastic weather.
Distinctive Culture: The island city has a unique culture, with its own language, dance, music, and cuisine. Expats and families will no doubt experience a different side of Japan in Okinawa.
Unique Cuisine: Okinawa cuisine is very different from mainstream Japanese cuisine. It is heavily influenced by Okinawa's long history of trading with Southeast Asian countries, its being an American military base, and its proximity to Taiwan.
Affordable cost of living: Okinawa has a relatively low cost of living. Housing is more affordable, and food and other necessities are cheaper as well. This affordability makes Okinawa an attractive option for expats who are looking to save money and improve their quality of life.
Friendly Locals: Okinawa's residents are known for being friendly and welcoming to outsiders. This sense of hospitality makes it easy for expats to make friends and adjust to their new surroundings.
Sapporo – Northern City
Sapporo, the capital city of Hokkaido, offers affordable city living against the backdrop of picturesque nature. The friendly community, excellent public transportation, and lovely food scene make Sapporo an easy choice for expats and families.
What is Sapporo Known For?
Affordable Cost of Living: Sapporo has a lower cost of living compared to other major cities in Japan, which leaves you free to enjoy a comfortable lifestyle without breaking the bank. The rent prices are also significantly cheaper, so go ahead and invest in your dream home.
Outdoor Activities: Sapporo is a fantastic city for those who love the great outdoors. Hokkaido is known for its proximity to mountains, lakes, and national parks. Enjoy outdoor activities such as skiing, hiking, and camping, making it a perfect destination for those who love adventure.
Welcoming City: Sapporo residents are known for their hospitality and warmth towards foreigners. The expat community is also diverse and thriving, making it easy for newcomers to adjust and settle in. The range of international schools in Sapporo makes it an ideal place for expat families with children.
Excellent Public Transportation: Navigating Sapporo is a breeze with an extensive subway system that connects the entire city. You won't have to worry about accessing the various amenities and attractions here without a car.
Food Scene: Some of Japan's most famous dishes such as miso ramen and soup curry originated in Sapporo. The city also hosts several food festivals throughout the year, where residents and visitors can sample a wide variety of local cuisine.
Located in the heart of Japan, Nagoya is an underrated port city brimming with work opportunities. Expats will be sure to enjoy the rich history, thriving economy, and a high standard of living, all without the bustle and expense of larger cities like Tokyo.
What is Nagoya Known For?
Affordable Cost of Living: Expats can stretch their dollar further by living in Nagoya, a more affordable city compared to cosmopolitans like Tokyo and Osaka.
Industrial Center: Numerous multinational corporations are located in Nagoya, which opens the door to a host of job opportunities.
Culture and Beautiful Architecture: Nagoya Castle and the Atsuta Shrine are two unique historical architectures in the city of Nagoya. There are also many museums, gardens, and parks that provide a window into Japan's rich culture and history.
Unique Cuisine: Indulge in Nagoya's famous regional cuisine, which boasts drool-inducing dishes such as tebasaki (chicken wings with a special sauce) and miso katsu (fried pork cutlet with miso sauce).
High Quality of Life: Besides its world-class healthcare facilities, expats will be pleased to find that crime rates are relatively low compared to other cities in Japan.
Yokohama – Second-largest City
Yokohama is known for its diverse expat community and ample job openings. The second-largest city in Japan is well connected to many cities in Japan. It offers the same amenities and conveniences as other major cities but at more affordable rates. Expats are sure to love this laidback port city.
What is Yokohama Known For?
Thriving Economy: Working professionals take note: Yokohama has a large number of job vacancies in the manufacturing industry. Companies such as Nissan, Hitachi, and Toshiba are based in Yokohama, providing excellent job opportunities for expats.
Expat Community: Connect with like-minded individuals in Yokohama's large and diverse expat community. You'll adjust to life here in no time.
Top Education Institutions: Home to many international schools and English-speaking universities, Yokohama is the prime location for families looking to relocate.
Mix of City Life and Nature: Yokohama offers scenic views that provide an escape from the hectic city life, and a perfect place to relax. The city's famous landmarks, like the Yokohama Bay Bridge, Minato Mirai, and Yamashita Park, provide a beautiful view of the bay and an attractive amenity.
Food and Entertainment: Gourmet restaurants and bars, shopping malls, amusement parks, and more lined the streets of Yokohama. You'll never be short of entertainment options.
Well-connected to the Rest of Japan: Yokohama is well-connected to other cities of Japan, making it the perfect location for travelers looking to explore the land of the rising sun.
Conclusion
Now that you know the best places to live in Japan, it's time to take the next step. Maybe Malaysia is more to your liking? Check out our guide to the best places to live in Malaysia.
Relocation is made easier with a healthy body and peace of mind. Securing expat health insurance will ensure that you'll always have access to the best healthcare treatments and facilities no matter where you are in the world.
Pacific Prime has more than 20 years of experience helping expats find the perfect plans for their needs and budget. From travel insurance to maternity insurance, we help you compare plans and offer insurance impartial advice. Contact us today for a free quote!
Frequently Asked Questions
Which Japanese city is the most popular with expats?
Tokyo is the most popular city for expats who are looking to relocate to Japan.
Is Japan a great place to for expats?
Most expats and their families find Japan a fantastic place to live. From fast-paced cosmopolitans to the scenic countryside, there is bound to be a Japanese city that caters to your lifestyle.
What cities in Japan have the best quality of life?
Major cities such as Tokyo, Yokohama, and Kyoto have the best quality of life.
What is the most friendly city in Japan?
Osaka is known to house the friendliest and most outgoing residents. While most locals may not be fluent in English, they make up for it with their warmth.
Is Japan welcoming to expats?
Yes, Japan is generally very welcoming to expats. They tend to be forgiving and understanding of newcomers.
What is the most beautiful region in Japan?
There are numerous beautiful cities and regions in Japan. To name a few, Kyoto has stunning traditional beauty, Okinawa is home to gorgeous sandy beaches, and sweeping, futuristic skyscrapers decorate the skyline of Tokyo.
Why do some expats decide to leave Japan?
There are many reasons why an expat would leave Japan. They might have trouble adjusting to the Japanese culture and/or feel lonely without a well-established support system.
What is Japan's safest city?
Japan is generally a safe place to live, but Kyoto is undoubtedly one of the safest cities with a low crime rate.
Latest posts by Serena Fung
(see all)