The 9 Best Places to Live in Poland for Expats and Digital Nomads
Poland has so many things to offer: friendly and hospitable people, great food and drink culture, beautiful architecture, and even better prices. With its incredible culture, history and natural beauty, Poland is a great place to live for expats and digital nomads.
As one of the fastest-growing countries in Europe, Poland boasts a low cost of living, high quality of life, and good Internet connectivity. You can find everything in Poland that makes a big city like London or New York great, but for less than half the price. From its vibrant capital of Warsaw, to picturesque cities like Wroclaw, Krakow, Gdansk and charming small towns, Poland is yours to explore.
So, are you ready to discover the country that is a former member of the Warsaw Pact, and a full NATO and EU member today? If so, we've found 9 cities that should be on your shortlist. They are quite distinct from each other, and each has its own endearing aspects.
9 Best Places to Live in Poland for Expats
From its picturesque old towns and medieval architecture to its forests and powdery-sand beaches, Poland has something for everyone. The country is home to some of the most beautiful castles and palaces, like Wawel Castle in Kraków and Wilanów Palace in Warsaw. Want to know more? Let's get started!
Warsaw
The capital of Poland is the place to be if you are looking to build a career in Poland. Here, you'll find the head offices of Polish companies, as well as the Polish head offices of foreign companies like Google and J.P. Morgan.
Warsaw is also a magnet for Poles from other parts of the country as well as foreigners in Poland. Thus, locals are used to seeing new faces, and fitting in won't take long. Warsaw also boasts a modern infrastructure, a well-run public transport system, and numerous quality schools and hospitals.
If you want to know what Poland was like centuries ago, then the Wilanow Palace is a must-see. Originally built for King John III Sobieski, the palace has changed hands a number of times since his death. Nowadays, it is a museum where Poland's royal and artistic heritage is on display. Music festivals, such as the summer concerts, are also held in the garden.
Also not to be missed are the Royal Castle, the Palace of Culture and Science, the Museum of the History of Polish Jews, and the Warsaw Uprising Museum where the famous story of how Warsaw withstood the Nazis during World War II is told. The Old Town Market Square and Lazienki Park are good places for hanging out, especially on the weekend.
So what are the drawbacks of living in Warsaw?
Frequent traffic jams are one. And although there is a high concentration of major employers there, there are also a large number of job seekers, so its overall unemployment rate is only the eighth lowest in the country. Prices, as you can expect, are also relatively higher in Warsaw than in other Polish metropolises.
Kraków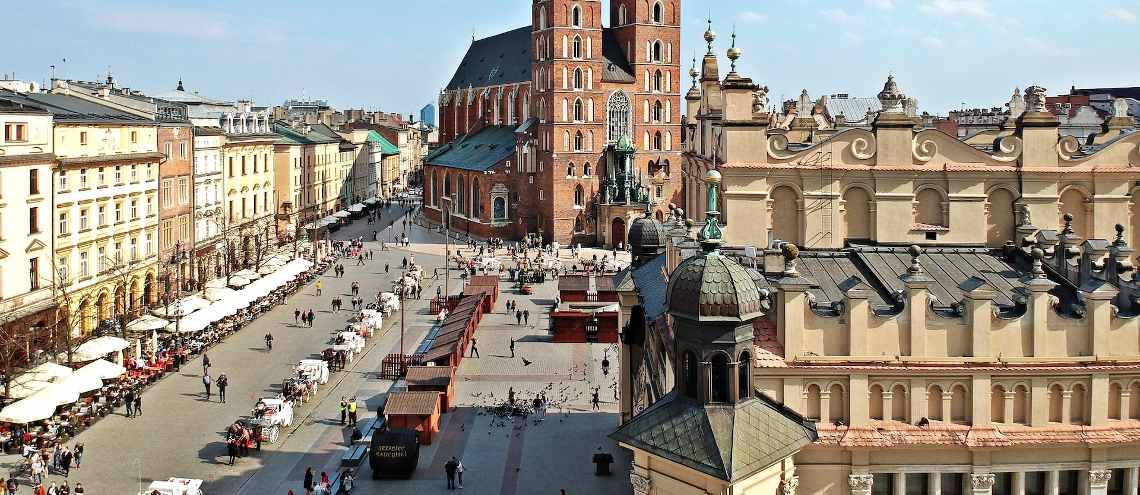 Kraków, the second largest city in Poland, is a beautiful and historic city, and a major economic center and industrial base. At the heart of Kraków is an old medieval town where you'll find numerous preserved buildings, museums and galleries.
As the city develops, job opportunities are plentiful for people in IT, finance, services and manufacturing. If you speak English or French, you will also be sought after by the tourism industry.
You'll want to see the Market Square at the heart of the Kraków Old Town, a UNESCO world heritage, and patronize the bars that have found their home in the cellars of medieval buildings. You'll want to visit the Barbican, the only remnant of the fortifications instrumental in the city's defense against the Mongol horsemen in the 13th century.
And how can anyone claim to know Kraków without having visited the Wawel Castle situated on an elevated point in the city, where the kings and queens of Poland had lived until the 17th century?
The Jewish ghetto memorial and Auschwitz-Birkenau concentration camp, meanwhile, are sorrowful reminders of the darkest days in the city's past.
Poznań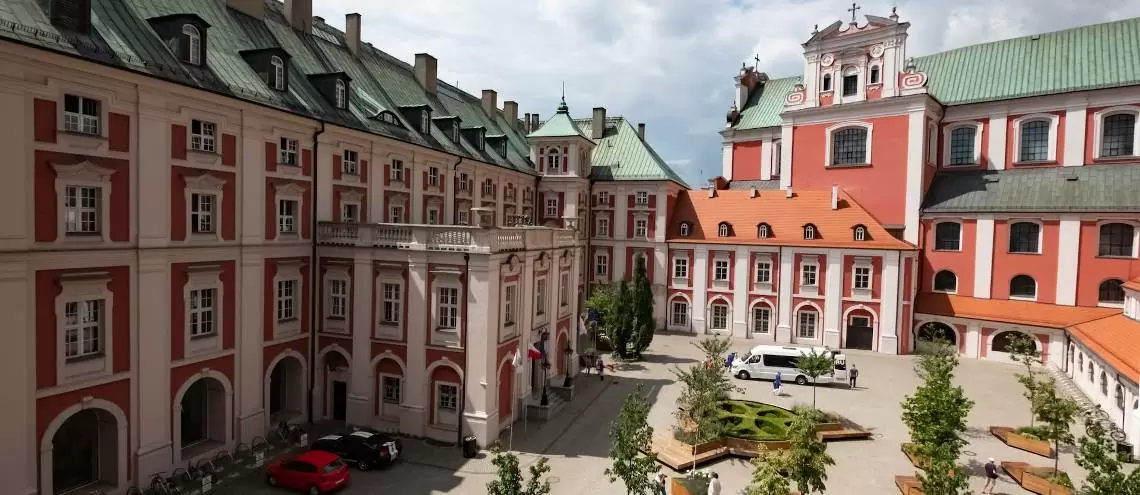 With one in every 40 residents actively engaged in entrepreneurship, Poznań is the mecca for entrepreneurs in Poland. The city's top-notch conditions for doing business have also led to one of the lowest unemployment rates and above-average salaries.
Central to Poznań as it may be, entrepreneurship is far from being the only thing going on here. The city is also among the most beautiful in Poland, and its historical center is nothing short of breathtaking. The colorful houses, discos, restaurants and bars in the city center create a lively atmosphere that never fails to attract tourists both domestic and foreign. The fact that it only takes two hours to get to Berlin from Poznań makes visiting Western Europe an absolute breeze.
You'll see old tanks and sculptures in the Old Market Square, and magnificent Baroque ornaments and a crucifix dating back to the 16th century in the chapels of the Holy Cross of the Parish Church of St. Stanislau. Want to try your hand at making croissants? Then don't miss the Croissant Museum!
Wrocław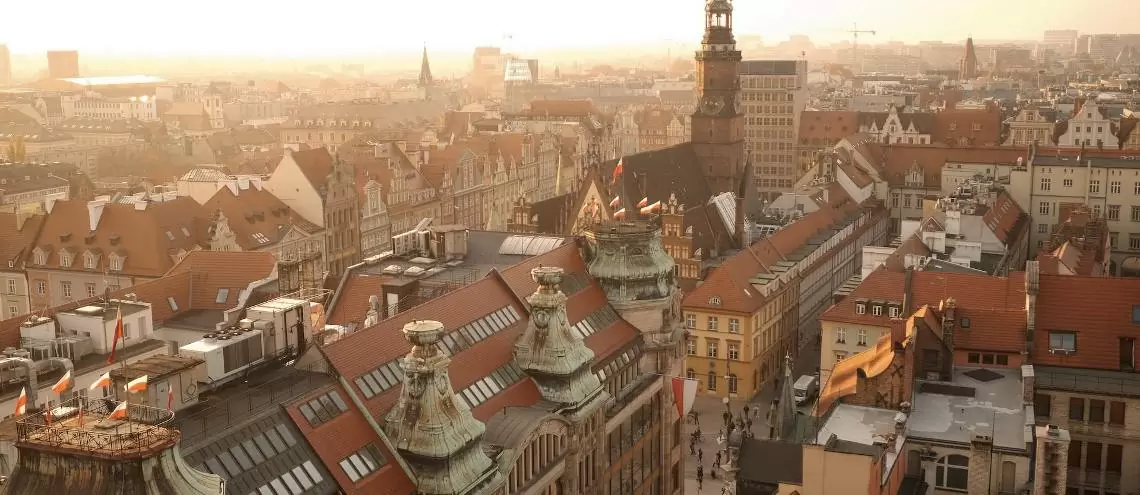 Wrocław is the capital of Lower Silesia, and has about 670,000 inhabitants and a rich history. The city is also one of Poland's science centers, hosting one of the largest universities in Poland, Wrocław University of Science and Technology, and home to over 600 start-up companies.
The unemployment rate in Wrocław is below the Polish average, and there are plenty of job opportunities in Wrocław and the surrounding area. The cost of living is also low, making it a great city for expats and digital nomads who want to live abroad but keep more cash in their pockets.
Still, don't miss the boutiques and markets, or Wrocław's many interesting museums like the Galleria M and the DNA Gallery! Visiting the Market Square, drinking beer in one of the many pubs, and getting lost in the cobblestone streets also make for a good way to spend an enjoyable weekend.
Gdańsk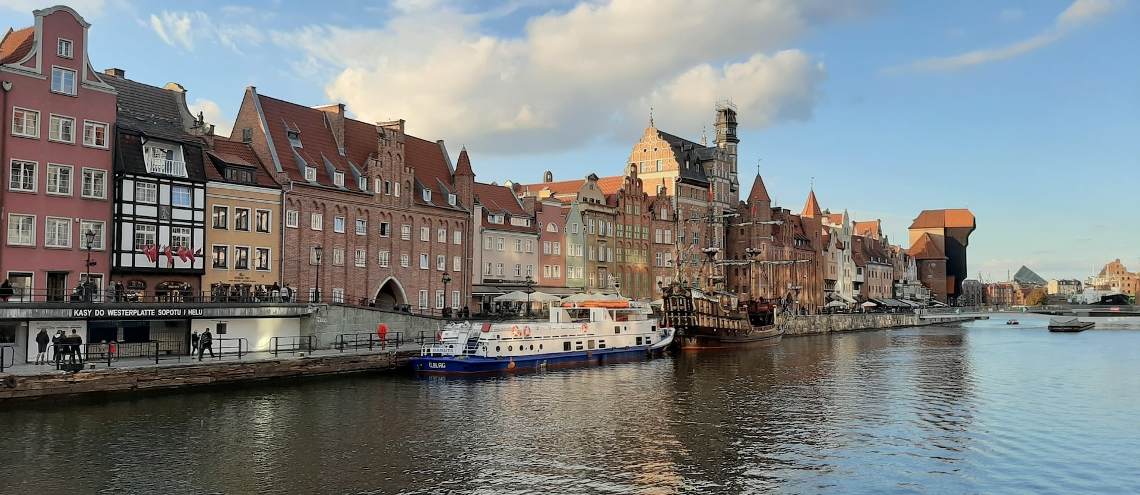 Gdańsk is one of the top cities in Europe for expats, digital nomads and entrepreneurs. So, if you are looking for job opportunities in an international environment, have an entrepreneurial spirit or simply enjoy the European lifestyle, Gdańsk may be just right for you.
Plenty of innovative co-working spaces and incubators are available to entrepreneurs. This vibrant city also offers plenty of activities and events to enjoy year-round.
One of the places you must visit is the city center. This historic district boasts charming architecture set against the backdrop of Poland's Old Town and Gdańsk Bay. The sandy beaches are inviting and a lot of fun for the whole family!
You may also want to take a cruise along the port as well as dine at one of the many restaurants in this area. Other attractions include the Town Hall with Neptune Fountain, Panorama of Gdańsk, St Mary's Church and the Oliwa Cathedral.
Bielsko-Biała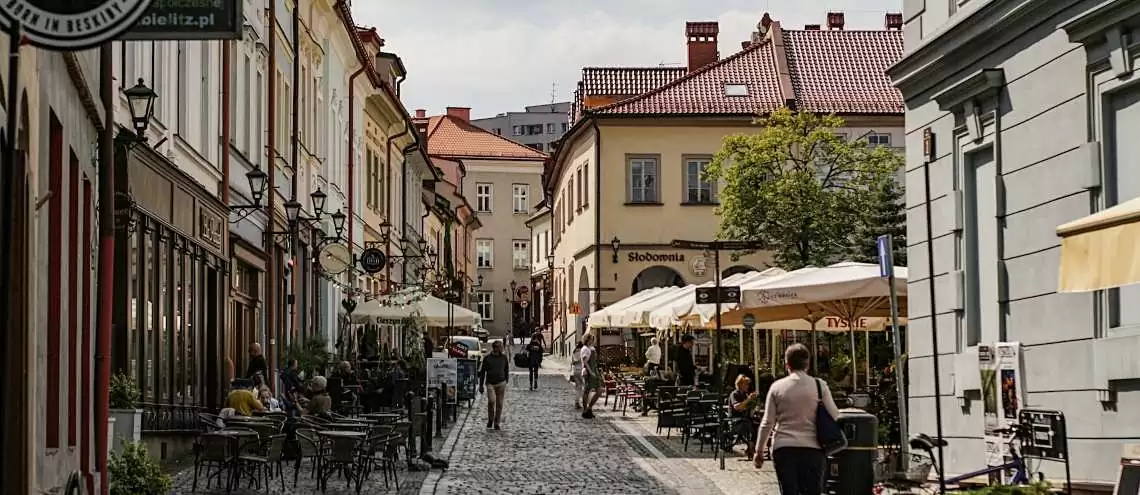 Bielsko-Biała is located in the southern part of Poland. The city offers everything you are looking for in terms of job opportunities for expats and digital nomads including low costs of living, good quality life and friendly people.
It is one of the largest industrial cities in Poland, and a well known tourist destination. With high rates of internet connection and a diverse economy, Bielsko-Biała is one of the most vibrant Polish cities.
The city is a city of art and culture too. You can easily see its history among the buildings, monuments and other architectural objects that have remained from ancient times to the modern day. The city has an abundance of museums and galleries, including the Automotive Museum and the BWA Gallery. You can also enjoy the beautiful parks and natural reserves in the suburbs, and skiing is another favorite activity of locals and tourists alike.
Lodz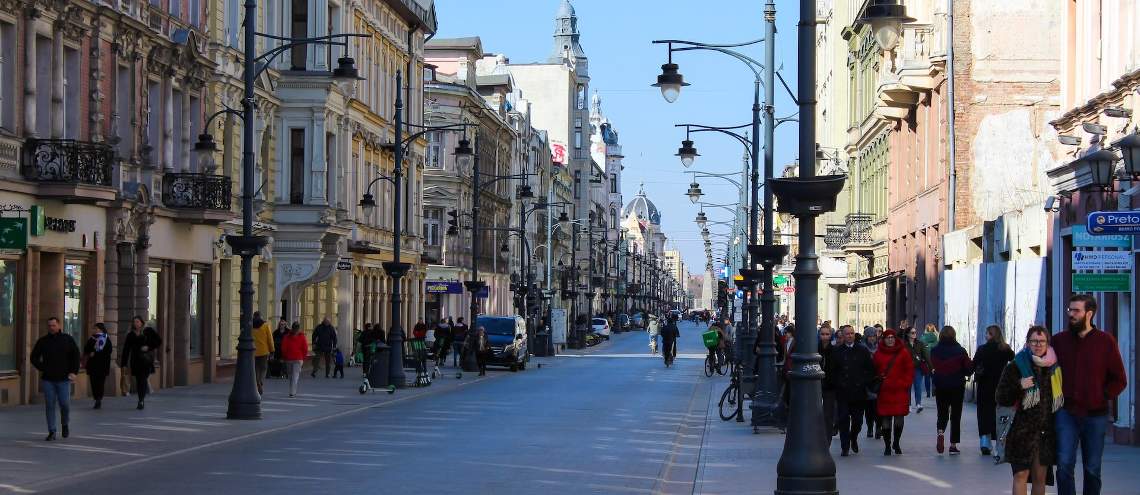 Once the industrial hub of Poland, Łódź remains a vibrant city with ample job opportunities for expats. Łódź boasts the highest population density in the country, and thus has a wide array of industry, technology and business startups. It's also just a short train ride away from Warsaw.
The city offers friendly people and lots of conveniences, such as parks, good food and comfortable accommodation. The city is rapidly developing with new cafes and restaurants opening every month, so there's never a dull moment!
Łódź boasts historic monuments, interesting architecture and beautiful parks too. There are a lot of places to visit and for hanging out: You can stroll along the riverside quarter or go wine tasting, or see exhibitions at the Museum of Art. When the weather is fine, few things are as satisfying as relaxing on sports courts or playing table tennis at the outdoor terrace of W Biegu Cafe…
From its rich history to its delicious cuisine, Łódź has something for everyone.
Gdynia
A beautiful seaside city on the Baltic coast of Poland, Gdynia is an exciting, modern and friendly city with a high standard of living in Poland, and one of the best places to live abroad or run a business for expats and digital nomads.
With a booming real estate market and access to both the Baltic and German markets, Gdynia is truly open for business. It is also one of the most attractive cities in Poland and North-Eastern Europe. The city is full of life, youth and prospects. Gdynia has also become a place where digital nomads can start their own businesses offering a wide range of services such as web design, Internet marketing and IT solutions.
You'll find a large number of bars, restaurants, and cafes offering delicious Polish cuisine and even foreign dishes like Chinese or Italian.
Sopot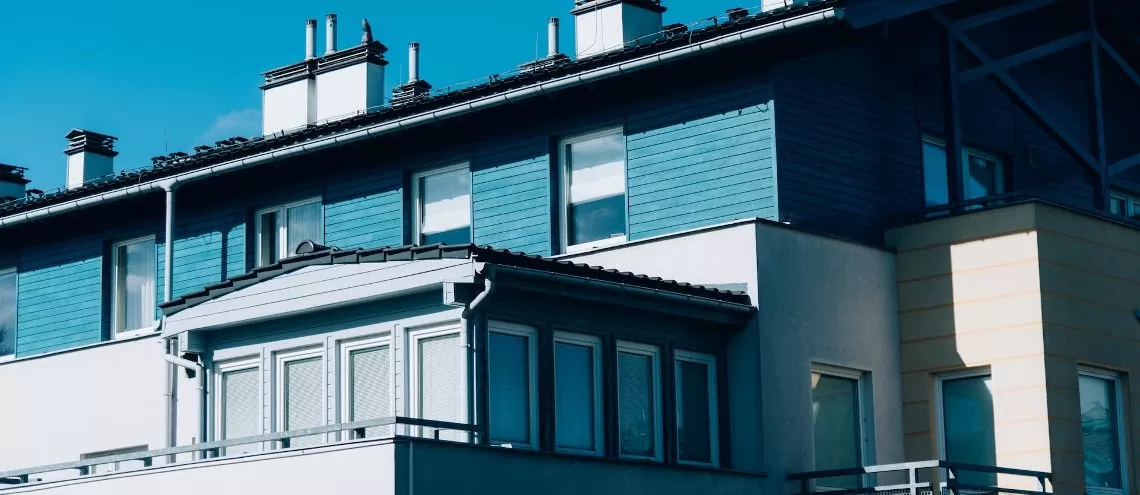 Sopot, a charming coastal city in Northeastern Poland, offers a cosmopolitan lifestyle with plenty of opportunities for jobs, business and recreation. The city has a very active and fast-growing tech sector, and attracts expatriate professionals from all over Europe.
The city of sea and mountains is only 12 km from Gdansk. It's a place with beautiful seaside and sandy beaches, picturesque national parks nearby (including the Biebrza National Park), long summer nights (where you can enjoy your meals outside until midnight). It's also perfect for people who love hiking in low mountain areas with beautiful forests surrounding the city, or skiing in winter time.
Sopot is a popular summertime destination for Poles and tourists alike. It's known for its beaches, beaching, stunning architecture, lively nightlife and more. The area is also home to the Sopot International Song Festival. You can also visit the many museums here, including the Sopot Wax Museum and the City of Sopot Museum.
Conclusion
Poland is a country with a rich history and culture. It is also a country posed for rapid growth in the new millennium. Don't let the opportunity pass you by if you are one of the lucky few who get to see the country up close!
If you have enjoyed reading this article, make sure to also read our article on expat living in Malta. The archipelago to the south of Italy may be small in physical size. Still, it is very popular with international tourists, and its breathtaking landscapes have served as locations for major film projects.
Whichever country you choose in the end, don't forget to secure comprehensive international health insurance solutions for yourself and your loved ones. The peace of mind that comes from knowing you will be covered no matter what health issue comes up is priceless!
Naturally, we have dedicated health insurance plans as well for expats living in Poland. So if that fits your bill better, we can help too. So contact us today for unbiased advice or a FREE plan comparison!
Frequently Asked Questions
Is there a visa for digital nomads who want to live in Poland?
Presently, Poland does not have a digital nomad visa. And technically, you are not allowed to settle and work remotely if you are on a Schengen visa. On the other hand, if you are an EU citizen, you can work in Poland as a digital nomad without restrictions.
Is English commonly spoken in Poland?
English is widely understood in Poland and to some degree spoken. However, learning a bit of Polish will go a long way towards making your time there more enjoyable.
What are the downsides to living in Poland?
The biggest drawback to living in Poland is the cold weather, as winter can last for several months and temperatures below zero are common. In addition, traffic congestion can get on your nerves and petrol is expensive.
Who is entitled to free healthcare in Poland?
In Poland, one can seek treatment by the public healthcare system (free of charge) or in the private sector (in which case you must pay for the treatment). All people employed in Poland, foreigners included, must have compulsory health insurance.
How long will it take to become a naturalized citizen of Poland?
Generally, a foreigner residing continuously in Poland for at least 3 years on an establishment permit, an EC residence permit for a long-term resident, or a permanent residence permit, with a stable income within Poland and a legal title to the occupied living premises, can apply.