Singapore Immigration Visa Schemes
The Employment Pass, the Personalised Employment Pass, the EntrePass, the S Pass, the Dependant's Pass, the Long-Term Visit Pass, and the Global Investor Programme are the best schemes for foreigners wanting to work in Singapore and possibly become a permanent resident at some point.
Singapore has become a favorite location for expats seeking to work, reside, or invest in Asia. The Garden City offers a flourishing economy, top-notch infrastructure, and a multicultural society, providing a plethora of prospects for foreigners seeking to explore life in an Asian world city.
This article examines Singapore's various immigration visa programs and gives an outline of their advantages and requirements. However, since immigration regulations often change, you are advised to check out the latest developments from Singapore's Ministry of Manpower (MOM) website.
Immigration Visa Schemes Of Singapore For Expats
The different immigration visa schemes for expats vary, from Employment Passes to Long Term Visit passes, and more. If you qualify for several of them, be very careful when weighing the pros and cons of each visa because they come with vastly different rights and obligations.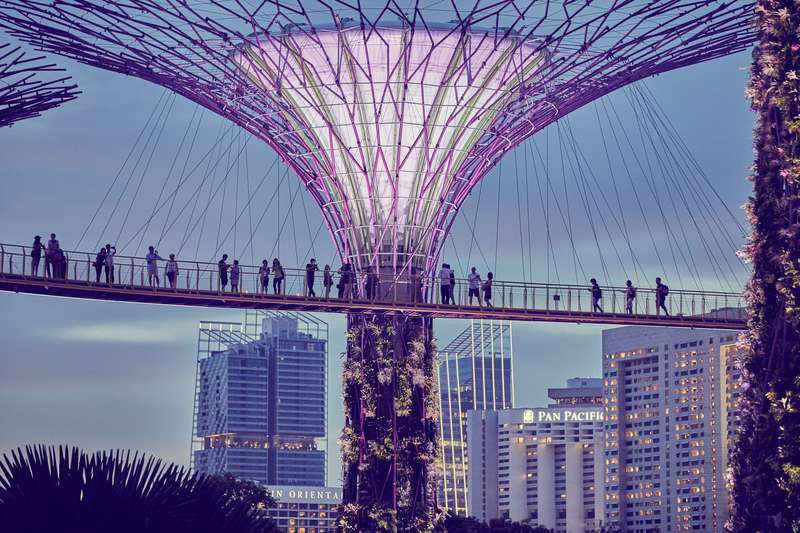 In what follows, we'll introduce the visas that we believe are best for immigration to Singapore.
Employment Pass
The Employment Pass (EP) in Singapore is for professionals, managers, highly skilled workers, and executives. To apply for an EP, you must first have a job lined up in Singapore because the EP application must be handled by your future employer in Singapore.
To be eligible for an Employment Pass in Singapore, you must earn at least SGD $5,000 per month. For older candidates, the income requirement will be higher until it reaches SGD $10,500 for those 45 years of age and above.
EP holders can bring their spouse and children under 21 on the Dependant's Pass (DP), provided the EP holder earns no less than SGD $6,000 per month. Parents of EP holders can also go to Singapore on the Long-Term Visit Pass (LTVP), provided the EP holder earns SGD $12,000 or more per month.
Personalised Employment Pass
Irrespective of their industry or employment status, highly skilled foreign professionals can reside and work in Singapore via the Personalised Employment Pass (PEP). The PEP is intended to lure top-notch talent to Singapore and motivate them to help boost the country's economy.
You do not need to have a job lined up in Singapore to apply, and you don't need to apply for a new pass when changing jobs. However, to keep your PEP, you must make at least SGD $144,000 per calendar year, and for applications filed from September 1, 2023, this bar will be raised to SGD $270,000.
PEP holders can stay in Singapore for 6 months at most without a job. However, in reality, you could easily lose your PEP if you waited nearly that long because the annual income requirement remains even if you are out of a job.
Entrepreneur Pass
Foreigners who wish to launch or manage a business in Singapore may apply for an Entrepreneur Pass (EntrePass). However, this business must have venture capital backing, or it must incorporate innovative technologies.
Singapore has very specific standards for businesses on which the EntrePass is issued. For example, if the business has been launched already, it cannot be more than 6 months old at the time of the EntrePass application.
Candidates will need to prepare a business plan in English of 10 pages or less. This business plan will contain:
An elaboration of the product or service to be offered

A market analysis

An operation plan

A profile of the management team

Supporting documents such as patents
S Pass
The S Pass scheme is a work visa program that allows mid-level skilled foreign workers to work in Singapore. S Pass holders can work and live in Singapore for up to two years, with the possibility of renewal.
To apply for the S Pass, candidates must first have a job lined up in Singapore, and they must make at least SGD $3,000 to SGD $5,500 per month depending on their age and field of work. From September 1, 2023, the minimum income requirement will range from SGD $3,150 to SGD $5,650.
S Pass holders with a fixed monthly income of at least SGD $6,000 can apply for a Dependant's Pass for their spouse and children. Employers can elect to submit the application concurrently with the S Pass application or separately at a later time.
Dependant's Pass
The Dependant's Pass (DP) is a visa that enables family members of eligible EP or S Pass holders to reside in Singapore. The program aims to promote family unity and support the well-being of foreign workers in Singapore.
The candidate's employer or a designated employment agent is required to submit the DP application on their behalf. Once issued, the DP is valid for up to 2 years and is renewable. However, in the event that the EP or S Pass becomes invalidated, the DP also loses its validity.
DP holders who wish to work in Singapore can apply for an EP, S Pass, or Work Permit. Their potential employer must submit the application on their behalf, and the relevant qualifying salaries, quotas, and levies for the respective work passes will apply.
Long-Term Visit Pass
The Long-Term Visit Pass (LTVP) is intended for the common-law spouse, step-child, or disabled child of an EP or S Pass holder. Pass holders earning more than SGD $12,000 can also apply for an LTVP for their parents.
The candidate's employer or a designated employment agent is responsible for submitting the application on their behalf. The pass is valid for a maximum of two years, but its duration is linked to the duration of the primary work pass.
The following family members are eligible for the LTVP:
Common-law spouse

Unmarried handicapped children aged 21 and above

Unmarried step-children under 21 years old

Parents – but only for those earning a consistent monthly income of at least SGD $12,000
Global Investor Programme
The Global Investor Programme (GIP) is a Singapore Investor Visa program that enables successful entrepreneurs, business owners, and investors to expedite their Singapore permanent residency by investing SGD $10 million into a start-up business, GIP fund, or family office.
In addition to meeting the financial requirements, demonstrating entrepreneurial skills by presenting a strong track record to the authorities is essential. To become eligible for permanent residency status, an investment plan and a credible business proposal are mandatory.
What's more, the program offers a fast-track option for Singapore citizenship by investment, with a waiting period of only two years after obtaining the GIP visa. The Singapore Economic Development Board oversees the GIP program.
Frequently Asked Questions
Is Singapore an expensive place to live in?
Singapore is widely acknowledged as an expensive place, with a higher cost of living than many of its neighbors. However, Singapore also presents a good standard of living, exceptional healthcare and education systems, and a safe and clean environment, which many expats believe justifies the cost.
What is the climate like in Singapore?
Singapore has a tropical climate characterized by high humidity and temperatures that typically range between 77 to 95°F (25 to 35°C) all year round. The city-state has relatively uniform rainfall, with more precipitation from November to January and lower rainfall from May to July.
How long can I be a permanent resident of Singapore if I do not become a citizen?
Permanent residents (PRs) can keep their status without any time constraints, but they must make sure they have a valid Re-Entry Permit (REP) when not in Singapore. The REP can be renewed every five years, provided a PR actually resides and participates in economic activities in Singapore.
Conclusion
The various immigration visa schemes can provide many opportunities for those looking to move to Singapore. The Lion City has so much to offer, whether it's great cuisine, fascinating cultures, and world-class theme parks, no one who has spent time in Singapore doesn't think it's time well spent.
And let's not forget Singapore is also a top choice for multinationals looking for a head office location in the Asia-Pacific region, a financial hub that is gaining prominence fast on the world stage, and a major R&D center. Even a brief stint in Singapore will be a boost to your CV.
Whatever Singapore pass you choose, one thing is clear–you'll need adequate expat health or international health coverage. Singapore's healthcare is world-class, but it's also costly. To truly enjoy your time in Singapore, you'll need the peace of mind that comes from having good coverage.
With 20+ years of experience in insurance, Pacific Prime is unparalleled in its ability to tailor a solution that meets your needs and stays within your budget. What's more, you will enjoy the benefit of our advice and multi-faceted support at no extra cost compared to going directly to an insurer.
So contact us for a quote or a FREE, no-obligation plan comparison today!

Latest posts by Martin Lee
(see all)