New inflation infographic release by Pacific Prime
At Pacific Prime, we strive to be much more than just an insurance broker. We want to be a trusted resource that our members can depend on, but also – even more than that – a trusted resource for anyone that wants to learn more insurance and how it relates to healthcare around the world.
To accomplish this, for many years we have been creating insurance and health resources designed to give the public at large valuable information that they can use to make the best choices regarding their healthcare and insurance. While these resources do not constitute insurance or medical advice on our part, they do provide a basic knowledge of a plethora of topics that policyholders, industry insiders, or just anyone who is interested can use to start a conversation with insurance experts or doctors.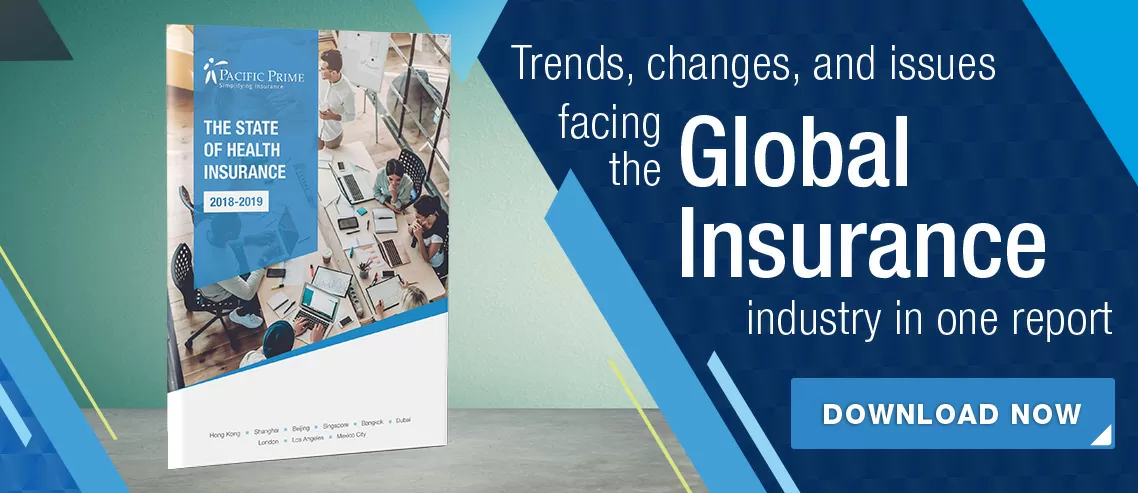 One such resource that Pacific Prime has been producing for many years has been our International Private Medical Insurance (IPMI) Inflation Report, and we have been proud to announce the launch of the 2018 edition earlier this year. Of course, long reports such as this one are not going to be the preferred way to consume information for many people. With this in mind, we have created a new inflation infographic related to the report that presents some of the information found within the report in a new way. Read on below to find out more about the report, the infographic, and IPMI inflation trends.
What is the report?
The IPMI Inflation Report 2018 dives deep into the data that Pacific Prime has collected from top plans from some of the world's top insurers, presents the rates of inflation seen within these plans across multiple countries and regions, and analyzes the main drivers and trends that have lead to inflation rates being what they are. The report contains a number of different sections, including:
Average IPMI inflation since 2009

Driver of inflation

IPMI inflation by insurer

Emerging trends to watch

Regional examinations of IPMI inflation

Compound Annual Growth Rates (CAGR) of premiums
This is the only report of its kind, and looks at eight plans provided by seven insurers in ten different countries, representing the regions of Asia-Pacific, the Middles East, and the rest of the world. You can download the report today using this link to have a look at it for yourself.
What's in the new inflation infographic?
The thing about the above report is that, counting appendices, it is over 50 pages long! This might seem overkill to some, but there's quite a bit of data to cover when it comes to IPMI inflation, and we wouldn't want to deny anyone the chance to get a full picture of what has been going on within the IPMI inflation landscape.
Even so, we thought it would be a good idea to produce an infographic that distills the juiciest tidbits of information from the report into a form that is easily digestible by the public.  Here are a few of the sections in the new inflation infographic, and what info you can find there:
Average IPMI inflation in 2017
Every year the IPMI inflation report puts the average global IPMI inflation rate front and center for the world to see. In 2017, the global rate was 7%, which people will be happy to know is one of the lowest rates the report has ever seen. This section also includes the rates each year from 2009 onward.
This section also discusses the three main data points that have been used to determine IPMI inflation trends, which are global average IPMI inflation, global consumer price inflation, and consumer price inflation in the top IPMI countries.
Premiums decreases over time
Looking at the year-on-year inflation trends from 2016 to 2017, one might wonder if this has been consistent over time. Looking at the CAGR, this section asks readers to consider three points from the data presented as it relates to specific countries.
Driver of premium increases
Finally, this section covers four factors that have driven IPMI inflation over the past year, as well as two new key emerging drivers that are shown that are having a significant influence on the costs of IPMI. Check the new inflation infographic for more information.
To be clear, the infographic does not cover every section included in the report, so to get the full picture, you can download the report for free from our website today.
Different tools for different purposes
Whether you think the report or the new inflation infographic may be the better way to consume the data we have produced this year about International Private Medical Insurance inflation, we have you covered. Those who just want to understand the basics at a glance can avail themselves of the infographic. However, those wanting to do more of a deep dive into the information, perhaps seeking more information about their own region of the world, may be better off reading through the IPMI Inflation Report 2018.
Need more information?
If you have any questions about the information presented in either the report or the infographic – or within any other resource Pacific Prime has created, for that matter – you can always feel free to contact the helpful insurance professionals at Pacific Prime. Not only will they provide you with the information you seek on all sorts of insurance and health-related questions, they can also provide you with a comparison of plans from top insurers and a free price quote.
Contact us today!