Announcing the latest Cost of International Health Insurance Report 2020-2021
We're incredibly excited to announce that Pacific Prime's 2020-2021 Cost of International Health Insurance report is now available for download! In this Pacific Prime article, we'll briefly go over what the report is about and the key findings. Additionally, we also have an infographic available for those who want a visual snapshot of what to expect in our 2020-2021 report.
About the report
The report looks at the cost of International Private Medical Insurance (IPMI), which is a popular health insurance plan for expatriates (individuals and families) across 100 locations surveyed.
What is the cost of international health insurance globally?
In 2020, we learned that the US topped our ranking as the most expensive location for individual and family health insurance. The average individual premium in 2020 for the US was USD $7,703 and was followed by Hong Kong (USD $6,146), Singapore (USD $5,677), Canada (USD $5,230), and Dubai (USD $5,207). Together, these represented the top 5 most expensive countries for individual health insurance in the world in 2020. For family health insurance ranking, be sure to download the report to learn more.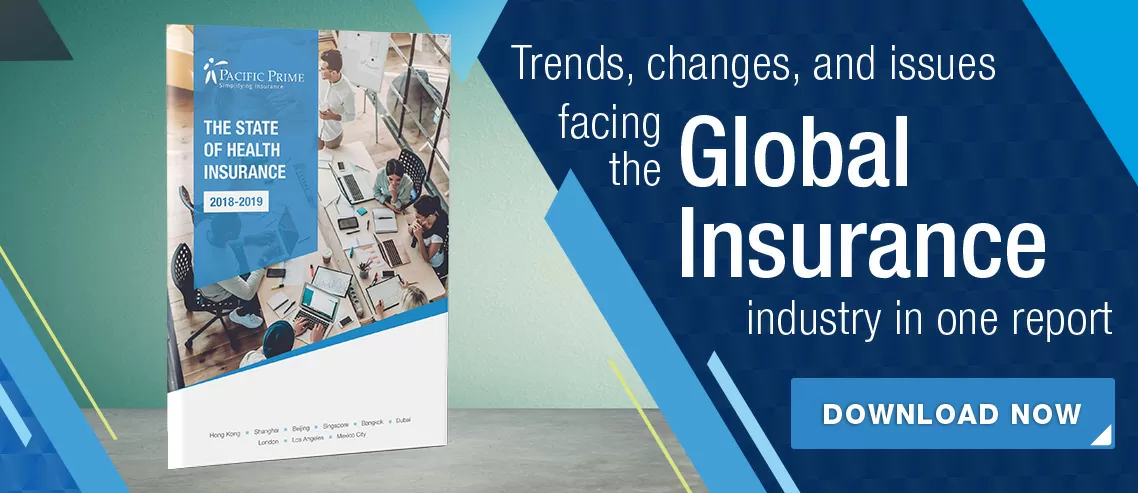 Key drivers influencing international health insurance premiums globally
Our trusted experts have access to rich data across all the regions around the globe. This allows us to recognize the corresponding key health insurance trends. Based on our analysis of 2020's health insurance trends, the key drivers influencing premiums are:
1. Changing demand of care: Interestingly, there is an upsurge in healthcare utilization across certain regions, as well as healthcare expenditure.
2. Cost of care: Without a doubt, healthcare costs have increased due to the COVID-19 pandemic.
3. Increased regulation: Surprisingly, there is a mounting cost of compliance and policies in multiple regions around the globe.
4. Continued challenges related to fraud: Unfortunately, fraudulent claims increased in 2020, which affects insurers and policyholders alike.
5. The rise of insurtech: On a positive note, the COVID-19 pandemic has accelerated the adoption of digital technology across the insurance industry.
Get your free copy of the report today
All in all, this article merely represents a snapshot of what our 2020-2021 Cost of International Health Insurance report has to offer. What's more, the analysis, discoveries, and evaluation are broad and extensive, which will help individuals, families, business leaders, as well as HR professionals, strengthen their current understanding of health insurance plan premiums globally.
If you'd like to find out more about international health insurance or receive an obligation-free quote, contact us today!