Our latest Cost of International Health Insurance Report 2019 is here!
We are excited to announce that Pacific Prime's Cost of International Health Insurance Report 2019 is finally available for download! In the report, our insurance experts have identified key health insurance developments across all continents, covering as many as 100 countries.
In this article by Pacific Prime, we'll take you through a brief overview of the report's key findings. You can also download your own free copy now.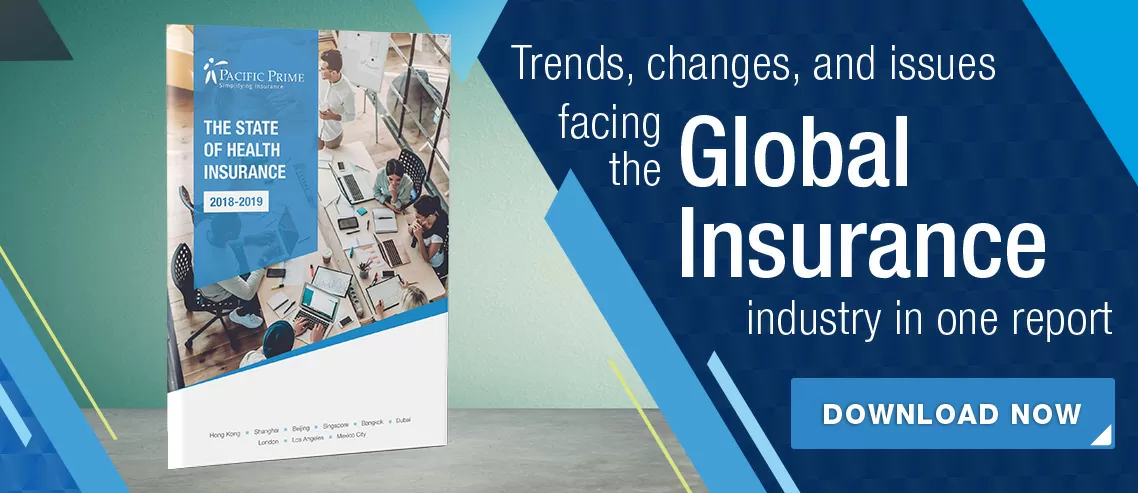 The most expensive countries
Once again, the US takes the top spot for having the most costly International Private Medical Insurance (IPMI) premiums. Its average IPMI premium for individuals stood at USD $8,887, while the average premium for families stood at USD $26,883. This is a result of the country's notoriously expensive healthcare system, which is reflected in its health insurance premiums.
Canada saw its average IPMI premiums increase by a whopping 7% for individuals and 5% for families in 2019, surpassing Hong Kong as the country with the second most costly premiums. This is, in part, due to a spill-over effect from the US's expensive healthcare system. Many insurers we included in our calculations have grouped Canada together with the US and applied the same rates, causing Canada's average premium levels to spike in 2019.
Similarly, many other countries in South America made the top 20 list for countries with the most expensive IPMI premiums because South American plans usually include US coverage.
Singapore's jump
Singapore managed to jump from 9th to 4th place in this year's ranking. Its average IPMI premiums inflated by up to 9% for both individuals and families. While Southeast Asia isn't known for its expensive healthcare system, Singapore has stood out as a clear outlier in the past decade. The city-state witnessed a 10% inflation in medical costs, also driving up health insurance premiums.
The least expensive countries
Thailand comes in as the country with the least expensive average IPMI premiums. Despite having a rapidly growing medical tourism industry, the Kingdom of Smiles' average IPMI premiums stands at only USD $2,728 for individual plans and USD $10,842 for family plans.
This is partly because the country's cost of healthcare treatments remains relatively low. Furthermore, we have used local providers in Thailand for our calculations to paint a more accurate picture of premiums in the region. As premiums offered by local providers are typically lower than those offered by global insurers, Thailand's average international health insurance premiums remain low.
Other countries sitting at the bottom of our ranking system are Poland, Romania, the Netherlands, and Slovakia.
China's correction phase
China is another notable mention for this category. Despite coming in 11th place in this year's average IPMI rankings for individuals and 7th for families, the Middle Kingdom actually witnessed a deflation in its average premiums by 7% for individual plans and 3% for family plans.
China has been going through a 'correction' phase after years of continued average premium increases. In 2019, various insurers in China did not apply an increase in their premiums, while some have even lowered their premiums.
This is because insurers have started to exclude high-cost hospitals from their plans while still providing coverage for normal private clinics. This move has led to significantly cheaper plans and a deflated average IPMI premiums.
The global health insurance trend to keep an eye on
A benefit of including as many as 100 countries in our report is that we are able to identify global health insurance trends of the past year. One key trend that is worth mentioning here is that global IPMI premiums are increasing.
Of the 100 countries we've surveyed, 97 saw average IPMI premiums increase. Our analysis points to 5 key drivers behind this global trend:
Increased demand for international quality private care – The rise of the middle class in various regions, coupled with aging populations in many countries, has led to an increased demand for high-quality healthcare. For instance, Thailand saw its costs of healthcare rise by double digits in the past 12 years as its population rapidly ages.
Increased cost of healthcare –Chronic diseases are on the rise in many parts of the world. As many countries in the Asia Pacific, such as Thailand, Singapore, the Philippines, and Hong Kong face air pollutions, respiratory problems are also on the rise. Meanwhile, up to 250 million children worldwide are predicted to be obese by 2030, resulting from unhealthy eating habits. The rise of these diseases increases the global average medical trend rate, which stood at 7.8% in 2019.
Increased regulation – Increased regulations issues related to data privacy and the roll-out of mandatory health insurance in more and more countries are also factors contributing to the global increase in average IPMI premiums.
Increased challenges with fraud regulation – Health insurance fraud continues to be a major issue in the industry. The Coalition Against Insurance Fraud estimates it to be a USD $80 billion-a-year problem.
The rise of insurtech – Insurance technology, also known as 'insurtech', has grown exponentially in 2019. It encompasses various new technologies, such as big data, telemedicine, and artificial intelligence. In Singapore, insurtech funding nearly quadrupled in the first 9 months of this year. Meanwhile, global investors poured in up to USD $1.42 billion in insurtech in the first quarter of 2019.
Get your free copy of our Cost of International Health Insurance Report 2019 report today
The above information is just a short summary of the report. If you are still interested in our findings, you can download our report for free to find more details on our analyses and key findings.
If you'd like to know more about international health insurance plans, you can contact our team of experts at Pacific Prime or visit our blog page for more health insurance-related articles. As insurance brokers, we are equipped with the expertise and resources to help you find the best private health insurance plans for you, your family, as well as your business. Feel free to visit our website for a no-obligation, free quote today.