What will the post-pandemic future look like?
The COVID-19 pandemic has forced people all over the world to drop or completely change their plans for 2020. While none of us knows what the future holds once we come out of the novel coronavirus crisis, experts and leaders around the globe have their predictions. In this Pacific Prime article, we take a closer look at what the post-pandemic future could look like.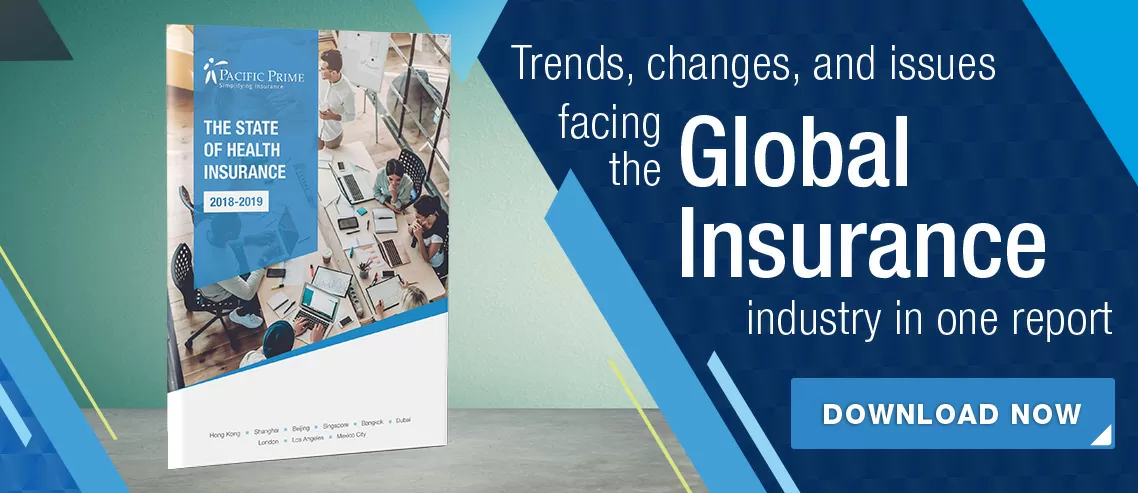 Global economic outlook: COVID-19
COVID-19 has caused many countries to implement lockdown measures, ranging from school closures to nationwide quarantines. It is estimated that over a third of the world's population is currently on lockdown. The lockdown is thought to be an effective way to slow down the spread of coronavirus globally. However, the severe consequences of the "Great Lockdown", or "coronavirus recession", affect the entire world. In fact, the world is likely to experience the deepest and lengthiest economic downtown since the Great Depression.
What's more, forecasts propose that the coronavirus is likely to result in the first surge in global poverty since the global economic crisis in the late 90s. According to recent data, the World Bank predicts that COVID-19 is responsible for forcing 40 to 60 million people into extreme poverty. The best estimate currently stands at around 50 million. Along with extreme poverty, experts predict enormous debt relief, increased government intervention, and intensified tension between the U.S. and China.
The future of work in a post-COVID world
As those with office jobs have been required to work from home to adhere to social distancing rules, the pandemic has perhaps given us a glimpse into future office life. Now more than ever, it's evident that people can still work effectively outside of the office walls. Many countries tend to measure performance by how many hours a person spends at their office desk. But now that many have experienced working remotely first-hand, it's possible that some companies will be more open to flexible working arrangements.
Aside from showing us that many roles that were said to be "impossible" to be done remotely can, in fact, survive and even thrive, the coronavirus pandemic will also change office design. Modern offices require employees to work closer to each other for extended periods of time, making it an ideal environment for spreading infection. However, the coronavirus pandemic is likely to bring back cubicles, eliminate break rooms, and emphasize cleanliness.
Office designers are currently putting a lot of thought into how workspaces will change post-COVID-19, considering everything from bathrooms to the HVAC systems. While any predictions are entirely speculation, it's likely that we'll see some big changes in office designs. For example, open-floor office spaces may be replaced with cubicles to give workers more personal space and help them feel safer. While cubicle partitions are traditionally four to five feet tall, post-COVID-19 cubicles could be even higher.
Safeguard your employees' mental health in the pandemic with the following tips.
Post COVID-19 financial forecast
Money managers have been advised to get comfortable with "near-zero interest rates", said Ray Dalio, Bridgewater Associates' Founder and Co-Chief Investment Officer. Sam Zell, a real estate billionaire, believes people should stop anticipating a V-shaped recovery. It's also likely that we'll see more of the financial industry go digital. As a result, one potential outcome is that firms such as Citigroup and Morgan Stanley may no longer need to occupy as much office space.
The coronavirus pandemic has pushed consumers to do more digitally and engage remotely, which they might have been reluctant towards before. Since moving activities from analog to digital is going to be crucial to recovering from the pandemic, we'll likely witness an increase in low-cost and free-to-access digital services.
On top of that, it's anticipated that companies will spend a lot less on business travel. Since people have been forced to find ways to conduct business remotely using various platforms such as Zoom, it's become evident that online meetings are the way forward. Aside from saving money and time, virtual meetings also help reduce environmental impact.
The post-pandemic healthcare sector
The coronavirus crisis has been testing the boundaries of global healthcare systems, and will undoubtedly impact the future healthcare sector. Healthcare workers the world over are near breaking point – working under harsh conditions with limited medical equipment. Additionally, the crisis has overwhelmed the capacity of hospitals on a global scale.
COVID-19 offers a huge lesson for individuals, employers, and governments. From now on, healthcare organizations will have to improve the way they engage with consumers. They will also need to maintain effective communications with patients to increase outreach and loyalty. Similarly, employers are now faced with newer types of benefits as a result of the outbreak, such as flexible work options, extended sick leave, and health advice. Moving forward, employers are likely to improve how they care for the health and wellbeing of their employees.
The potential post-pandemic future
While many people seem to be predicting some type of V-shaped recovery, the reality is that those who have lived through the pandemic will be scarred from it. People will give a second thought to everything they do, such as getting on an airplane, staying in a hotel, going to a shopping mall, and engaging in social activities. Even though our post-pandemic future has yet to be seen, the crisis presents a unique opportunity to rebuild in a better way – fueled by greater appreciation and awareness.
Get in touch with Pacific Prime
Whether you're looking for global health insurance or would like to find out more about insurance coverage by country, Pacific Prime is here to help. With two decades of experience in the industry, we have expert knowledge of insurance products, including short term health insurance and family health insurance. In addition to insurance, Pacific Prime is also an employee benefits specialist and would be more than happy to go over your existing benefits plan or help you choose the right one.
Contact us for impartial advice, to compare insurance costs, or receive an obligation-free quote today.