How to identify anxiety and depression when working from home
As we live through the COVID-19 pandemic, more and more people are experiencing heightened levels of stress and mental health issues. Lockdowns, isolation, and travel restrictions are some of the many reasons why the novel coronavirus pandemic is proving to be a lot to deal with. On top of these limitations, all you have to do is turn on the television or look at your social media feed and you'll start feeling worried or down again in no time.
With many of us working from home as the pandemic continues, we need to look after our mental health. Likewise, employers need to know how to spot warning signs of mental health issues in their workforce and act accordingly. In this Pacific Prime article, we cover how to identify anxiety and depression when working from home and what you can do about it.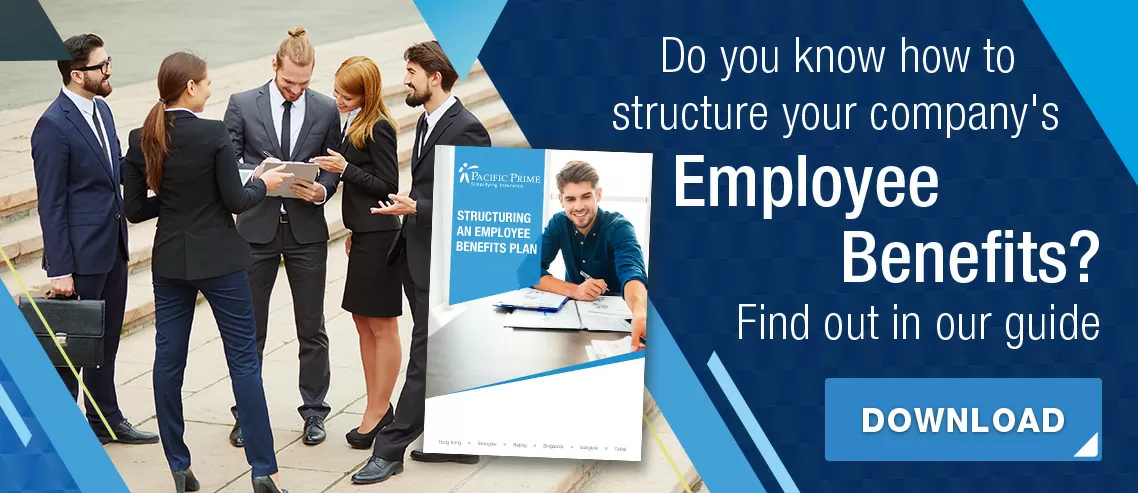 Knowing the warning signs: Anxiety and depression
Mental health awareness has improved in recent years and many people are aware of the warning signs of mental health issues like anxiety and depression. However, while it's one thing to be able to spot when your employees are struggling with mental health issues in a traditional office environment, the remote aspect of working from home makes it more difficult to identify these subtle cues.
As an employer or colleague, keeping the following things in mind could be the difference between someone suffering in silence and getting the support they need.
Neglected appearance
Take a look at your employees during video meetings as their appearance can provide small cues to how they're doing. Observe whether they look tired or unkempt and consider if it might be a reflection of their mental health. If they also only started presenting themselves in this way as of late, you might be looking at a person dealing with depression. Conversely, those who seem wound up or irritable could be giving you insight into their anxiety.
Inconsistent communication
You might notice that an employee has started to communicate differently. For example, a person who is usually very talkative or active on Slack, email, or other communication channels may seem to be taking longer to reply and generally be more inconsistent with their communication. Maybe they haven't been active for several days, without any prior notice regarding their absence.
Changes in performance
Be aware of any changes or inconsistency in performances, as depression can lead to cognitive changes that affect memory, time management, and other mental skills. An employee that shows up late to virtual meetings, or misses them altogether, when they usually are on the ball may be experiencing some problems. If that's the case, an employer should look for a compassionate way to address the issue.
Over-productivity
It might sound strange but over-performing can also be a warning sign of mental or emotional health issues. This is particularly true if they are doing more at work to avoid feelings of stress, sadness, or anxiety. With work and personal life now taking place under the same roof, many people feel the need to be "always-on". Not knowing where to draw the line can easily lead to both physical and mental exhaustion, which can eventually result in burnout.
Ways employers can respond to the warning signs
Now that you know what warning signs to look out for, you're going to need to know what to do if you notice them. The following suggestions can help you stay proactive and informed about your employees' mental health.
Check out our short video on how to protect your employees' mental health.
1. If you're concerned, ask.
The stigma surrounding mental health issues at work has made many employers scared to ask how a person is doing. While you should not just tell someone they have a problem, it is caring to check in with people that display small warning signs. Doing so not only shows that you are concerned about their mental wellbeing, but it can also encourage employees to open up and share what they're experiencing and what they're having a hard time with.
2. Find out what they need
Employers need to realize that their employees are currently dealing with very unusual demands. People are not just concerned about their own health and safety and those they care about, but they are also wearing new hats. Parents who are used to having the day to themselves to focus on work or other responsibilities now have to be teachers and caretakers as well.
Employers who are compassionate and flexible can help their employees cope. If possible, improve your employee benefits program with additional perks such as mental health days or virtual meditation classes. Flexible working hours are another way to show your employees that you care about their health and wellbeing – not to mention helps retain your female workforce during the pandemic.
3. Offer wellness webinars
Many people are not even aware that they are experiencing anxiety, depression, or other mental health issues – especially during the pandemic since stress is at an all-time high. One beneficial way that companies can help is to offer wellness webinars. Led by specialists, these webinars can educate employees on the signs and symptoms to watch out for. Additionally, virtual workshops and classes can give employees the tools and strategies they need to combat these wellness issues.
4. Encourage workplace connection
As humans, we all want to connect and belong. The pandemic is severely affecting our ability to connect and be near the people we work with and care about, resulting in feelings of disconnection and social isolation. Research shows that people who have social support are less likely to be depressed, which is why employers should invest in virtual events and support groups for employees who experience mental health issues.
With the ongoing pandemic, it looks like 2021 will still have its challenges and remote work will continue to apply. Employers should be proactive in identifying anxiety, depression, and other issues when working from home and take the appropriate steps to help them.
Looking for employee benefits solutions?
If you're looking to design an employee benefits program then look no further than Pacific Prime. As a global employee benefits specialist and health insurance broker, we have over two decades of experience in the ever-changing landscape to help you get the solutions you need. Employee benefits solutions or corporate insurance solutions are just some of the many ways how we help our corporate clients. Contact Pacific Prime today to learn more today.