How insurance brokers can adapt to post-pandemic challenges
With 2021 behind us, the world is hoping that the end of the COVID-19 pandemic is in sight. While the past couple of years have undoubtedly been challenging for the insurance industry, it's also predicted to recover at a faster rate than the wider economy following the pandemic. Many industries have been significantly affected, yet the international insurance market continues to push on. According to William Russell, there are several things insurance brokers need to do to adapt to post-pandemic changes – which we will briefly cover in this Pacific Prime article.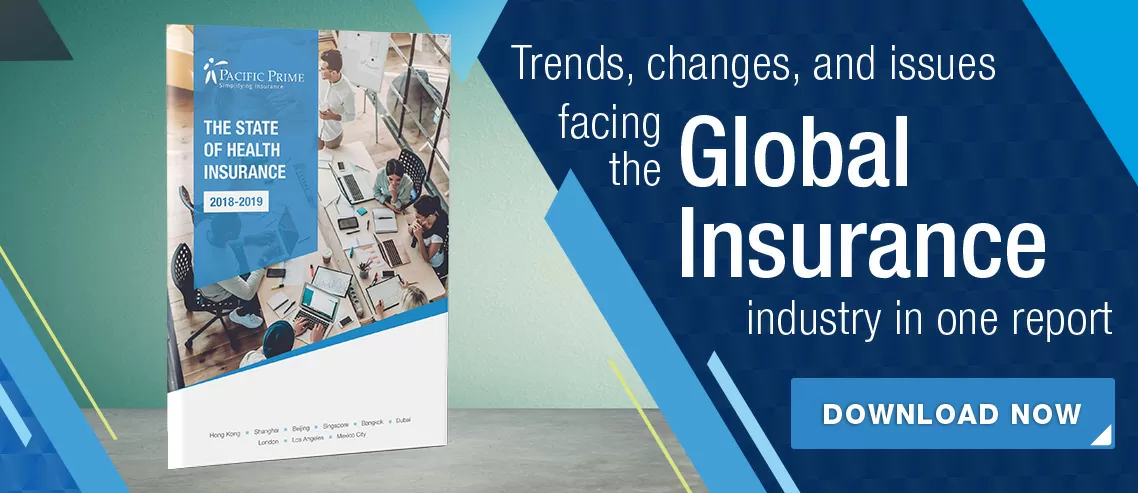 The way the COVID-19 pandemic impacted international insurance
The impact of COVID-19 on businesses is significant, with IMF forecasting global GDP contraction at 4.4%. Additionally, 2021 also saw the end of the Brexit transition period. Even though the public and private health sectors have been through many changes in recent times, along with the notable changes in our lifestyles, the health insurance market hasn't been as impacted by the COVID-19 pandemic as many other global sectors.
What's more, those who are coming out on top are those who are embracing technology and applying it throughout their product and customer lifecycles. This suggests a unique commercial opportunity for insurance brokers in a post-pandemic world. Insurance customers now value their health and insurance plans more than ever. They're willing to spend on protecting their health, life, and income. Life insurance is also gaining interest and engaging with customers digitally has quickly become the norm.
Read this article if you'd like to learn more about: The relevance of brokers in the health insurance industry
How insurance brokers can adapt to a post-pandemic world
Health insurance brokers with the top insurance offerings use digital services and effective experiences to deliver value to their customers. This is reflected in everything in their business, from their ethos and business model to company culture and processes. These days, health insurance brokers are focusing on connectivity and distribution. The adoption of technology has been so rapid in the past year alone that using more of it is necessary for growth to continue to accelerate.
The way we live and work will never be the same, and with these changes come huge opportunities for digital transformation. As a result of the pandemic, businesses have had to adapt to customers spending more time at home, such as by using digital environments to interact, work, and spend. In the past 18 months or so, remote working has gone from a unique employee benefit to something normal. Companies are now starting to reconsider the traditional office culture and are considering replacing the regular 9-to-5 with hybrid work arrangements where possible.
People are also making different choices about where they want to live and work, leading to new expectations surrounding working conditions, flexibility, and overall work-life balance. Now that the insurance industry has technology by its side, the future is looking even brighter. The launch of new products and the creation of smooth customer experiences, along with the use of data, make tailored insurance solutions possible with just one click.
Adapting to new business challenges as an insurance broker
Changes in health insurance distribution have been needed for some time, especially for insurance brokers that recognized their existing systems inhibited opportunities for business development. COVID-19 has also significantly impacted customers' expectations, with people of all ages now more familiar and comfortable with communicating, working, and shopping online.
Even though the customer journey may have been entirely digital until now, adding a human touch can play a pivotal role in creating lasting relationships with customers. Insurance brokers now know that it's possible to interact with customers without either party leaving the house. The mutual understanding of the setup, including the distractions and all that came with it, resulted in more of a human connection than just a transactional experience.
There is now an opportunity to maintain this empathy and create a more customer-focused experience, beginning with the initial customer interaction and continuing onwards. Here are some tips that insurance brokers can use to grow their business in a post-pandemic world.
Expand your insurance offerings
The more broker support you can offer your insurance customers, the more you can gain. Instead of specializing in one benefit, now's a good time to branch out into other areas. For instance, if you're only offering individual health insurance at the moment, consider adding other benefits like insurance for COVID-19.
Consider cross-selling
Cross-selling is a powerful tool for insurance brokers to show greater value to existing customers by offering them more products. Not only does it make customers more loyal, but there are lower acquisition costs involved too.
Work with digital marketers
Effective digital marketing is a must for leveraging new and existing insurance businesses in our post-pandemic world. Marketing departments will be eager to offer their expertise on digital strategy and it also gives a chance for broker partners to work more closely together.
Think about your segments
You might want to focus on the insurance industry sales verticals that haven't been as affected by COVID-19, as well as pay attention to age demographics. For example, a younger demographic should be brought into play for the IPMI market to perform well, meaning we must consider how to appeal to younger age segments by focusing on the value of international health and risk insurance in the long term.
Focus on more than just expats
While expats are still a major source of international insurance business, they are less dominant when it comes to international private medical insurance. It's important to include other potential sources of business, such as remote workers, students, and local nationals, in your prospects as well.
Evaluate and review
Budgets and requirements change all the time, especially with the impact of COVID-19. By evaluating and reviewing arrangements regularly, insurance brokers can find opportunities to provide new or different coverage options, leading to happier customers and potential revenue growth.
Offer advice
When it comes to the insurance sector, nothing beats qualified experience. Health insurance brokers who offer advice stand out from the rest, which helps attract new customers and enhances value and loyalty as well.
Learn more about insurance with Pacific Prime
If you're interested in learning more about key global and regional health insurance trends in 2020-2021, download your free copy of The State of Health Insurance Report. With over two decades of industry experience, Pacific Prime has the knowledge and expertise to help you find the best health insurance plan near you.
Whether you're looking for international health insurance, corporate health insurance, insurance for COVID-19, or other types of insurance, we're here to help. Contact us for impartial insurance advice and a free quote today.