Following the Journey: Peking to Paris Race Part 3
The Peking to Paris race may be over, but we wanted to let all the supporters of Car 38 know just how well they did in the race. Want to know if they won? Read on to find out!
In part 2 of our update, the team were in Slovakia and were having trouble with the brakes on Shiner. Day 29 seemed full of promise as the team drove under a rainbow and saw some deer while leaving Bratislava, Slovakia and entering Schladming, Austria. Unfortunately, they ran into some health problems and posted an update on their Facebook page, "We realised we had been poisoned all day by fumes coming up through the open tunnel (around the gearbox). It was no wonder we were so lacking in cogent thought. We were so spaced out we could not even write an update. We are back on. Shiner is back on."
Despite an unhealthy engine (and possibly lungs!) the team still pushed on and were full of enthusiasm as they steadily remained in third place.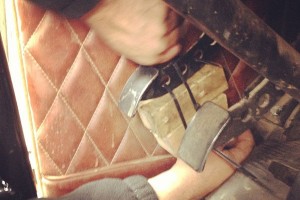 Day 30 seemed nothing out of the ordinary as Shiner's clutch had to get a quick fix using a block of wood, pictured above. Apart from that, there were no major problems with the car, aside from her getting a little hot while driving through the alps, pictured below.
The team then enjoyed some beautiful scenery while driving from Austria to Switzerland. At the end of day 30, where do you think they ranked? Yup, you guessed it, third!
Day 31 consisted of Davos to Gstaad. The team had some ups and downs (literally) on the winding roads as Shiner cruised on through the Alps and finished the day in Gstaad. It seemed like Switzerland lived up to it's name as Michelle tweeted about the price of petrol, "Arrived in Gstaad to fill up with expensive petrol. Tweaking brakes. Adding oil. Wing and a prayer. Come on, Shiner!"
Moving on from Switzerland: day 32 in France and the final day of the race! As the team left Gstaad, their last day passed in a blur with the team questioning the days, "Was that really the last full day of the Peking to Paris? Woke up in Gstaad. Falling asleep in Troyes." Michelle, Mike and Shiner, pictured below, took a well deserved rest before the final day of the race.
33 days later, the team made it to Paris in one piece. Driving from Troyes, it took the team just under 2 hours to cross the finish line. After years of planning, copious amounts of breakdowns, beautiful views, hairy moments on busy roads, miles on rough terrain, hundreds of photographs, several late nights and early mornings and many emotional moments… the team finally arrived in Paris in third place!
We're so proud of Michelle, Mike and Shiner. It's been a pleasure following this trio on their journey. This world famous vintage car race is incredibly difficult to complete in, especially when there's a lot of breakdowns! Michelle and Mike had difficult moments almost on a daily basis, but their spirit never faltered and their passion for winning remained strong. Well done Car 38, well done. Congratulations to the team!