The Best Time To Visit Vietnam
The ideal time to visit Vietnam is generally from March to May and September to November when the weather is mild and pleasant, but the country's varying weather patterns sometimes make it challenging and tricky to determine the best time to visit.
The weather is warm and sunny from March to May, with low humidity and minimal rainfall, ideal for immersing yourself in the region's rich history and culture. You can also enjoy the beautiful beaches of Da Nang and nearby Hoi An.
Another ideal time to go is from September to November. The weather is dry and cool, with clear skies and comfortable temperatures, perfect for exploring the region's natural beauty, such as the rice terraces of Sapa and the limestone cliffs of Halong Bay.
Pick a good time to visit Vietnam, and you will see why Vietnam is fast becoming one of the top tourist destinations!
Spring Time In Vietnam–From March To May
The period from March to May is widely regarded as the best time to visit Vietnam, thanks to its pleasant weather and vibrant cultural festivals. With comfortable temperatures, the spring season in Vietnam is perfect for outdoor activities and sightseeing.
Naturally, not every day is going to give you fine weather, and there are bound to be some bad-weather days when it is probably better to stay indoors. But generally here's what you can look forward to if you visit Vietnam from March to May:
Pleasant Weather
One of the best times to visit Vietnam is between March and May when the weather is mild and pleasant. The hot and humid summer months are still some time away. Within this period, the average daytime temperature ranges from 20°C in the north to 30°C in the south.
Humidity and rainfall are also lower than in the summer. The mild weather conditions make it the perfect time to explore Vietnam's diverse landscapes and engage in outdoor activities.
It's also an ideal time to explore Vietnam's bustling cities, street food, and outdoor markets, thanks to the warm and mild weather and the fact that the Sun typically sets after 7:30 PM in these months.
Scenic Landscapes And Outdoor Activities
From March to May, the country transforms into a breathtaking vista of lush greenery, blossoms, and freshness. The mild weather and scenic landscape provide an ideal backdrop for photography, making it an excellent time to capture memories of your trip.
Spring brings a refreshing breeze that blankets the countryside in a lush green hue, while rice terraces sprout tender green shoots, and roadside flowers bloom in a symphony of colors. This creates a spectacular view for visitors who enjoy trekking up mountains or exploring the countryside.
Also not to be missed are Vietnam's national parks and wildlife in their natural habitats. You can also engage in outdoor activities such as:
Kayaking

Rafting

Enjoying the famous golden beaches

Water sports
Festivals
One of the best ways to understand Vietnam is to join the locals in celebrating their festivals, many of which are rooted in history and intertwined with cultural heritage. Major festivals during the months of March to May include:
Phu Giay Festival:

Takes place in late April to early May to honor Mother Saint Lieu Hanh.

Tet Han Thuc:

Alternatively called the

Cold Food Festival

because the lighting of fire is banned for the entire day, the festival takes place in early April.

Hung King Temple Festival:

This festival, which is among the biggest in Vietnam, is celebrated in all Hung King Temples in early April.

Hue Festival:

This major Vietnamese music festival takes place in the UNESCO-listed Hue City in early April. Note, however, that it takes place in alternate years.

Buddha's Birthday:

In early May, Buddhists all over the country celebrate this day by listening to Buddhist teachings and performing religious rites.

Reunification Day:

On April 30, the Vietnamese celebrate the reunification of North and South with parades, fireworks displays, and many more.
The Country Is Less Crowded
From March to May, Vietnam has fewer tourists compared to the peak season. This period provides an excellent opportunity for visitors to explore the country at their own pace without the need to compete for places wherever they go.
The city streets are not too busy, and the popular tourist sites and attractions are less hectic, allowing visitors to enjoy a more relaxed and intimate experience. Accommodation rates are also more reasonable, and booking popular tourist activities is also easier.
With fewer tourists, visitors can engage more closely with local people and experience authentic indigenous cultures more easily. They can also enjoy the natural beauty of Vietnam's stunning landscapes and historical and cultural sites without having to elbow their way through large crowds.
Better Air Quality
From March to May, the air quality in Vietnam is better than in other seasons, particularly in the larger cities up North where pollution levels can get quite high. With cleaner air, visitors who suffer from respiratory issues will find it easier to breathe comfortably.
This is due in part to the fact that there are fewer tourists in these months. With fewer tourists, the demand for transportation drops, and along with it the air pollution from vehicles. What's more, the air pollution caused by tourism tends to be concentrated in tourist hotspots.
Fall Time In Vietnam–From September To November
The fall months from September to November are another great time to visit Vietnam due to the comfortable weather and smaller crowds of tourists. This period marks the end of the rainy season when the weather starts getting cooler, but the sun is still shining.
Seeing the harvest season is one of the highlights of fall in Vietnam, with farmers gathering rice, corn, and other crops in the fields. What's more, the leaves change color and begin to fall, creating a picturesque landscape. If you pick this season for your trip, you can look forward to enjoying:
Pleasant Weather
Vietnam experiences its fall season from September to November. This period is characterized by cooler temperatures and pleasant weather across the country as the scorching heat of summer fades away. The rainfall is also reduced and relatively predictable.
The average temperature during the day ranges from 20 to 30°C. In the North, the cooler and dry weather is perfect for trekking. In central Vietnam, the drop in temperature reduces humidity levels, providing visitors with a more comfortable tropical climate experience.
The major difference between fall and spring in Vietnam is that the Sun sets quite a bit earlier in the fall season. Typically, the Sun sets around 7:00 PM in mid-September and around 6:00 PM in early November.
Gorgeous Landscapes And Sports Activities
The fall season in Vietnam is a time of natural wonder as the country's landscapes transform into a breathtaking tapestry of beauty that visitors simply can't afford to miss. The North's rice terraces turn a mesmerizing golden hue, while the Central Highlands become a lush and verdant paradise.
Visitors can revel in the sun and enjoy water sports on the beaches of Da Nang and Nha Trang without getting weighed down by the discomfort of humidity. For a panoramic view of the surrounding mountains and landscapes, take the Ba Na Cable Car in Da Nang, and it will take your breath away.
This is also the perfect time for sports and outdoor activities, such as:
Embarking on a trekking adventure in Sapa

Hiking through the stunning Phong Nha Ke Bang National Park

Exploring the natural wonders of Halong Bay on a cruise
The Country Feels More Serene
From September to November, Vietnam offers a more peaceful and personal experience compared to the peak season. As the summer vacation ends, tourists start to disperse, resulting in fewer crowds and less noise.
This makes it easier for visitors to explore the region's beauty without the hassle of long lines or overwhelming crowds. It's also an excellent time to visit popular destinations such as Halong Bay, the Mekong Delta, Hoi An, or Hue without the rush of tourists.
What's more, fall season discounts on flights, accommodations, and activities make it more affordable to visit Vietnam. The serene atmosphere during this time provides an ideal opportunity for visitors to indulge in cultural activities, interact with locals, and sample the region's diverse cuisine.
Less Air Pollution
During these months, the air quality improves significantly from the haze and pollutants caused by the summer heat and monsoon season. The cooler temperatures and moderate rainfall also reduce dust and air pollutants.
What's more, as noted above, when there are fewer visitors the air quality also tends to be better. Electric vehicles have yet to be widely adopted in Vietnam, and the concentration of air pollution tends to be higher in popular tourist destinations.
The Important Days
The important days and festivals in Vietnam in the months from September to November are Independence Day, Mid Autumn Festival, and Hoi An Lantern Festival. You can really experience colorful Vietnam if you visit the country in these months:
Independence Day:

September 2

is important for the Vietnamese people in the same way July 4 is important for Americans. Vietnam gained independence from France on this day in 1945. The day is a national holiday, and people celebrate it with great enthusiasm with parades and other events.

Mid-Autumn Festival:

Typically in early to mid-September, lanterns of all shapes, colors, and sizes are lit, and families gather to share mooncakes and have a good time. If you are lucky, you'll also see the lion dance–not by a real lion, mind you.

Hoi An Lantern Festival:

While this festival takes place once a month, arguably the best time to enjoy it is in the fall for the cooler evenings. Shops will stop using electricity but instead will light up the streets with a magnificent sea of colorful lanterns using candles.
Frequently Asked Questions
Overall, what is the climate like in Vietnam?
South Vietnam's dry season extends from November to April and the wet season from May to October. Central Vietnam has rainfall throughout the year. In North Vietnam, temperatures fluctuate significantly, especially during the cold and cloudy winter, and the wet season occurs from May to October.
Is English widely understood in Vietnam?
English is widely spoken in major cities throughout Vietnam, and many people working in the tourism industry are fluent in English. English is also taught in schools, and many young people are familiar with it. However, English proficiency tends to be lower outside of major urban areas.
Is Vietnam a safe country to visit?
Vietnam is generally a safe country to visit. However, visitors should take sensible precautions like dressing modestly and avoiding traveling alone late at night. Also beware that drinks, food, or cigarettes offered by strangers could be laced, and pedestrians do not always have the right of way.
What infectious diseases should tourists be vigilant about while in Vietnam?
Like all countries, Vietnam presents health risks to travelers. Visitors should consult their doctor before traveling and consider getting vaccinated. Some of the infectious diseases to be vigilant about while in Vietnam are malaria, dengue fever, typhoid fever, and hepatitis A and B.
Conclusion
Whether to visit Vietnam in the spring or fall comes down to personal preferences: if you enjoy the sun and outdoor sports, the period of March to May is your better call. On the other hand, if you like cooler weather and focus mainly on sightseeing, you can't go wrong with a trip in the fall.
As a matter of fact, Vietnam is not only one of the top tourist destinations these days: with so many great options to choose from, it is also an up-and-coming country that many visitors fall in love with after visiting and decide to call home. In fairness, of course, the same can be said of many other places in Asia.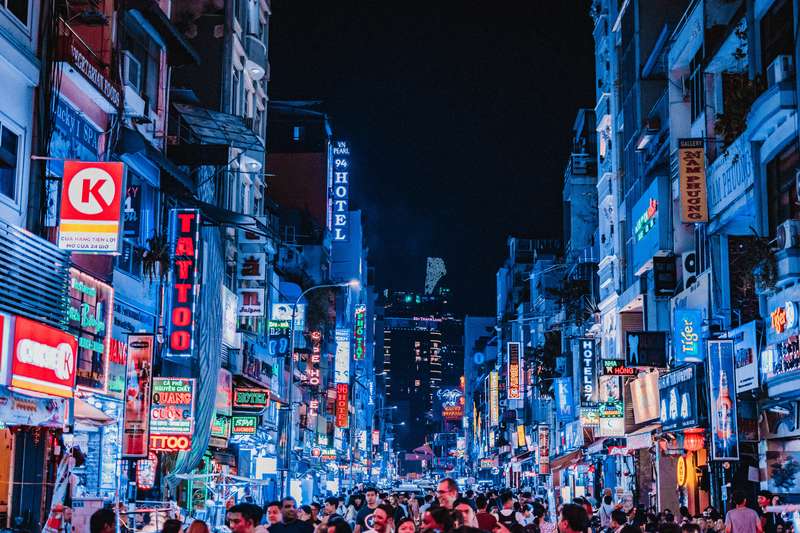 However, before you embark on your trip to Vietnam or some other place, remember to secure sufficient travel insurance. And if you plan on staying in Vietnam for a longer time, don't forget about securing expat health insurance or international health insurance. The peace of mind from knowing you'll be covered is priceless.
With 20+ years of experience in insurance, Pacific Prime can tailor a solution that meets your needs and fits your budget, and you can benefit from our advice and support without having to pay extra! So contact us for a quote or a FREE, no-obligation plan comparison today!
Latest posts by Serena Fung
(see all)