12 Best Places For Expats In Singapore
From neighborhoods with a more suburban feel like the East Coast to the resort feeling in Sentosa and the city living of Orchard Road, Singapore has a neighborhood for everyone! Singapore also hosts many international expats, making it an ideal destination.
Would you like to live in Singapore? Read our top locations for expats and digital nomads in Singapore! You won't want to miss out on Singapore's safe setting and the renowned healthcare system.
In this article, we'll detail our research about 12 wonderful locations for expats in Singapore. We'll explain the features of each location so you can decide which area suits your needs and personality. We'll also provide access to information about health insurance for your time abroad.
Singapore For Expats
Singapore is a popular destination for tourists, expats, and digital nomads. It's known as the safest area in Asia and draws tens of thousands of expats to its jungles, beaches, and thriving city.
Singapore also boasts a modern, thriving healthcare system. English is also one of Singapore's official languages, making it easier for expats from the United States and other English-speaking countries.
We looked into neighborhoods in Singapore and compiled a list of the 12 best locations with reasons expats would consider or avoid each location.
Kembangan

Orchard Road

Geylang

Upper Bukit Timah

Robertson Quay
Keep reading to explore the vibe offered by each neighborhood on our list. If you can't find the niche you're looking for, consider other areas in Asia for expats.
Woodlands
The Woodlands is a popular destination for expats and digital nomads in the northernmost region of Singapore. There's an access point to Malaysia from the region. The area is also close to the Singapore American School, and it has a lot of green space and parks.
Even though this area is at least 40 minutes from Singapore's Central Business District (CBD), the Woodlands has many amenities and shopping malls of its own. Digital nomads and others who don't need regular access to the CBD will find everything they need.
The area is also full of condominiums and houses to accommodate families.
Drawbacks to consider:
The Woodlands is further away from the CBD for anyone who needs to commute.

Even though there is a lot to do, it has less of the city feel many seek.
Holland Village
Holland Village is convenient for expats relying on public transit. It has access to the Mass Rapid Transit (MRT) and the rest of Singapore due to its central location. It houses the Holland Village Shopping Centre, one of the best places to purchase local jewelry, knick-knacks, and clothing.
The area gives a neighborhood feel and offers properties with land and condominiums for rent or purchase. It's also close to the famous Singapore Botanical Gardens.
Drawbacks to Consider:
Holland Village is very expensive.

You will get less space and fewer amenities for the same price as other areas.
Kembangan
Kembangan is an ideal neighborhood for expats seeking to live among the local Singapore community. It has less of a tourist environment than other neighborhoods on the list. It's also more affordable and close to the airport.
The community within Kembangan is still welcoming and inviting even though fewer expats choose to live in the area.
Drawbacks to Consider:
There will be fewer English-speaking expats.

Shopping in the area has less international influence.
East Coast
The East Coast is an ideal location for expats who need access to an airport or are seeking a lower cost of living. The area has a cozy village feeling and a more local atmosphere. The East Coast also offers a stunning beach and leisure activities.
Condominiums in the East Coast region are more spacious and affordable, giving expats a bigger bang for their buck. East Coast Park offers canoeing, cycling, or bowling. The Central Business District (CBD) is only 25 minutes away by car.
Drawbacks to Consider
The MRT (Mass Rapid Transit) stations are less convenient than other neighborhood options in Singapore.

Although the area has buses, the buses are less reliable than the MRT.
Tiong Bahru
Tiong Bahru is a popular, hip place for couples and solo expats. The neighborhood sports a local vibe in the southern region of Singapore. It's only 15 minutes by Mass Rapid Transit (MRT) to the City's Centre.
In Tiong Bahru, you get to enjoy the proximity of the city's main thoroughfare without living among the skyscrapers themselves. Like other areas of Singapore, you'll find little shops, bakeries, and cafes to experience all Singapore has to offer.
Drawbacks to Consider:
Accessing most apartments will require the use of stairs.

The area may feel touristy rather than authentic.

High cost of living in the area.
Orchard Road
Orchard is the best place in Singapore for expats who want to live and thrive in the heart of the city. Orchard road features high-rise condominiums and great access to public transportation and the Central Business District.
Orchard has more malls, restaurants, and amenities than you could take advantage of during your stay in Singapore. You'll never run out of city life experiences in this bustling neighborhood!
Drawbacks to Consider:
Orchard Road is an expensive neighborhood.

If you don't like busy, crowded places on your weekends, you may want to avoid Orchard Road.
Sentosa
Sentosa Island is situated off the southern coast of Singapore. During peak tourism season, it draws many travelers. Its beaches would make an excellent retreat for expats! Many of the houses boast exquisite views of the South Sea.
In the Sentosa Cove development, residents have access to the golf course and other leisure activities. Living in Sentosa would be living in a resort.
Drawbacks to consider:
Island living is not for everyone.

You'll likely need a car to commute to the Central Business District.

The cost of living is relatively high.
Geylang
Geylang is an affordable community close to the Central Business District for expats willing to live in smaller units. Rather than fancy bars and restaurants, Geyland provides street stalls and access to nature along its walkway.
The area offers a Chinatown experience, but is more authentic than many Chinatowns in other international settings. Its close proximity to central Singapore means that you still have access to the high-end scene for dining out.
Drawbacks to Consider:
Although Geylang is safe like the rest of Singapore, the area is considered the "red light district" of Singapore.

The condos will offer less space and typically fewer amenities.
Tanjong Pagar
Tanjong Pagar showcases Singapore's Malay heritage in the storefronts. Expats seeking restaurants and cocktails will love this niche neighborhood. Many of the nicer condominiums in the area offer amenities like a gym and pool for residents.
The area is right next to the Central Business District (CBD). Tanjong Pagar is a great location for workers who need access to the CBD, or couples or solo expats who enjoy restaurants after work or for romantic dinners.
Drawbacks to Consider:
Tanjong Pagar's nice condominiums are pricey.

Other options for housing may or may not offer quality and privacy.
Tanglin
Tanglin is a prime neighborhood for expats between Holland Village and Orchard. The area offers luxury housing with larger homes and gardens in addition to condominiums. This neighborhood is tacked away from the hustle and bustle of the city for a quieter experience.
Drawbacks to Consider:
There's no Mass Rapid Transit (MRT) station in the neighborhood.

The neighborhood uses buses, which are less reliable than the MRT.

Luxury homes come with a hefty price tag.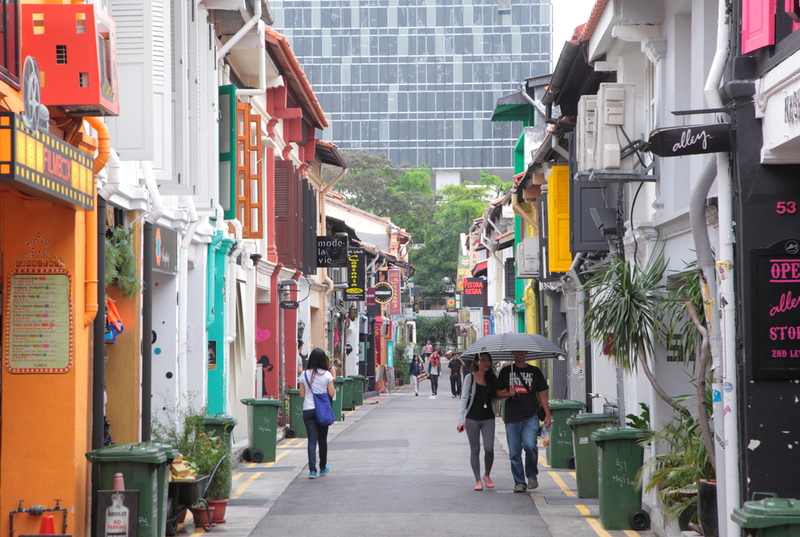 Upper Bukit Timah
Upper Bukit Timah is an ideal location for expat families hoping to enroll their children in the Singapore American School. It's also a fabulous spot for outdoor enthusiasts due to its proximity to the Bukit Nature Reserve.
The area in Upper Bukit Timah also offers restaurants and shopping centers. There are condominiums available with views overlooking the forest.
Drawbacks to Consider:
You may want a car to stay in this neighborhood so you can use the expressway

It's a longer commute to the central business district
Robertson Quay
Robertson Quay is another area close to the Central Business District. It's also popular with expats, so you'll find others in the same situation. The area hosts a lot of eateries with international cuisine.
It's also close to popular destinations like the Chinatown area. Housing in this neighborhood is less expensive than trying to live within the CBD itself.
Drawbacks to Consider:
Housing is in high demand and still expensive.

The area is crowded and full of bicycles and scooters.
Conclusion
Moving to Singapore for your expat adventures promises to be a wonderful experience. You'll love the sandy beaches, jungle scenes, and safe city environment unique to Singapore.
Make sure you're covered for any health conditions or emergencies abroad with the right international health insurance plan for expats.
Also, check out other places for expats to live in Asia! Look into opportunities in nearby Malaysia or further north in South Korea.
Frequently Asked Questions
Is Singapore a good country for expats?
Singapore is a great place for expats due to its modern infrastructure and multiple official languages, including English. Singapore is also a very safe location. Singapore offers sandy beaches, nature, and city experiences.
Can United States Citizens live in Singapore?
Singapore does not restrict immigrants based on nationality. To live and work in Singapore, you will need to apply for a visa prior to your arrival.
Do US Citizens have to pay taxes when living in Singapore?
United States citizens living or working in Singapore will need to pay taxes in both countries. Work with a tax professional to understand your tax liability to both countries.
Can United States Citizens buy property in Singapore?
Citizens of the United States may buy a property with land in Singapore with approval from the Land Dealings Approval Unit. Certain properties may be exempt from this requirement if they've been designated for sale to a foreigner.
Latest posts by Serena Fung
(see all)