The 9 Best Places to Live in the Czech Republic for Expats and Digital Nomads
The Czech Republic is rich in culture and history, with plenty of museums, art galleries, and historic landmarks waiting to be explored. Prague, the capital city, is a major tourist attraction known for its stunning architecture and vibrant nightlife.
Other must-visit places include the medieval town of Cesky Krumlov, the spa town of Karlovy Vary, and the beautiful Czech countryside.
With a liberal economy that values innovation and technology, the Czech Republic is an excellent destination for businesses. The government provides numerous incentives and support programs to startups and entrepreneurs, simplifying the process of launching and expanding a prosperous business.
This small central European country is a cost-effective option with goods and services priced significantly lower than those in other European counterparts, enabling expats to live comfortably within their budget. Moreover, finding affordable housing is also easy in the Czech Republic.
The country boasts of an excellent public transportation system, well-equipped healthcare services, and a robust education system. Czechs place high value on their leisure time, with many companies offering flexible work hours and generous vacation days. This enables employees to strike a good work-life balance.
The country's central location in Europe and excellent transportation network make it convenient for expats and digital nomads to travel to other European countries for work or leisure.
9 Best Places to Live in the Czech Republic for Expats
You are probably familiar with cities such as Prague and Brno, but have you considered that up-and-coming cities like Liberec and Ostrava could actually fit your bill even better? We have come up with a list of 9 great places to live to make your decision process a little easier!
Prague
Located in the heart of Europe, Prague is the capital and largest city of the Czech Republic. The city has a rich history, stunning architecture, and world-class cultural offerings. Whether you are seeking adventure, inspiration or both, Prague won't let you down.
Prague is an affordable place to live. Reasonably priced food, housing, and entertainment is easily available. What's more, Prague has efficient and inexpensive public transport, making owning a private vehicle strictly a matter of personal preference.
Famous attractions of Prague include:
Charles Bridge
Prague Castle
Saint Vitus Cathedral
National Museum
Museum of Decorative Arts
Some of these were constructed more than 1,000 years ago!
Historical as Prague may be, the city also has a vibrant social and cultural scene. If you love nightlife and music, you'll love Prague for its bars, clubs, and music festivals throughout the year
Prague has a lot in it for food lovers too – the city has many restaurants and cafes offering traditional Czech cuisine, as well as international cuisine.
Brno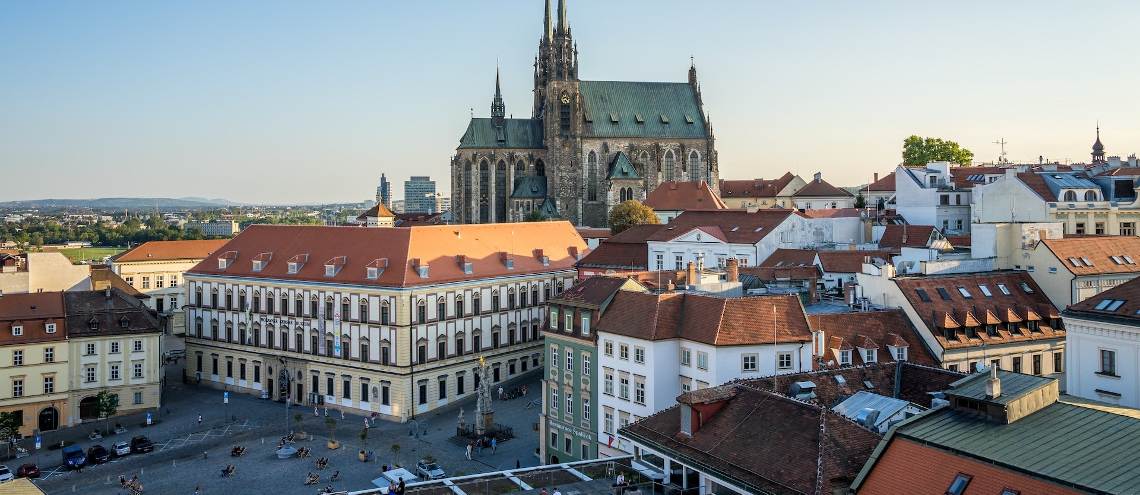 Brno is the second largest city in the Czech Republic, and second to none when it comes to overall attractiveness. It has a thriving economy and a booming technology sector, affordable cost of living, and a cultural scene that is downright fascinating.
Some of the main attractions of Brno include:
The Špilberk Castle
Cathedral of St. Peter and Paul
Museums
Galleries
Theaters
Green spaces exist in abundance in Brno. The Lužánky park in the city center hosts a variety of outdoor events and festivals over the course of the year. The city features world-class sports facilities too, including an Olympic-standard swimming pool and ice rink.
Don't let the rich history and culture of Brno fool you though, because it is also a modern city with a booming technology sector.
The city has a number of co-working spaces, as well as a high-speed Internet network, making it easy for remote workers like digital nomads to stay connected.
Plzen
Good things are always brewing in Plzen, alternately known as Pilsen. That's not only because of its famous Pilsner Urquell brewery, but also because the city also offers a colorful cultural life, plenty of opportunities for outdoor activities, and a laid-back lifestyle.
Naturally, Plzen has a lot more to offer than a brewery. Other attractions of Plzen include:
Theaters (lots of them)
Museums
Art galleries
Parks and green spaces (making the city perfect for outdoor activities)
The wide selection of cuisine, both local and international, is certain to satisfy the gastronome in you. Plzen is also known for its excellent beer, which is easily available in local pubs and breweries.
Situated in the western part of the country, Plzen is a perfect gateway from which you can explore many other European destinations. But despite this proximity, the cost of living in Plzen is noticeably lower compared to other European cities.
Easy access to excellent health facilities and affordable health care is reassuring too.
If you don't plan to drive, you will be pleased to learn that Plzen has well-established public transport, which includes trams, buses, and trains. Don't know your way around? Worry not, because the friendly local people are more than willing to help.
Olomouc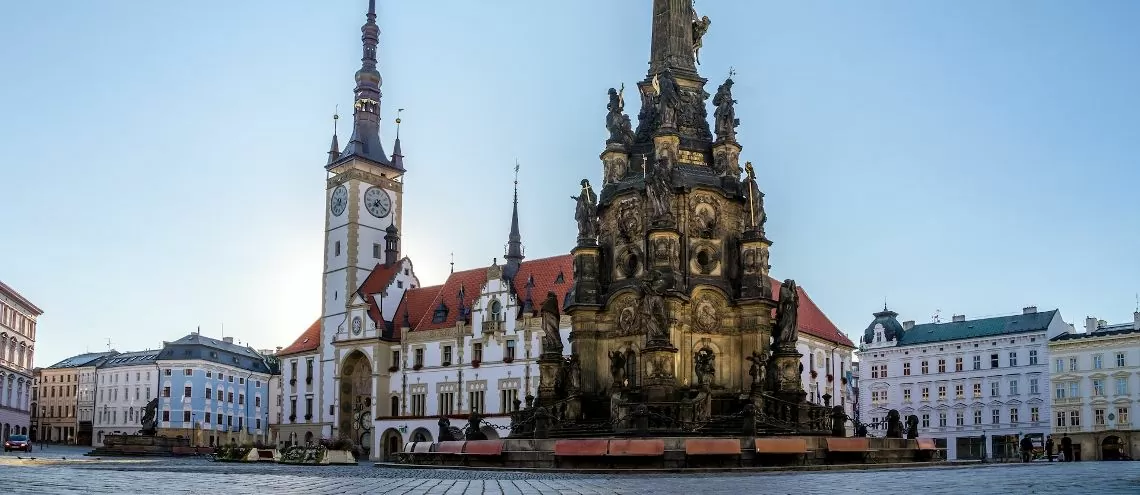 Located in the eastern part of the country, Olomouc is your kind of place if you are into baroque architecture. Its cobblestone streets and multitude of galleries, museums, and cultural festivals are certain to leave a lasting impression on you.
Attractions of Olomouc and highlights of living there include:
Olomouc's historic city center (home to the second largest square in the country after Prague's Old Town Square)
Olomouc's nightlife scene
The numerous international restaurants (they will keep you busy in the evenings)
A wide range of outdoor activities including hiking, biking, and swimming in nearby lakes (they will make planning for your weekends a breeze)
Only a two-hour train ride from Prague, and with convenient connections to other European cities such as Vienna and Berlin, Olomouc is ideal for exploring other parts of the Czech Republic and Europe too.
With a growing number of startups and IT companies, Olomouc offers excellent career opportunities for those who work in the IT sector.
Add to this the city's affordable cost of living, excellent public transportation, rich history, fascinating cultural scene, and diverse community, and settling down in Olomouc becomes a no-brainer.
Kladno
If you love green space and the outdoors, you'll love Kladno. The charming city in the Central Bohemian region of the country is known for its rich history, lively culture, buzzing economy, and reasonable cost of living.
Kladno has plenty of beautiful architecture – the city is home to numerous stunning buildings and monuments serving as a testament to its rich history. Some of the most visited landmarks include:
The Kladno Castle
The St. Wenceslas Church
The Sládeček Museum of Local History
The city offers plenty of green spaces and a wide choice of outdoor activities too. You can enjoy hiking, cycling, and fishing in the parks and lakes around the city.
The nightlife scene is exciting with all the bars, clubs, and restaurants that you can choose from.
Kladno is just a short distance from Prague, meaning that residents can easily access some of the best facilities of the country, including international airports and cutting-edge healthcare facilities.
At the same time, however, the cost of living in Kladno is relatively low compared to Prague, so you get the best of both worlds by settling down in Kladno.
Karlovy Vary
In the western region of the country lies Karlovy Vary, affectionately known as Carlsbad. This enchanting city is renowned for:
Therapeutic hot springs
Luxurious spa treatments
Diverse landscapes
Timeless landmarks
A tranquil and peaceful way of life
Are you looking for relaxation and rejuvenation? If so, Karlovy Vary may have the answer. The city's natural hot springs and world-famous spa treatments have long made a name for itself, dating back to the 14th century.
Nowadays, the wellness centers scattered around the city offer affordable treatments to residents and visitors alike.
For nature lovers and outdoor enthusiasts, Karlovy Vary's natural beauty, consisting of mountain ranges, forests, and rivers, makes it a paradise on Earth. A day spent in one of the numerous hiking trails, nature reserves, and parks not only refreshes your mind and body, but the breathtaking views of the surrounding country is an experience all unto itself.
Karlovy Vary's rich cultural heritage and varied history make it a place to connect with history. Major landmarks, including the Grandhotel Pupp and the Colonnades, together with museums and galleries big and small, allow you to indulge a little in the fantasy of going back in time and communicating with people from centuries past.
Liberec
Liberec is a dynamic and up-and-coming city with a reasonable cost of living. Its rich historical heritage and thriving cultural scene make it an irresistible destination for art and museum lovers, while outdoor enthusiasts can explore the city's stunning natural landscapes by hiking or cycling.
Major attractions of the city include:
The Ještěd Tower (an iconic hotel and restaurant with futuristic architecture that provides a breathtaking panoramic view of the city and its surroundings)
The North Bohemian Museum
The iQlandia Science Centre
Those are two of Liberec's many museums that showcase the region's history, art, and culture.
The city's booming tech industry and start-up culture offer many work opportunities. Coworking spaces and cafes with fast and reliable Wi-Fi for remote work are easily available.
With its harmonious combination of old-world charm and contemporary design, Liberec offers a relaxed and leisurely way of life that soothes the senses. Moving around the city is a breeze, thanks to its highly efficient public transportation system.
Don't miss the White Night festival, a vibrant celebration of music and the arts that perfectly embodies the lively and creative vibe of the city.
Ostrava
The third largest city of the Czech Republic has an industrial root and a thriving tech industry. Beyond its many cultural establishments and artifacts, enchanting nightlife and outdoor activities, lies a city that is focused squarely on growth and the future.
The city's top draws include:
Its industrial heritage, which is apparent in the many historical buildings and factories that are still around today
The Lower Vítkovice area, a UNESCO World Heritage Site
The Janáčkova Philharmonic Orchestra
The Ostrava Museum
In addition to its cultural attractions, Ostrava offers a bustling nightlife scene, with plenty of bars and clubs to choose from.
Outdoor enthusiasts will delight in the numerous opportunities for outdoor activities, such as hiking in the Beskydy Mountains or exploring the Ostravice River.
For expats and digital nomads, Ostrava's affordability is no small matter. Accommodation costs are reasonable, and public transport is both efficient and affordable.
The city's growing tech industry offers plenty of job opportunities, and you can smell the city's entrepreneurial spirit in the air.
Pardubice
Pardubice beckons with its winning combination of affordable living, breathtaking architecture, storied past, and top-tier infrastructure. The city is celebrated for its whimsical gardens, verdant parks, and iconic landmarks that capture the hearts of all who visit.
The top attractions of the city include:
The Green Gate
The Church of St. Bartholomew
The city also boasts numerous coworking spaces and cafes with high-speed internet. Though Pardubice is awash with historical structures and artifacts, it is unmistakable that the city lives for the future.
The serene and community-driven lifestyle in Pardubice exudes an inviting ambiance. The city offers a plethora of outdoor activities, with endless possibilities such as traversing picturesque hiking and biking trails or taking in the magnificence of the beautiful parks and gardens.
Throughout the year, cultural events and festivals take place drawing the attention of everyone nearby with a beating heart, and these include:
The renowned Pardubice Wine Festival
The Pardubice Aviation Fair
Pardubice's central location in the heart of Europe is another advantage. It is well-connected by train and bus to major cities like Prague, Brno, and Vienna. The city's own airport offers direct flights to several European destinations.
Conclusion
Living in the Czech Republic is a one-of-a-kind experience. The country has a unique blend of rich history, mesmerizing architecture, affordability, friendly locals, delicious cuisine, and a vibrant culture. What's more, its central location in Europe provides access to beautiful natural landscapes.
If you have enjoyed reading this article, make sure to also read our article on expat living in Denmark. From lively cities to charming villages, from medieval castles to grand palaces, Denmark has it all. You'll see why small is beautiful, and Denmark is among the best places in Europe for expats.
Whichever country you choose in the end, don't forget to secure comprehensive international health insurance for yourself and your loved ones. The peace of mind that comes from knowing you will be covered no matter what health issue comes up is priceless!
Naturally, we have dedicated health insurance plans as well for expats living in the Czech Republic. So if that fits your bill better, we can help too. So contact us today for unbiased advice or a FREE plan comparison!
Frequently Asked Questions
Is English commonly understood in the Czech Republic?
In the Czech Republic, English is widely comprehended, particularly by the young and in urban areas. The tourism and service industries predominantly employ English-proficient professionals. Nonetheless, acquiring fundamental Czech phrases can be a wise strategy.
Is the Czech Republic generally a safe environment?
The Czech Republic is generally a safe environment. However, you should take precautions to prevent theft and other common crimes. Petty theft, particularly in tourist areas, is an issue. You should avoid unlit or isolated areas at night and use common sense with personal safety.
Does the Czech Republic have good healthcare?
The Czech Republic's healthcare system is generally deemed satisfactory. However, protracted wait times for non-urgent medical procedures and scarcities of specific drugs in particular localities continue to be areas of concern.
Describe the cost of living in the Czech Republic.
To give you an idea, in early 2023 the average monthly salary was around CZK Kč42,000 (roughly USD $1,961). Monthly rent for a one-bedroom apartment in the city center can range from CZK Kč10,000-Kč20,000 (roughly USD $467-$934).

Latest posts by Martin Lee
(see all)