Backpacking America Part 6 – New Mexico, Arizona and the Big Decision…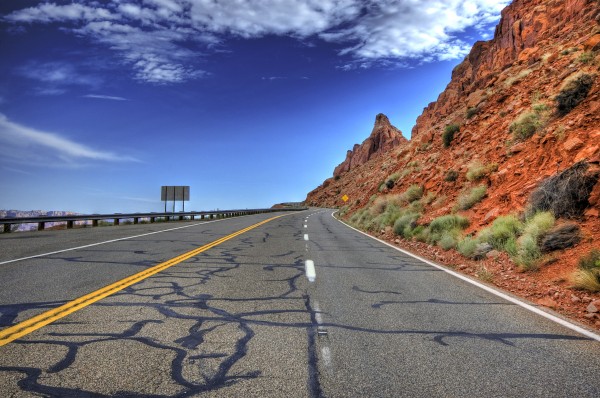 After a couple of months on hiatus (due to a few weeks on vacation in Spain and trying to keep up with other work obligations) there is finally some free time to give attention to the next two stops on this epic backpacking/road tripping adventure across America.
Picking up where we left off in Part 5 at the New Mexico state line on State Highway 285, it's time to taste the Southwest. Things are about to get a lot hotter, both in terms of food and weather.
New Mexico
Driving south on Highway 285, enjoy the beautiful mountain scenery from both sides and be sure to get out of the vehicle regularly to take in some of the vastness of the area. If you get bored with just driving, head to Carson National Forest for some great camping and hiking. And, closer to the town of Espanola is Chico Mountain. Just over 11,000 feet at its peak, Chico Mountain offers spectacular views and is an easy hike since the majority of the ascent can be done by car on a 27 mile long gravel road. Just don't attempt this road in the dark, since it lacks guardrails in some places and can very dangerous.
A bit further south you will hit Santa Fe, New Mexico's smallish, adobe-clad state capital. This is also the hub for skiing and winter sports in the area, but is actually a nice place to visit year round. For art lovers, and to get a taste of the local very heavily Mexican and colonial Spanish influenced local culture, head to Canyon Road. This is the gallery neighborhood and there is plenty of local art and native crafts to see and/or buy. Plus it's free to look and stretch your legs.
Also worth a look is some great architecture starting from the 1600s that sort of tells the story of the Native American struggle and the European invasion. Noteworthy structures include the Palace of the Governors, Loretto Chapel, Santa Fe Plaza, San Miguel Mission and St. Francis Cathedral Basilica. There are also museums galore in Santa Fe, and most are part of the co-op that allows visitors to pay one price to see several different museums within a few days.
Amongst foodies Santa Fe is a chili mecca. Even if you aren't a gastronome, be sure to chow down on some traditional Southwest flavors. Upscale or hole-in-the-wall, be sure to sample the spicy, smoky dishes the region is famous for.
If you get bored of Santa Fe after a couple of days, take the one hour drive down to Albuquerque. To be honest, this city lacks the charm and quaintness of Santa Fe, but seeing as the next closest major urban centers are Denver (which you've already passed) and Phoenix, this could be a good opportunity to stock up on fresh underwear and take in some modern culture if that is what you are craving. For live music, mostly local acts, check out Songkick's Albuquerque listings. When you are finished perusing Americana via shopping malls, movie theaters, drug stores, tract housing and the like, get back on the road for some more desert scenery.
Arizona
Leaving Albuquerque on the way toward Flagstaff on Interstate 40, be sure to keep an eye on the fuel gauge. There's not much opportunity to gas up on this stretch of highway and you don't want to be stranded: Arizona is very hot. Bring water and snacks just in case. Gallup, New Mexico is a good spot to hit up a grocery store for needed supplies to avoid paying the marked-up rates for goods near the next three destinations: Canyon De Chelley National Monument, Monument Valley, and the Grand Canyon.
Canyon De Chelley National Monument is an absolutely worthwhile stop. Though not on most visitors' must-see lists, it should be. It hosts some of the best preserved Native American rock dwellings in the country and they are located in beautiful rugged canyons with lots of hiking trails that provide the perfect introduction to the rest of the state.
Next up, and increasing in visual impact is Monument Valley, located just west of Monument Valley Navajo Park near the the Utah state line. This is highway scenery at its best, and the final few miles of U.S. Highway 163 before it crosses into Utah are truly stunning. Beyond just visiting the Tribal Park, it is definitely worth doing the loop drive that follows Monument Valley Road to the west away from the park until it becomes Rock Door Canyon Road, and then getting onto Indian Route 6410. Turn left and head east on Indian Route 6430 back to U.S. Highway 163 and go south. Follow U.S. Highway 160 past Tuba City to U.S. Highway 89 and then turn onto State Highway 64. This road becomes East Rim Road and provides the best views of the Grand Canyon possible from the seat of a car.
But don't be satisfied just to see it just from the car. The Grand Canyon deserves some effort, especially since it is the last stop for many backpackers, so plan to spend a couple of days and visit it properly. This means hiking down to the valley floor to get some perspective on its sheer size. It is also fun to do a donkey tour and/or a whitewater rafting excursion to cover more ground. There are plenty of outfitters available during the warmer months.
When you are done seeing the grandest canyon, no matter your future plans, head south on U.S. Highway 180 because all other routes put you on the long road to nowhere but Utah.
Flagstaff…Decision Time
It would be hard to imagine that such an unremarkable town should be host to such an important decision, but Flagstaff marks the critical crossroads for a backpacking trip around America. So use whatever has been your best decision-making tool so far: flipping a coin, paper-rock-scissors, or a quick look at your remaining travel funds, and make the call. Keep going, or head home?
Having seen the entire western half of the country, there is no shame in heading back to Los Angeles to fly home (or stopping over in Las Vegas for those who still have a little money that they want to lose gambling). The other option is to turn around and head east. It is up to you, but if you decide on the latter it will take commitment because there are still thousands of miles to go before making it to New York, most traveler's last port of call in the U.S.A.
If you are one of the brave souls who decides to see this tour to its end, then congratulations are in order. And having spent the past several days with little concrete under your shoes, you may be longing for some civilization. If so, head down to Phoenix for a respite in one of America's least interesting cities, mostly because it is a mass of grid-like streets connecting nearly endless boring master-planned communities. There are an inordinate number of professional sports teams in Phoenix,however, so if you want to see how seriously Americans take their sports just check out a game, though most foreigners find baseball a bit boring.
Also of interest, the Desert Botanical Garden in Phoenix offers a great opportunity to learn about the plant and animal life that inhabits the harsh landscape that covers most of the state, and it is surprising how much life and beauty there is. Particularly nice is to visit the garden in the late afternoon, when it is slightly cooler, and watch the sunset in the garden's peaceful surroundings.
Then, mentally prepare yourself to start making for the Atlantic Ocean. If you are a long hauler, check back next time for: Backpacking America – Part 7, Meeting New Mexico's Aliens and the Long Ride Across Texas.
Planning a trip? Visit us to find out more about your travel insurance options!