3 key HR trends to follow in 2021 by Pacific Prime
The year 2020 has been nothing short of transformative for HR leaders as they hastily drop their priorities to navigate and conduct COVID-19 protective measures: from managing and observing remote-work culture, restructuring recruitment procedures, implementing safety protocols, and more. With 2021 just around the corner, HR leaders will be under more pressure to predict and plan for future HR trends.
In this article by Pacific Prime, we have compiled 3 key HR trends for businesses, HR leaders, and professionals to reflect on for 2021 and beyond.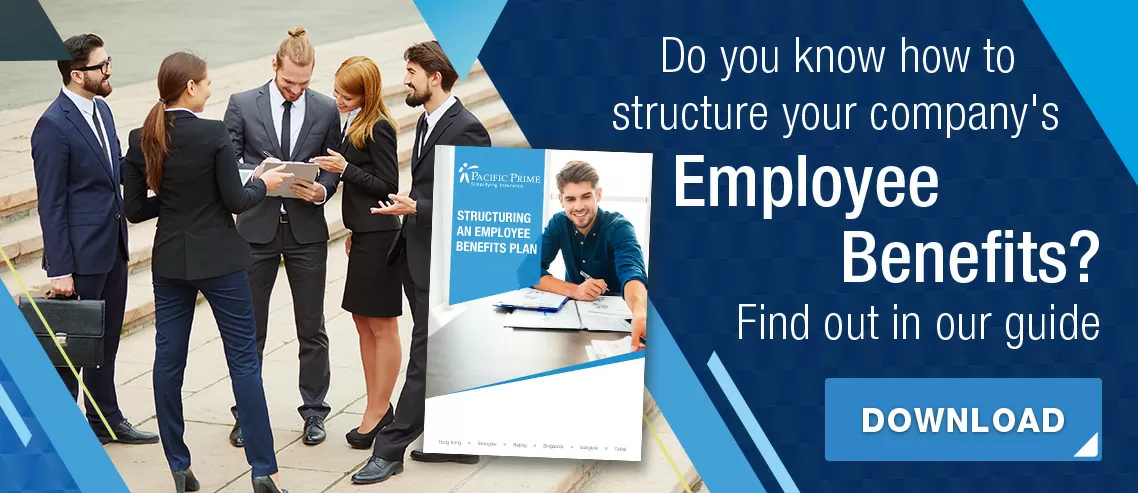 1. A dramatic shift from managing employee experience to managing the family-life experience of your employees
As a result of this year's COVID-19 pandemic, we have seen countless hardships when it comes to shifting to working from home while spending essential time raising children, caring for dependent family members, and giving enough time for oneself to recover and continue. One prominent lesson that we have learned is that if HR and business leaders help employees support their family lives better, not only will their morale go up, but they'll work better and more effectively as well.
As the pandemic rages on with news of a newer, more viral strain of the disease spreading, the lives of employees balancing work and family matters at home will continue for a while longer. This means family-friendly benefits will become even more integral for the lives of employees with family responsibilities.
Family-friendly benefits
"Family-health benefits are a must for any organization, regardless of size or industry." – Neil Raymond, CEO and Founder at Pacific Prime
According to the Global Employee Benefits Report 2020, families in the US lose an estimated USD $37 billion in lost wages due to lack of childcare. Providing childcare benefits could greatly improve the lives of employees and an organization's success, especially going into 2021.
Additionally, not only will family-friendly benefits such as paid parental leave and paid caregiving leave become more prominent, but they are deemed essential to attract, engage, and retain talent.
Considering a family-friendly benefits package? Here are Pacific Prime's top questions to ask yourself before designing one:
Is your organization fully aware of the needs and requirements of your current and future workforce?
How effective are your current benefits and resources to ensure employee satisfaction and productivity?
What contingency plans do you have for employees that require additional employee benefits support?
Another prominent HR trend for 2021 will be mental health support, as we will explore next.
2. Mental health support for employees becomes the new normal
Over the last few years, the world of work has seen a significant rise in mental health issues such as stress, burnout, and severe conditions such as depression and anxiety. In the last 12 months alone, the COVID-19 pandemic has uprooted millions of livelihoods, or worse yet, cost loved ones. The results have been dire and have added further strain to those already affected.
HR and business leaders will be well aware of the consequences of mental health issues, the toll they have on employees, and the significant impact on a business's bottom line. Because of the COVID-19 pandemic, organizations have realized the true impact of mental health issues and HR leaders in 2021 will lean towards normalizing mental health in the workforce. In other words, it will be perfectly acceptable to not always be okay at work, and that proper help will be available to get those affected on the road to recovery.
2021 will see a greater push for mental health support and initiatives by HR leaders and organizations to ensure employees get as much help as possible. Whether that's de-stigmatizing mental health by incorporating mental health benefits, establishing "collective mental health days" and investing significantly in initiatives such as Employee Assistance Programs (EAP), telehealth, wellness activities, mindfulness activities, counseling from health and life coaches, specialty pharmacy claims, and more. The possibilities for better mental health in 2021 are truly endless!
Here are some quick tips on how employers can protect their employees' mental health during the pandemic.
3. Flexibility in terms of time as opposed to location
While employees have proven that working from home is indeed effective if not more productive in 2020 (with adequate family-friendly benefits), the next form of flexibility in 2021 will be around giving employees flexibility over "when" they work rather than where. HR leaders will see a rise in jobs where employees no longer have an agreed-upon set of hours to perform work and instead can just focus on getting the task at hand done, no matter how long it takes to achieve the results.
Not only will this give employees a sense of independence to manage their routine around various responsibilities such as family, commuting, and ongoing lockdown measures, but they are shown that they can be trusted by their employers to get work done. This for sure will strengthen the bond between employees and organizations, and help to form a stable and more desirable relationship moving forward.
Prepare your business by consulting Pacific Prime
The future as we continue to know is always uncertain. Business priorities can change at a moment's notice, but with significant thought and preparation by HR and business leaders, several issues that go against business operations and the workforce can be mitigated.
As a global employee benefits specialist, Pacific Prime follows all the latest HR trends and challenges spanning all the regions around the world. Our experience of over 20 years and partnership with major insurers like Bupa, AXA, and Allianz Insurance to name a few, as well as the Worldwide Broker Network allows us to leverage their expertise and provide corporate insurance solutions that can vastly improve your business operations.
To learn more about employee benefits and business solutions to help your organization, you can download our Global Employee Benefits Report 2020 to gain a clear insight into the trends shaping the employee benefits landscape!
Always reach out to experts like Pacific Prime that have the knowledge, experience, business solutions, and more. Contact us today or check our corporate page, and prepare for a better 2021!